THIS PRODUCT IS NO LONGER AVAILABLE!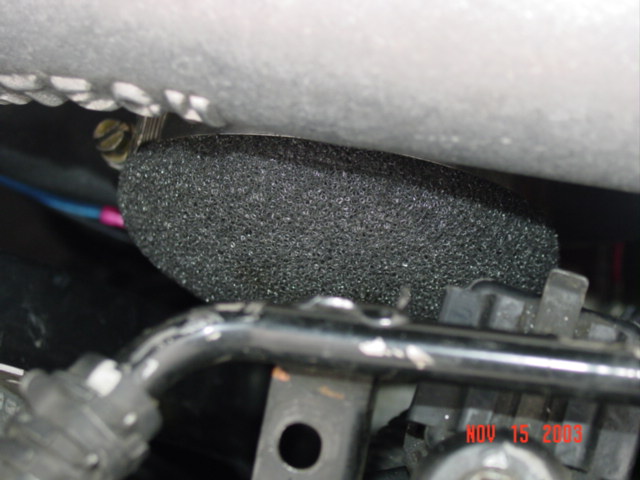 Here is the latest update video:


Please click here to see this Supercharger Bracket. (No Longer For Sale)

SC400 WILL BE AVAILABLE SOON CLICK FOR MORE INFO!
The code name for these first generation 1UZFE supercharged systems is known as "The Fish" and here is My Supercharger Story.  With proper help from Stefan, he created a dyno chart using Desktop2003 Supercharged 1UZFE Simulated Dyno Chart
This system utilized the advanced technology of
Vortech Engineering supercharger.  The V2 SQ S-Trim with curve blade is both powerful and very quiet.  This system
will be powered by an extremely quiet blower running at 7 psi.  The
installation process will not take more than eight hours with proper tools.  This system is
especially made for the Lexus LS400 from 1990 to 1994 and SC400 from 1992-1996
(Available soon!).
Supercharged SC400(Soarer) and Supercharged LS400(Celsior) is much easier than turbo on the
Soarer or the SC400
and Celsior or the LS400 due to the space limitation and the V8 configuration.  Even the supercharger
kit for the SC400 and the LS400 will be different.  However, there will be
similarity.  This is the first centrifugal (none root style
or twin screw style) supercharged kit available for the Lexus V8.
Supercharged Lexus – Toyota V8 1UZFE is much easier than turboing it.  However, some
hardcore Lexus owners might be interested in the near future for all out
performance.  Supercharged Lexus V8 also have many advantages.  For
example, power steering and A/C will be saved.  This is not the case in
turbo Lexus V8.
The
estimated horsepower will be around 275-295 rwhp on good engines..  Once again, the dyno
numbers are based on my personal experience with forced induction 1UZFE V8
engine.  Actual dyno results might be different.  This system is
simple and the installation is easy.  However, some mechanical knowledge
will be required.  If you do not want to install it your self, you should
take it to a local performance shop to do all the installation.  Due to the
complexity of intercooling, it will take about 8 hours.  My goal for this kit is affordability and simplicity.   Stage I kit will receive
the following parts:
* Vortech V2 SQ S-Trim head unit and 7 psi pulley – Optional V1
T-Trim (825 hp)
* Huge Custom Intercooler – 6″ x 3.5″ x 36″ with 3″ in/outlet.
– 8″ x 3.5″ x 36″ Optional but the IC will be 2″ lower than the front bumper.
* Cartech billet adjustable Fuel Management Unit (FMU)
* Custom CNC aluminum bracket for the 1st generation LS400 (soon
SC400) and spacers/washers
* High quality turbo hoses
* Custom stainless steel braided oil & return lines and fittings
* Heavy duty worm turbo clamps
* Custom engine Studs and bolts
* Custom charged pipe with Bypass Valve flanges
* Mass flow Meter or MAF adaptor
* Vortech Maxflow Adjustable Bypass Valve (BV)
* Greddy Type S or R blow of valve ( BOV) OPTIONAL – Additional $300
due to additional flanges and fabrications.
* Longer high strength, high temperature 6 rib cog belt.
* Idler pulley with custom spacer
* Supercharger pulley with Retainer Kit
* Battery Relocation Kit
* All pipes will be flare for stronger hold
* Powder Coat all intake pipes
* Complete Vortech factory warrantee on the head unit, please read Vortech Engineering  for details
Options & Upgrades: Please email for purchase details.
* Vortech V1 T-Trim rated at 825 hp (additional $500)
* Greddy Type S or R Blow Off Valve BOV ($300)
* 8″ x 3.5″ x 36″ high flow intercooler (FREE)
The kit is at an affordable introductory price $5000 USD
tax and shipping will be extra.  Price will be change without notice, so order yours
now.  We will make our stage I intercooled and upgrades as need it for
higher boost.
Stage II will be available soon with intercooler, larger
injectors and 10 psi on good engine  Dyno numbers and full details will
follow.  The 10 psi intercooled kits will require slightly
larger injectors.  The stock fuel should able to supply enough fuel for the
10 psi.  The larger injectors will be compensated by the OEM ECU.
Stock injector is 251 cc. will be upgraded to 295 cc/min.  The ECU can
compensate up to 50% reduction.  Coming very soon will be Lexus SC400 Supercharger
Kit.  Here are the break down of our SC400 & LS400 Forced Induction
products.
* 1990-1994 LS400 Supercharger Kit Stage I (7 psi –
Intercooled) (available now)
* 1992-1996 SC400 Supercharged Kit Stage I (7 psi –
Intercooled) (estimated time of availability 6/04)
Note: If you are interested in getting these affordable kits,
please make sure your engine is in good condition.  I highly recommend that
you take your car to a local mechanic shop and performance a compression or leak
down test on your engine.  If you have compression problems, please fix
your engine first.  Secondly, its not recommended for aging engines.
The reason I choose Vortech V2 SQ S-Trim is because its quiet
and its compact size.  The Procharger ATI P1SC would be a easier choice for
installation because its self contained.  However, this unit is slightly
louder and many users have reported problems with oil seals.  The V2 is a
perfect choice for the 1UZFE, it has lots of potential than root style
supercharger.  If you ever upgrade you stock engine, this V2 will stay.
You do not have to buy another head unit.  Vortech is widely admired in the
Mustang communities.  With 7 psi, this blower is just starting to work.  Lots of
room for more power.
If you have any questions, please feel free to
email me or you can ask
supercharging questions in our Lexus V8
Performance Forum under forced induction.
Intercooling: Intercooling would necessary for high
boost.  However, at low boost like 7 psi, intercooling will not justify the
cost.  Since the Vortech blower/superchargers are so efficient,
intercooling is not require for low boost.  If you have excess money, we
also have intercoolers for your needs.  As for stage I, we would like to
make it affordable for the beginning level of performance.  Due to the
space given, the first generation 1990-1994 Lexus LS400 will received a smaller intercooler.  It will be
6″ x 3.5″ x 36″ or the optional 8″ x 3.5″ x 36″.  However, the SC400 will get a
much larger intercooler because of the space availability.
Larger intercooling also means the cost will goes
up.  This is the biggest advantage of having centrifugal supercharger
instead of root style or twin screw.  The twin screw and root style is very
difficult and very expensive to intercooled. One of the options you can add to
your supercharging system is the methanol injection to your forced induction.
You can read more about Methanol Injection system for
the Lexus SC400 and LS400.  According Corky Bell's book SUPERCHARGED !, he
stated that chamber temperature of a 8 none intercooled psi has the same chamber
temperature as 40 psi intercooled system.  Another word, 8 psi from a none
intercooled has the same chamber temperature as a 40 psi intercooled system.
The key for increase performance is intercooling.  Colder air makes more hp
and safer for the engine.
Here is an Intercooler and Non-Intercooler Comparison between Root Style and Centrifugal Supercharger
Here is more Vortech V2 SQ S-Trim info:  Courtesy of
Superchargeronline.com
From 1.2L engines to large displacement, high horsepower racing
engines, Vortech has a supercharger for you. Vortech superchargers systems are
developed to achieve maximum performance, efficiency, and durability. Impellers
are investment cast from a lightweight proprietary aluminum alloy, heat treated,
CNC machined to exact tolerances, and high speed balanced to ensure smooth
operation. Gearcases and volutes are cast from premium A356 aluminum alloy, heat
treated, and CNC machined to ensure production consistency.
Most models feature
our exclusive "D" port volute for improved efficiency. Drive gears are
manufactured from premium billet alloy steel, heat treated, precision ground on
automated CNC machines to aircraft tolerances, and engineered to operate at
speeds exceeding 70,000 RPM. Bearings are made in America to our precision
tolerances. An O-ring compressor housing seal and an innovative impeller seal
improve sealing, reduce friction, and allow upstream throttle or draw through
use. High pressure engine oil is used for cooling, lubrication, and very low
maintenance.
For optimum flexibility, most Vortech superchargers are upgradeable and
available with a straight or curved discharge, clockwise or counterclockwise
rotation, satin or polished finish, and standard or heavy duty configuration for
use with cog belt drive systems.
Please compare the ATI P1SC,Vortech V2 SQ S-Trim &
Paxton Novi 2000.
Why did I chose Vortech V2 SQ S-Trim?  Here is a table comparing of
different type of Supercharger Types Comparison.  For 99% of Lexus owners, 450-600 rwhp would be
plenty of horsepower to play with.  More than that is just a waste of money
and energy to run the system.  Before I chose Vortech V2 SQ S-Trim, I also
have considered ATI P1SC and Paxton Novi 2000.  Here are my reason for the Lexus LS/SC400
street application:
Reasons why I chose Vortech V2 SQ S-Trim
1. Vortech is Super quiet, which is great for your luxury car.
2. Compact Size for fitmanship
3. Fresh oil every 3,000 miles
4. Lower drive power lost.
5. Many positive feedback Mustang racers
Reasons Why I did not chose ATI P1SC:
1. Higher Noise Level
2. Possible fitmanship problems
3. Common oil seal leak
4. Higher drive power lost
5. Lots of negative feedback from users.
Reasons why I did not chose Paxton Novi 2000
1. Possible fitmanship problems
2. Higher Noise Level
3. Higher drive power lost
4. Higher cost $2100-$2400 per unit
If you feel 680 bhp provided by the SQ is not enough for you, then you can
upgrade to the V1 T-Trim bumping you up to 825 bhp.  Even with 680 bhp, it
would just too much for the stock engine to handle.  However, the V1 T-Trim
would have higher noise level.
Below is a supercharger map for V2 SQ S-Trim: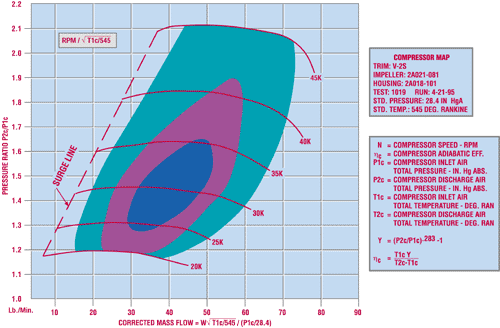 Supercharger Option:  Since the supercharger bracket will fit Vortech V1
and V2.  Price will be determine, but upgrade is possible since the bolt
pattern and external physical size is the same among the V1 and V2 family of
superchargers.  The default will be V2 SQ S-Trim.  Why? because of the
noise level.
VORTECH V-1 S-TRIM SUPERCHARGER
The industry standard supercharger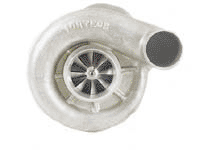 ---
VORTECH V-2 SQ SC-TRIM SUPERCHARGER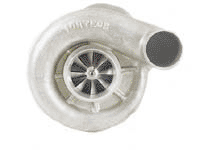 ---
VORTECH V-2 SQ (Super Quiet) SUPERCHARGER – This
will be use in our kits.  Upgrade to T-Trim available, but its greater
noise level and high drive power.
The new generation supercharger included in most
Vortech street supercharging systems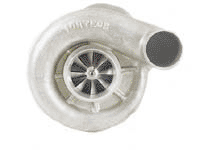 ---
VORTECH V-1 T-TRIM SUPERCHARGER
The supercharger of choice for street/strip vehicles
with modified engines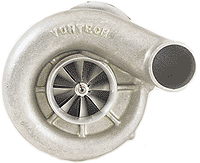 Here are some supercharger maps: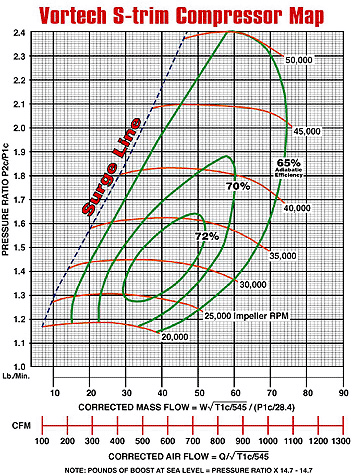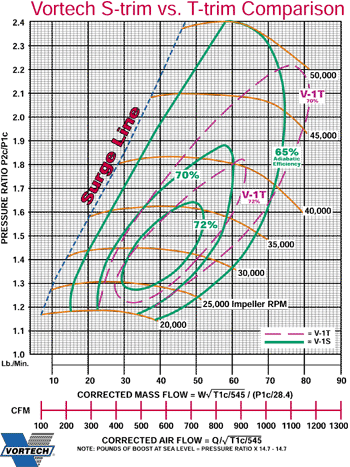 Here is the S-Trim Supercharger in both V1 and V2
This is a V1 T-Trim Supercharger head unit and S-Trim
As you can see, supercharger head units are expensive.  Therefore, most
forced induction kits price are well justified.
If you are interested in this system.  Please submit your personal
information.  Its much easier for me to make 20 kits at once than making
one at a time.  The kit will be sold at $5,000 each.  Group purchase
also welcome with a discount of $4,750 with a minimum of 10 kits.  The
price does not include tax and shipping.
P.S.: For this system to work properly, the window washer bottom will be
remove/delete.  If you can not live without the windshield washing
function, then this kit might not for you.  If you are interested, please
submit above information.  I would like to do it all at once.
Here are some difficult tasks during installation:
1. Relocation Battery to the trunk (2 hours of labor)
2. Removal of the Fan Clutch Bracket to install longer studs (1 hour)
3. Removal of the Front Bumper Cover (30 minutes)
4. Cutting of the Firewall Passenger side (10 minutes)
5. Removing the windshield washer (10 minutes)
6. Tapping a 3/8″ NPT into the oil pickup (30 minutes) with proper tools
The above are the hardest to do, other than that, it will be pretty much
bolt-on.  I would say with proper tools and skills, it should take about
7-8 hours for the whole installation.