THE EGR DELETE KIT WILL BE BACK IN STOCK ON OCT. 26 BUT LIMITED! ORDER TODAY! The kit will work for all 1990-1997 1UZFE Lexus LS400 and SC400 models.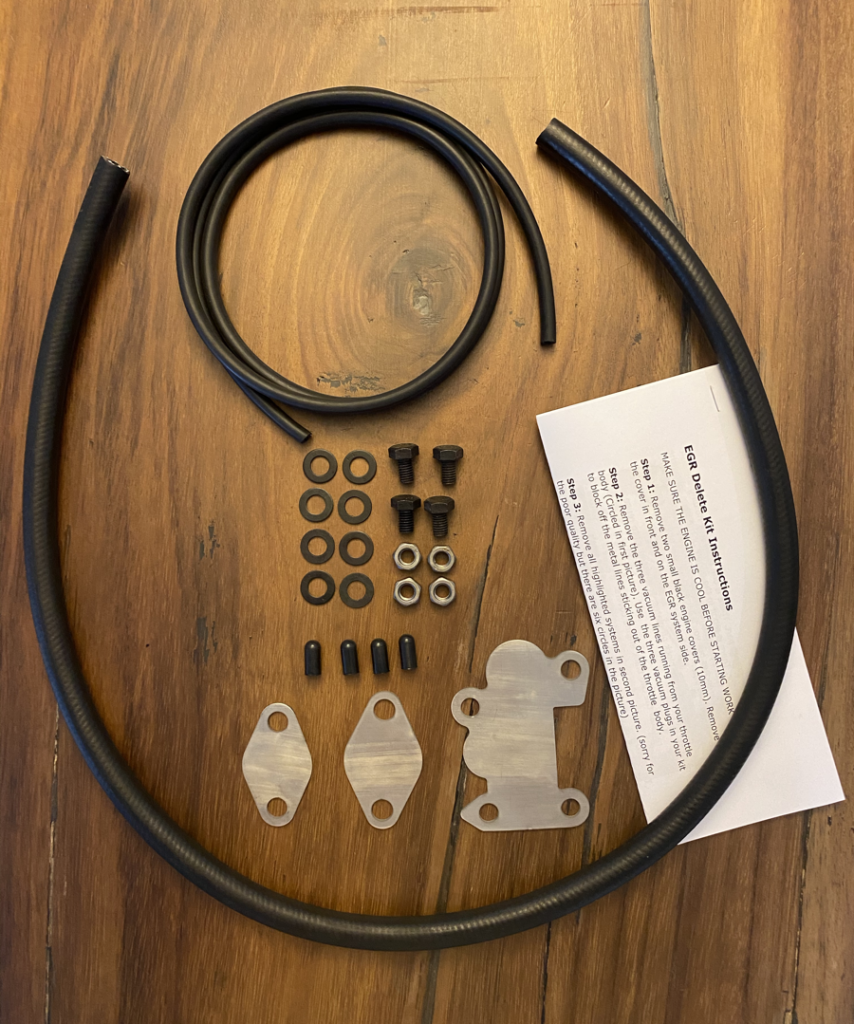 (resistor not pictured but is included in the kit – forgot to add it to the pic)
"Hi Justin – just wanted to thank you for the quick shipment. I got the kit today and am blown away that you not only took the time to develop this but also make it available at such a great value. I was worried I wouldn't be able to do this but the instructions are so well written, I think it'll be a breeze." – David Timbrooke (posted with permission)
How to order:
We got a small supply of the EGR Delete Kits delivered recently from our machinist. I don't know how many more we're going to get as they keep increasing the production cost. We're getting really, really low and I can't do another order of them because the fasteners and hoses are completely unavailable right now. 🙁
The total cost, shipped within the USA is $99. If you want the kit, please send me a quick email at [email protected] and I'll respond with easy payment instructions for your choice of Zelle or Cash App.
OUTSIDE THE USA: Due to the USPS being so incapable, we no longer ship these outside the USA – so sorry but they lose more kits than they deliver and I can't afford it, however we'd be happy to mail a kit to your freight forwarder within the US.
Installation is extremely straight-forward and the included instructions are clear but if you need additional help, just email me! Lextreme customers have been extremely happy with their results.
This is the quickest, easiest and most important mod available for the 1UZFE, bar none!
About the kit:
These premium-quality CNC machined mild steel plates were designed by engineers and will allow you to completely remove the EGR system.
In the past, some have bought expensive blockoff plate kits that don't have instructions or other necessary components to actually delete the EGR system. This kit includes everything to completely delete the system! The blockoff plates purchase has led many in the community to a loss of money because they end up having to buy our kit anyway. Our's is the only real solution!
Why is it really important that you delete the EGR system? 
Because it's a common failure point, it reduces the performance and gas mileage of your car and, quite possibly most importantly, completely removing the system goes so far in cleaning up and simplifying your engine bay.
The factory EGR system allows super-heated exhaust gases to re-circulate from the rear of the cylinder head back to the intake manifold. The excessive heat at the rear of the head has been known to be the cause of detonation.
I have personally witnessed malfunctioning EGR valves leak and reduce performance and increase exhaust noise.  I also experience cracked EGR pipe and my "check engine" light came on. I drove around for a year with my EGR pipe cracked and its a very common problem with Lexus V8 engine.  After I replaced my EGR pipe the "check engine" light was gone and no more exhaust leak and noise.  However, it was expensive.  Replacing the EGR pipe is very expensive in parts and labor. 
This kit will simply eliminate these problems forever!
The stock gaskets can be re-used from the EGR system. Installation instructions, premium hardware and the proper-value resistor which prevents MIL/CEL are all included. Everything is here in one kit!
THIS ITEM IS NOW BACK IN STOCK & AVAILABLE FOR SALE BUT STOCK IS LIMITED! ORDER TODAY!
Here is what you get:
* Exhaust Passenger Side Block Plate
* Intake Exhaust Plate
* Side EGR Block Plate
* Resistor (to prevent CEL/MIL)
* All Necessary Hardware
* Radiator Bypass Hose
* New Vacuum Line
* Plug Caps
* Everything you need in one premium kit!
Here are just some of the benefits:
* Lower intake temperature, therefore increased horsepower
* Slightly better gas mileage
* Reduce expensive Lexus parts for repair of EGR systems, etc.
* Increase exhaust flow for turbo application
* Easier to change injectors and other parts due to EGR delete.
* Cleaner look of your engine bay (it'll look a LOT cleaner)
* Support 1UZFE aftermarket development/community
"Thought it was going to be thin and cheap but actually impressed with its quality. thanks!" – marcellowilliams
You can remove the following:
* Vacuum Pipe
* EGR VSV
* Fuel Pressure VSV
* Accelerator Bracket
* EGR Valve and Vacuum Modulator
* EGR pipe
* Radiator coolant bypass
* Misc. Vacuum lines
This is how it looks after installation of the kit:
Still undecided about whether you need to delete the EGR system?
Watch our very own Kelvin (gloverman from the forums) explain and demonstrate in the video below! (skip to 11:45 for the best part)
Who is the kit for?
This kit will work for all 1990-1997 1UZ engines.
Please note that some 96 and all 97 models will require that you to drill a hole in one of large blockoff plate that goes against the plenum. Also, the instructions are specifically written for 1990-1994 LS400 and 1990 – 1996 SC400 models and some of the hardware will not be needed for newer models.
Specific differences for newer models:
different vacuum lines than pictured
different EGR valve than pictured
you can choose to either vent the PCV to air, get a little PCV filter, or re-route to a different vacuum port on the intake
you'll need to remove the top two studs for the large, main EGR valve blockoff plate (or use washers or spacers)
Below is a guy is using the Lextreme EGR Delete Kit on a 2nd-gen SC400. Great video that will be very helpful for anyone installing this kit, especially 2nd-gen owners!