UPDATE:
April 4, 2022 - A limited supply of the original best-selling Lextreme
1UZFE EGR Delete Kit
is available for sale. If you own a 1UZ from 1990-1997, you
really
need to get this kit! Email me at
[email protected]
for help with ordering or questions.
We're not an auto parts supplier and I can't respond to inquries for random Lexus and Toyota auto parts. All parts not listed above, including the LS400 and SC400 turbo kit, rebuild kits and supercharger are sold out and won't return.
LEXTREME LEXUS FORUMS HERE!
- Post Questions For Quick Answers!
This article is about installing an aftermarket piggy ECU.
I have tried Apexi S-AFC and now I am trying to install a piggyback computer
that is laptop programmable and it also have boost timing retardation.
Here are the following function of this ecu:
FTC1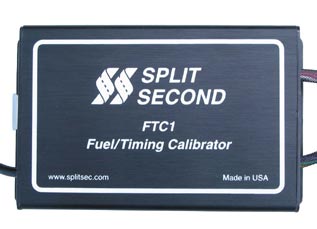 ◆ Fuel and timing control in one product
◆ Up to 20 degrees of timing retard
◆ Laptop programmable with the R4 software
◆ Available with ESC1 function built-in
The FTC1 combines the laptop programmability of the PSC1 with
the timing control of the TMC1. The result is a complete fuel and timing
calibration solution that works in conjunction with the stock ECU. The FTC1 is
programmed with the Split Second R4 engine calibration software. The software
has two 3-dimensional map tables. The FTC1 can be use with both MAP sensor and
MAF sensor applications. The FTC1 comes in many different versions. It must be
ordered for a specific model of vehicle. Some versions have an internal 2.5 bar
MAP sensor which can replace the stock one-bar MAP sensor. Other versions
operate in voltage mode and are driven off of the stock MAF sensor.  As
with all Split Second products, the FTC1 is available on a semi-custom basis.
One of the options available is to combine the AIC1 with the TMC1 for a
fuel/timing calibrator that controls fuel through additional injectors rather
than by conditioning the MAP or MAF input to the stock ECU.
When I was running 15 psi on my Lexus LS400, my timing was
untouched.  I did not hear hand detonation because I was running very rich
and timing did not matter much.  However, if I want to properly tune my
car, timing will be a huge factor.  Secondly, I like this unit because I
can use my laptop and change the real time tuning parameters.
Split Second ECU had been installed in GS400.  However,
LS400 is a new territory.  Mark from Split Second had to make a special box
just for the LS400 line.
The U.S. Spec Lexus LS400 and SC400 ECU is located on the driver
side under the glove compartment.  Once you open up the panels, you can not
miss it.  The LS400 using T8-a diagram and SC400 uses T7-a.  The below
connector diagrams are view as if you are looking at it directly.  Here is
a wiring diagram for the LS400
Wiring Diagram (1) and LS400
Wiring Diagram (2)  Here are the SC400 ECU diagrams
92-95 SC ECU Diagram (1)
92-95 SC ECU Diagram (2).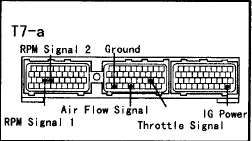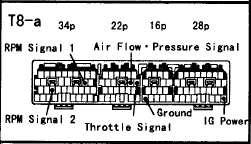 Here is a diagram how connection is
occurred.  The main goal is to interfere the air/fuel signal from the Air
Flow Meter or Mass Air Sensor or MAF.  Interfering the signal and alter the
signal is what a typical piggyback function.  Below White wire from the
FTC1 intercept the MAF signal and Yellow send a new signal to the stock ecu.
The stock MAF signal wire will be cut and the signal is altered.  Please
see below and the rest of the wires are getting reading like rpm, power and
ground.  The wiring itself is pretty simple.
The FTC1 has 11 wires and a vacuum
line.  Pretty simple and functional.
Lexus 90-94 LS400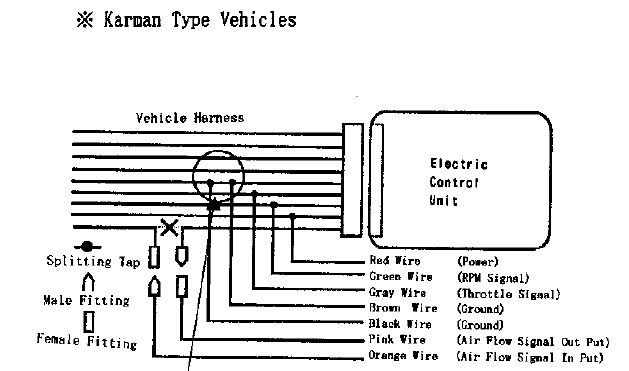 The picture above diagram indicates KS (number 8) is Yellow-Green is the MAF
Signal wire.  You have to wire Pink wire from the Apexi closer to the ECU
and

Orange Wire away from the ECU and make a cut in between those
two wires.  In order for your car to work properly, you must follow the
Karman wiring diagram.  I messed up the wiring and my car did not run
properly.  So make sure you have the right wiring.
Lexus 1992-1996 SC400:
The SC400 would have different wiring diagram according to Apexi Manual.
However, the Air Flow Signal wire is still the same.  KS is the
Yellow-Green wire.  Below are the wiring diagrams for the SC400.  You
should follow T7-a diagram.  Remember its KS-Yellow Green Wire.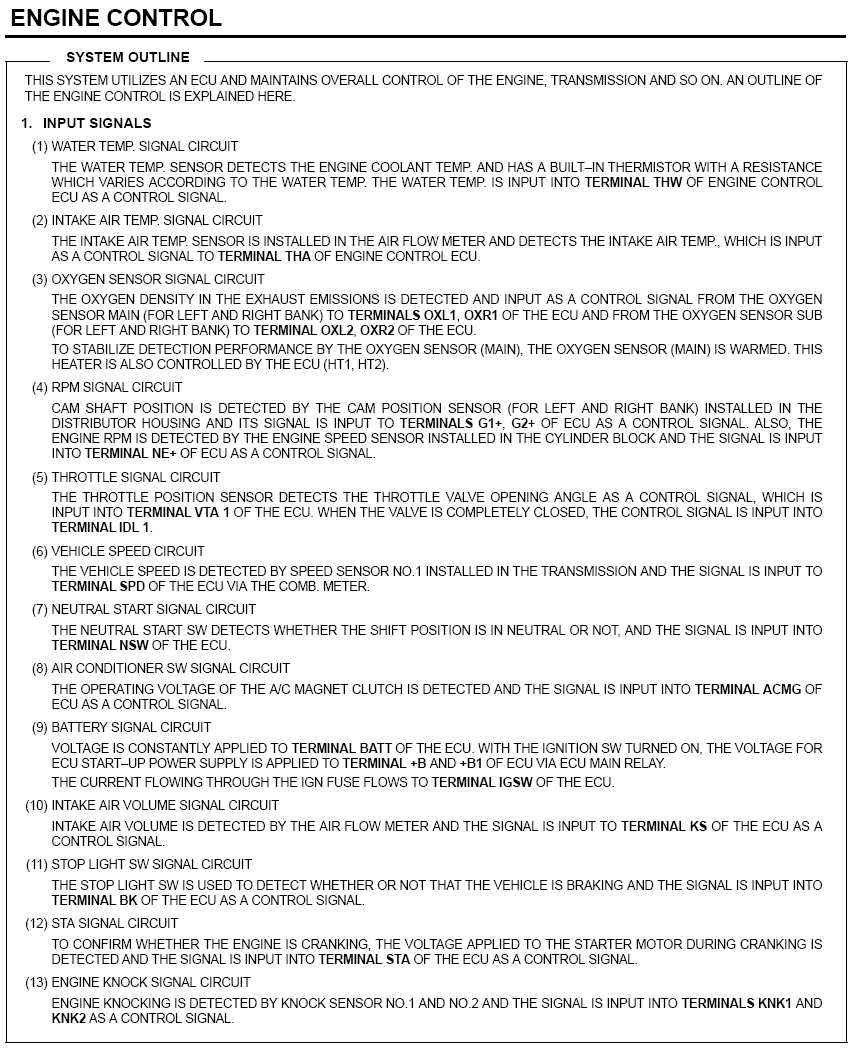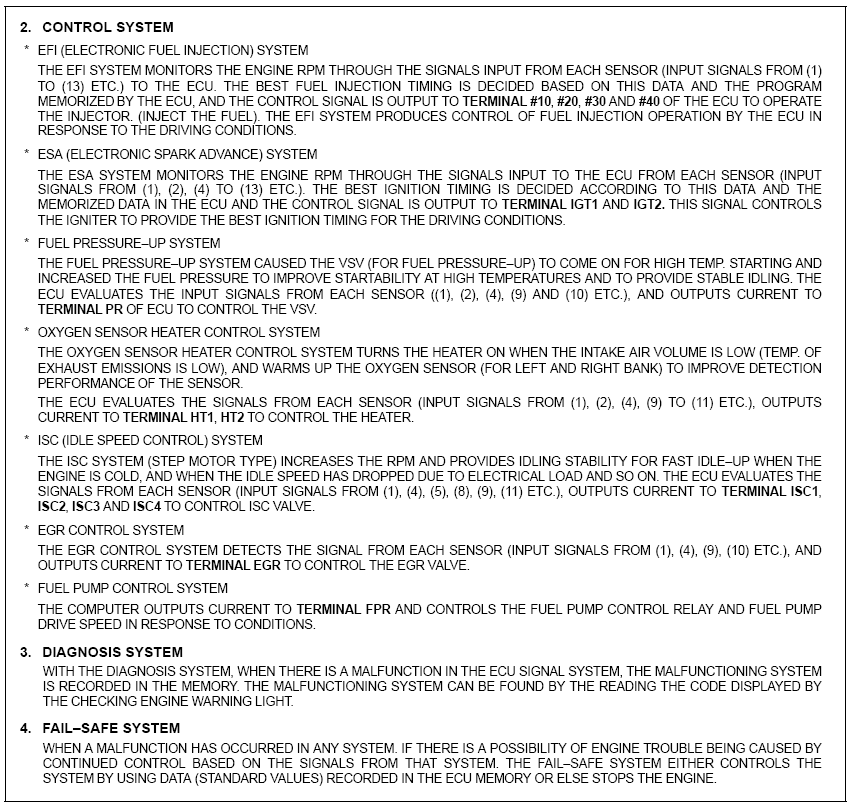 Do you have any questions? If so, please head over to
the forums
to get a quick answer or share your experience!
Cash App (user: $lextremeparts).
This is a freelance site with no support by huge companies.  I have been doing most of the R&D and technical write-ups by myself with my personal money and literally thousands of hours of my time.  I have taken extra steps to demonstrate in details how things are done.  Currently I am one of the few people doing Lexus V8 research and performance enhancement.  This effort comes from my personal love for this wonderful engine.  Most of the modifications are from trial and error. There's no cookbook for 1UZFE mods and its unknown territory for much of supercharger performance.  The parts, labor, web development and site hosting are 100% paid from my personal hobby money.  If you feel my efforts help you in any form, please do not hesitate to donate any amount of money to support this site. You have no idea how much I and the entire Lexus and Toyota community appreciate it!