UPDATE: I've added some incredible Youtube videos at the end of the article including the segment from Jay Leno's Garage about his 1993 Toyota Century as well as the "2018 Toyota Rolls Royce!"
Almost as mythical as my Woodie Project is the existence of a Toyota V12. I first heard rumors of this engine about 6 years ago and physically clapped eyes on one in a Century Limousine on display at a Tokyo Toyota dealer during a visit to Japan some four years ago.
At the time I wrote: This is the virtually hand built limousine that features the 5 litre quad cam V12 that I oh so want. No idea what I would do with it; I just want one. In fact, more than 'want', I think I actually 'need' one!
Flagship Model
A quick history lesson might be in order.
Contrary to popular belief the Lexus isn't Toyotas Flagship model – that responsibility falls to the Century Limousine.
The Century was launched way back in 1967 as an executive limousine for high ranking Japanese governmental and business officials, with modified versions used for the Japanese imperial Household.
The name is derived from its launch marking the 100th anniversary of the birth of Toyota founder Sakichi Toyoda.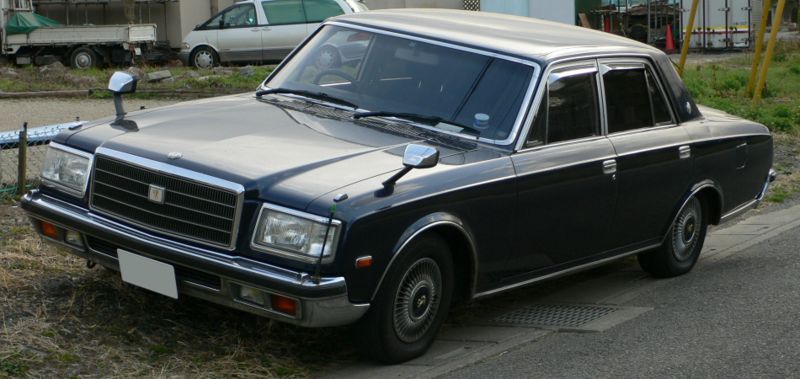 The Century originally grew out of the V8 Toyota Crown with the first generation body remaining externally virtually unchanged until 1997 (apart from driveline and interior upgrades).
An entirely new model was released in 1997, however, the car's external appearance remained understated and was clearly a descendant of the original.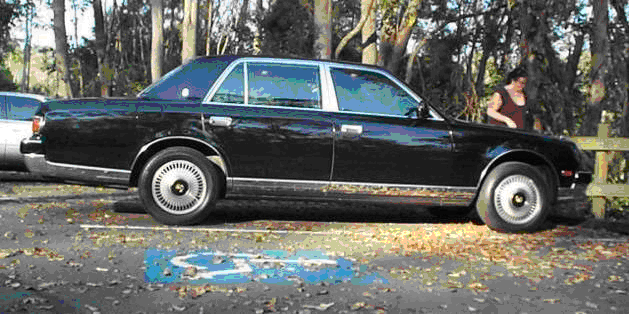 Photo Courtesy of: Jeremy Kime
Under the skin was a completely different story with the 1997 GZG-50 series Century debuting Toyota (and Japan's) first and only production V12 engine, the 1GZ-FE.
The Century currently retails for the equivalent of $US 95,000 in Japan, which has to be a bargain considering the exterior sheet metal is literally polished before painting.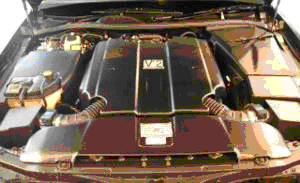 Given that the Century is predominantly sold only in Japan with a monthly sales target of 200 units, it seems incredible to me that Toyota actually took the plunge to develop the V12. I wouldn't be surprised if the car is actually sold at a loss!
After all, the profit from the production of a few thousand Corollas per day have to go somewhere.
Odds are that, like me, your principal interest in the Century is as a source of an engine so might be best we ignore the rest of the car, which is in fairness pretty trick.
1GZ-FE
So, what exactly is a 1GZ-FE?
In simple terms it is a 5 litre, all alloy, 48 valve quad cam V12.
Of course, like many things Toyota 'simple' is a word that really doesn't apply. Short of adding boost of some kind (probably best to leave that sort of thing up to others, who have indeed done so – can you say 1000 horsepower…?)
Toyota basically ticked every single box on the feature menu:
6 bolt mains
forged steel crank
alloy block and heads
continuously variable inlet valve timing (VVTI)
variable length inlet runners (ACIS)
direct fire ignition with waste spark
sequential injection
electronic throttle control ('fly by wire')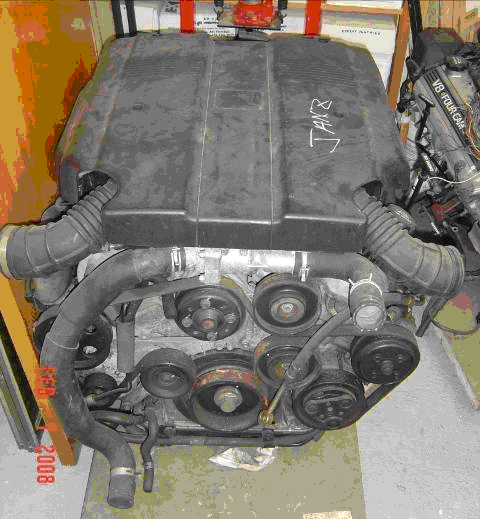 As such the 1GZ-FE is one of Toyota family of BEAMS (Breakthrough Engine with Advanced Mechanism System) engines such as the 3S-GE fitted to the Altezza. The 1GZ-FE in many ways is two inline six cylinder engines sharing a common crank.
This is evidenced by there being dedicated left and right cylinder bank inlet manifolds, throttle bodies and EFI systems – to the extent that there are separate ECUs for each bank, with the engine capable of running as a six cylinder engine (with a 6 cylinder air compressor along for the ride) should one bank suffer a significant failure.
Specifications
Here are some basic specs for you:
| | |
| --- | --- |
| Total displacement (cc) | 4,996 |
| Number of cylinders | 60 degree V12 |
| Bore x stroke (mm) | 81.0 x 80.8 |
| Combustion chamber | Pent roof type |
| Compression ratio | 10.5:1 (97 octane or better recommended) |
| Fuel supply system | Electronic Fuel Injection (EFI) |
| Fuel Tank Capacity | 95 Litres |
| Valves | DOHC 4-valve; chain and gear drive |
| Maximum output (PS @ rpm) | 280 @ 5,200 net |
| Maximum torque (kg-m @ rpm) | 49.0 @ 4,000 net |
| Alternator | 1440 watts |
| Starter Motor | 2 kW |
| Firing Order | 1-4-9-8-5-2-11-10-3-6-7-12 |
| Spark plug type and gap | Denso Iridium SK16R11 1.0-1.1 mm gap |
| Intake valve opening | -7 to 53 degrees BTDC |
| Intake valve closing | 57 to -3 degrees ATDC |
| Exhaust valve opening | 41 degrees BBDC |
| Exhaust valve closing | 3 degrees ATDC |
| Oil Grade | API SH EC-II, SJ EC or ILSAC |
| Oil viscosity and capacity | 5W-30. Capacity 8 litres |
| Oil filter | Toyota 15601-68010 |
In typical Japanese style the engine officially makes ~280 horsepower, with export versions rated at a mild 220 kW (pretty much 300 horsepower) and a relatively sedate 460 Nm of torque (about 350 ft.lbf).
The scary bit is it makes over 400 Nm of torque from 1000 rpm which endows the 2000kg Century with quite surprising performance.
Compare that to the 1UZFE V8 figures in the graph below to gain an appreciation of just how much additional torque the V12 makes: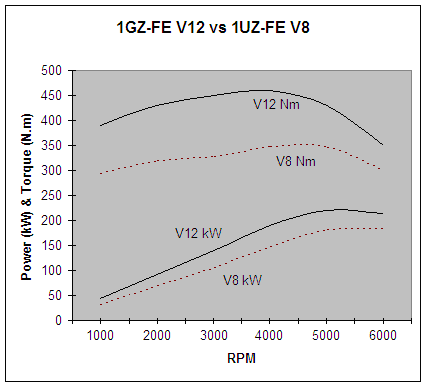 In real terms the V12 makes almost as much power and ultimately more torque across the entire rev range than the famous 1980s Ferrari BB 512…. Should come in handy for getting the Woodie up hills.
Characteristics
As befits a flagship model Toyota set out to produce an engine with unparalleled smoothness. A V12 not only has inherent prestige, it also has inherent smoothness due to the shorter interval between successive power strokes – literally occurring three times as frequently as those in a four cylinder for any given RPM.
Slant-squish combustion chambers, iridium electrode spark plugs and Variable Valve Timing-intelligent (VVT-i) combine to stabilise combustion and enable smooth engine operation Toyota describes as 'like that found in electric motors'. VVTI operates on the inlet cams only and advances valve timing by up to 60 degrees.
The valve angle in the heads is 24.3 degrees. Inlet valves are 30 mm diameter and exhaust 24.5. Both share 5.5 mm diameter stems. The valve adjusting shim has a titanium coating and sits above the aluminium alloy valve lifter buckets.
Continuously controlling the valve timing to best suit driving conditions increases torque, output and fuel efficiency whilst reducing NOx and HC emissions. Whilst the V12 is not something you could describe as 'economical' in absolute terms, it certainly is in relative terms when you consider the power and torque it produces, with real world average economy of 7.2 km/l quoted for the 2-tonne Century. By comparison my 1UZ Supra (which weighs ~500 kg less) gets around 8.5 km/l.
Working in tandem with the VVTI is a variable length intake system that alternates between two set intake lengths thereby increasing torque in the low to mid range, which realistically is where it is of most benefit for real world use. The boffins at Link Electrosystems (makers of Link aftermarket engine ECUs) maintain that the variable intake runner length has the single greatest effect on torque delivery – even more so than variable valve timing.
Coupled with an increased rigidity of the engine block and reciprocating mass this results in the V12 exhibiting 10% less vibration than the already incredibly smooth 1UZ-FE Lexus V8. Titanium coated valve shims (operated directly by the cam) and low viscosity 5W-30 engine oil (unfortunately it holds 8 litres of the stuff) minimize friction loss.
Construction
The V12 bore and stoke is similar to the 1JZ-GE range of engines, although I have no idea how compatible pistons and rods etc are. One of the Japanese tuning companies has managed to increase one to 6 litres and add a couple of turbos; it would be nice if 2JZ-GTE components fitted with some fettling, but it is kind of academic for my purposes.
The all alloy 60 degree cylinder block utilises thin wall cast iron liners that are pressed into position, and that the cylinder bores are on a 93 mm pitch. Accordingly the V12 is actually slightly narrower than the 90 degree 1UZ-FE V8 (but about 120 mm longer). Pistons are also aluminium alloy and utilise a taper squish design with semi floating piston pins.
Similar to the 1UZ-FE the V12 utilises sintered and forged connecting rods that are asymmetric, being dedicated for left or right bank use only.
The forged crank runs in seven aluminium alloy bearings and has 12 balance weights.
Ignition
Somewhat curiously the V12 runs a direct ignition system (DIS) waste spark set up. Basically the front 6 cylinders have a coil mounted directly on top of the spark plug, however, each coil also has a plug lead pig tail that attaches to another plug, firing in pairs.
The firing order is 1-4-9-8-5-2-11-10-3-6-7-12 with the following spark plug pairs:
1 & 11
3 & 9
5 & 7
2 &12
4 & 10
6 & 8
The spark plugs are iridium tipped Denso SK16R11 with a 1.0 to 1.1 mm electrode gap.
Crankshaft Position Sensor
Noting that the V12 runs as two independent straight 6 cylinder engines there are two crank angle sensors fitted 180 degrees apart to read from a common timing rotor. The rotor is a '36 minus 2′ configuration whereby teeth are placed 10 degrees apart (with two adjacent teeth missing) giving a total of 34 teeth.
Camshaft Position Sensor
A camshaft position sensor is fitted to the rear of each inlet camshaft with three evenly spaced teeth placed on the timing rotors.
VVTI
The Variable Valve Timing Intelligent (VVTI) system fitted to the V12 provides up to 60 degrees of inlet cam advance when measured in terms of crankshaft angle. This improves torque and economy whilst reducing emissions.
Injection
The engine runs 12 cylinder sequential injection; I will probably have to rewire the injectors in pairs as the Link is limited to a maximum of 8 cylinder sequential injection.
The fuel system runs a standard supply and return set up, with the normal fuel pressure at around 41 PSI, dropping to 31 at idle.
Throttle
The V12 is 'fly by wire' or Electronic Throttle Control System-Intelligent (ETCS-i) in Toyota speak. This means that the accelerator pedal has a position indicator that sends a signal to the engine ECU.
This in turn drives the two throttle motors (remember, there are two separate throttle bodies) that open the throttle butterfly, driving a standard throttle position sensor along the way.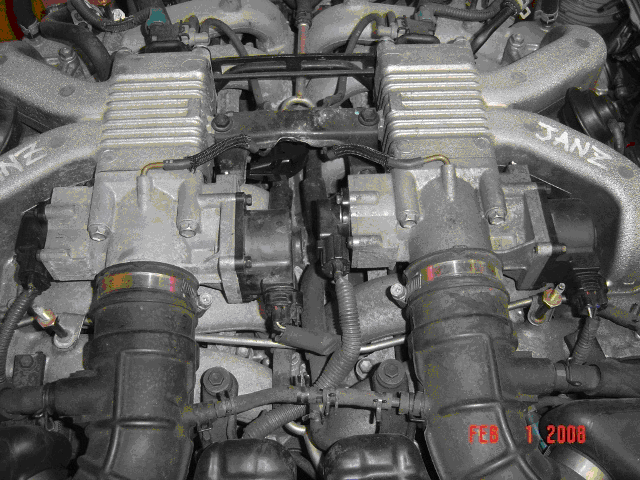 The throttle motor is also used for idle speed control, cruise control, traction control and ABS.
Air Flow Meters
The V12 runs two independent hot wire air flow meters.
Sump
Given that the V12 only comes in one vehicle there is only one sump location, with the bowl at the front. The sump design is typical in that there is an alloy upper pan and a pressed steel sump bowl. The bowl is quite wide and holds around 8 litres of oil. 5W-30 oil is recommended.
The oil filter is huge and is apparently standard fitment on a diesel Landcruiser. I intend to change oil every 5,000 km and filter every 10,000 even though it is probably overkill.
Timing Chains
The good news is the V12 runs 3 timing chains, not a toothed belt. These probably last the life of the motor and tension is both sprung loaded and oil pressure controlled.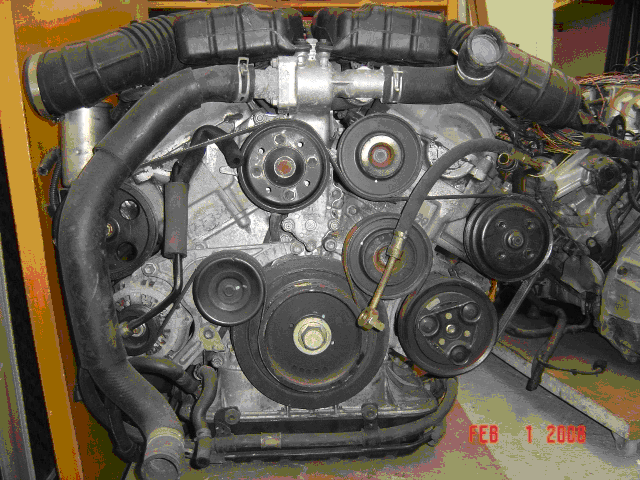 Air Conditioning
The V12 runs what appears to be an air conditioning compressor very similar to the 1UZ, mounted in a similar location.
Power Steering
The power steering pump is also very similar to the 1UZ unit in both design and location with an integral reservoir, however, some minor fittings are different.
Cooling
The hose connection on the right hand side of the thermostat housing is the water inlet (i.e. bottom tank of the radiator) and the left hand is the outlet. The supply to the heater comes from the Y-junction fed from both cylinder heads and the return is the single line leading to the back of the water pump.
The radiator is approximately 660 mm high and 900 mm wide. An electronically controlled hydraulic cooling fan similar to that fitted to some other Toyotas is fitted to reduce engine cooling fan noise.
The fan's speed is electronically controlled and infinitely variable, with the objective being to operate at the minimum speed to cool the engine. The large hydraulically driven fans are also capable of shifting enormous volumes of air should cooling demand dictate.
Water pump
The V12 water pump is driven off the serpentine accessory belt, as opposed to off the cam belt like the V8.
Hydraulic Fan Pump Motor
The Century utilises an electronically controlled hydraulic cooling fan system similar to some V8 variants. The V12 hydraulic pump is a separate accessory item and bolts to the engine above the air conditioning pump, as opposed to the 1UZ variant that is integral with the front engine cover.
Alternator
The alternator is also very similar to the 1UZ unit, mounting in a similar location with a rating of 1440 watts.
Starter Motor
The starter motor mounts on the left hand side under the exhaust manifold and draws upwards of 2 kW. Due to the 60 degree vee there is insufficient room to mount the starter motor between the heads like the V8 does.
Transmission and Gearing
The Century underwent a minor upgrade in 2001 and it is assumed the change from 4 speed auto to 6 speed auto occurred at this time. The 4 speed auto is a variant of the A342E which was common fitment to the 2.5 litre twin turbo 6 cylinder 1JZ-GTE JZA70 supra variant (1990-1993). The gear ratios are:
Low: 2.531
Second: 1.531
Drive: 1.0
Overdrive 0.753
Reverse is 1.880 and differential ratio is a new style code A01A which translates to a 3.615 ratio. Note the crown wheel diameter is 8" and standard tyre size is 225/60R16, which is similar in overall diameter to a 245/45×18.
For the Woodie I intend to run a 255/45×18 tyre with a 3.727 ratio MA70 Supra diff; this coupled with a R154 (0.75:1 5th gear) gearbox will result in similar overall gearing to the Century (2208 rpm at 100 km/h as opposed to 2183 rpm for the Century).
Manual Conversion
I am still waiting on a bellhousing to arrive (another component my V12 was missing) however I am confident the gearbox side is more or less identical to the 1UZ, which means my gearbox adapter plates will fit. My aim is to run a R154 heavy duty Supra Turbo 5 speed (which is travelling with the bellhousing) as I suspect the W-58 Supra gearbox will be a little stretched behind the V12.
Close inspection indicates that the back of the V12 crank is more or less identical to the V8, which means that the 'standard' aftermarket flywheels will fit, as will 3SGTE units with modification. I am also awaiting on a tilton twin plate clutch (partially used) and billet lightweight flywheel to arrive from Australia once my mate removes it from his car (he is upgrading his twin turbo Lexus V8 toy to an ex NASCAR triple plate unit).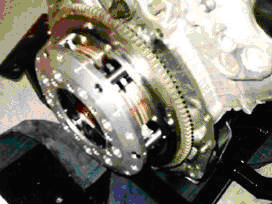 Photo Courtesy of: Justen Simpson
Once all the components arrive I will endeavor to mate the engine to the 5 speed and document exactly what is required in the way of gearbox input shaft shortening and how I end up activating the clutch (seriously considering a hydraulic release bearing at present). The drive train will be a little bit of overkill but the price was right for the bits and I like the idea of it being bullet-proof.
Aftermarket ECU
Ideally I would run the V12 on factory engine management, but given that my engine did not include any ECUs or AFMs my suspicion that the cost of getting them anytime soon will be prohibitive.
Even worse, I suspect that you need to have matched engine ECUs, anti theft system ECU and smart key otherwise it won't work.
My other concern is that the Century employs multiplex comms between the engine ECUs, Body ECU and ABS/Traction control ECU; there is also a possibility that the engine may not like it if these units go AWOL.
That said, with a bit of luck I may be able to borrow a complete set of matched units from another Century V12 in the next few months to see if I can get the engine floor running.
Failing that, I have been in touch with the techies at Link Electrosystems and it sounds like a Link Plus G3 aftermarket ECU will run the V12 successfully. It would appear that the main issues will be:
converting the engine to mechanical throttle operation. Looking at it I believe it will be relatively straightforward to remove both throttle control motors and the innermost throttle position sensor, to then join the two butterflies on a common shaft containing a mechanical throttle mechanism with the remaining TPS providing info to the ECU;
running only two (the most the Link can handle) of the four knock sensors. I will probably run an opposite pair should the need arise;
cobbling up some sort of idle speed control mechanism. Ordinarily idle speed control is achieved via the throttle motors, however, this won't work with a standard accelerator cable as there will end up being a varying amount of slack in the cable depending on how much the butterfly will need to be opened to maintain idle speed. My intention is to either modify a 1UZ idle speed control stepper motor or a rotary solenoid valve as used on 20 valve 4AGEs to bypass air around the throttle butterflies. At this stage I favour the stepper motor as it will probably pass sufficient air;
running the injectors in pairs as the Link can only handle 8 sequential injector drives and the V12 runs 12 sequentially;
Load measurement; my aim will be to dispense with the pair of AFMs completely and run a manifold absolute pressure (MAP) sensor suitably plumbed to read from both plenums. I will also install an intake air temperature sender (probably a generic Toyota unit) mounted in the air filter housing.
Fortunately ignition shouldn't be an issue as the link won't handle 12 cylinder direct fire ignition, but can handle 12 cylinder waste spark.
Conclusion
With a bit of luck I will be able to commence the construction of the Woodie's spaceframe chassis later this year (only been saying that for the past 5 years now…). To be honest, as much as I like the Lexus V8, somehow it just didn't have the appeal of being sufficiently different for the Woodie.
I always hankered for the Corvette ZR1 all alloy 32 valve Lotus developed V8, but figured I could never afford one. I played with the idea for a while with supercharging a 1UZ, but the V12 just has an appeal, to say nothing of what is bound to be a marvellous exhaust note.
The 1GZ-FE will never be a common motor simply due to the very low production numbers, but it will definitely become more common than it is now. Prices will most likely remain high due to a big demand and low availability. I am unaware of any running as yet in projects, but it is only a matter of time as several are under construction overseas.
One of the Japanese tuning houses fitted a custom built 6 litre twin turbo v12 (possibly using 2JZGTE internals) to a 80 series supra and allegedly got 1000 horsepower in road trim, which must be a viable option should the Woodie ever feel a little slow.
Just need to get the pesky V8 Celica project finished!
And finally here's a brand new video from Kelvin about the UZS186 Toyota Crown 3UZ engine.
Article by: BRADSHAW PHILIP
Email: [email protected]
Phone (New Zealand): 64-274-421968