UPDATE:
April 4, 2022 - A limited supply of the original best-selling Lextreme
1UZFE EGR Delete Kit
is available for sale. If you own a 1UZ from 1990-1997, you
really
need to get this kit! Email me at
[email protected]
for help with ordering or questions.
We're not an auto parts supplier and I can't respond to inquries for random Lexus and Toyota auto parts. All parts not listed above, including the LS400 and SC400 turbo kit, rebuild kits and supercharger are sold out and won't return.
LEXTREME LEXUS FORUMS HERE!
- Post Questions For Quick Answers!
FOR INFO PURPOSES ONLY – DISCONTINUED – OUT OF STOCK
ATTENTION 1998 and New Lexus-Toyota V8 Owners:
If you own a 98 or newer Lexus or Toyota V8 engine and currently having some type of forced induction such as turbocharged or supercharged.  The stock rods are only good for about 450-500 rwhp and they will literally break on you.  If rod broke you whole costly block will be destroy.  So don't take chances and ruin your beautiful engine.
I have a friend own a junk engine yard and every Tundra blocks or Lexus (post 98) engines.  Almost all of them have broken rod or rods.  The combo below are the toughest available period! Please read more about Lexus and Toyota V8 Rods in here.
We want to be the leader in built Lexus-Toyota V8 engines authority.  Therefore we are offering something you have never seen before.  We are offering pistons/rods combination.  If your budget doesn't allow you to purchase a complete built forged long or short block and the rotating assembly might not what you want.
Here is your chance to get something nice and eliminate days of research and headaches.  My goal is to eliminate your headaches.  We are offering a forged pistons/rods combo.
Pistons: The pistons will be custom made specific for your application.  Please see this link for more details on custom forged pistons
Rods: These forged H-Beam rods are custom made specifically for Lextreme with ARP L-19 rod bolts and the bolts are good for 1000 hp.  No crank modification is necessary.  We named these Lextreme Lightning Rods.  These rods are custom machined to mate with stock oem bearings.  They will bolt right onto your stock forged steel crank.  Please see pictures below.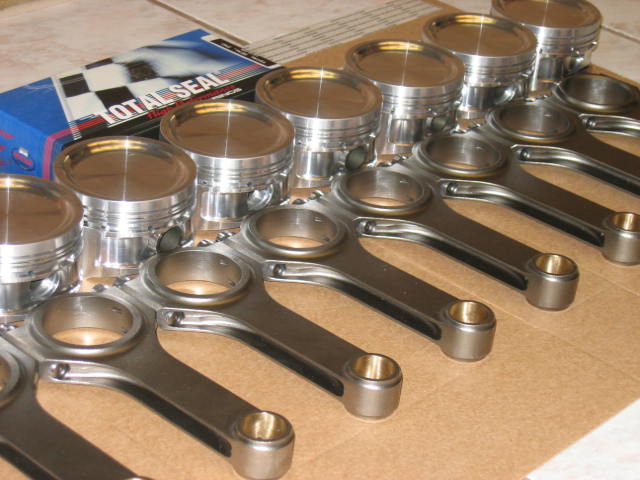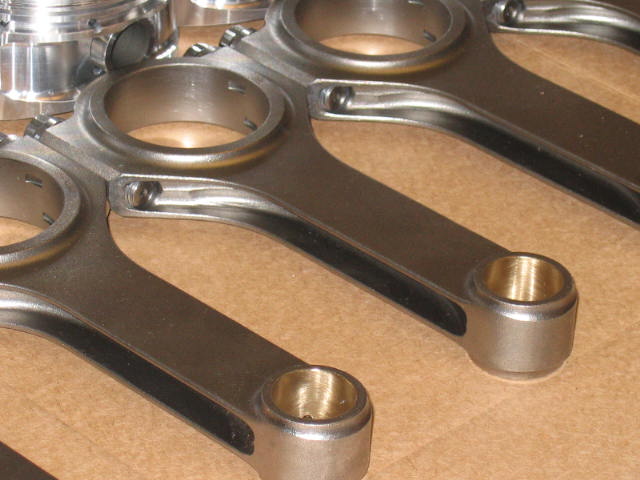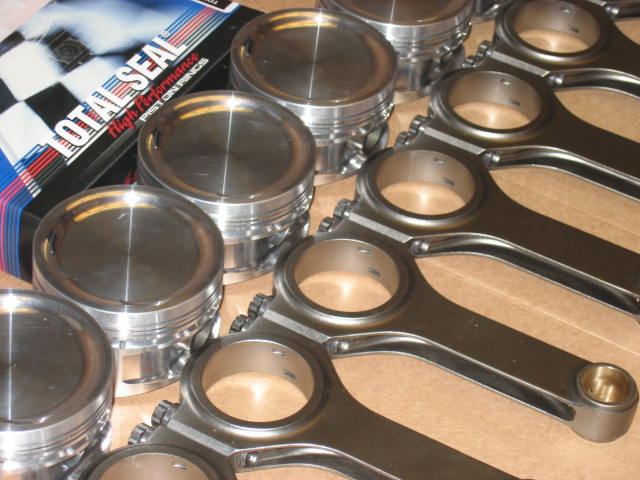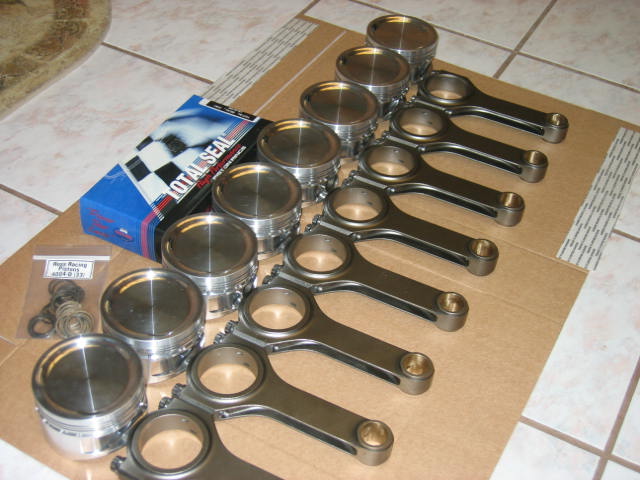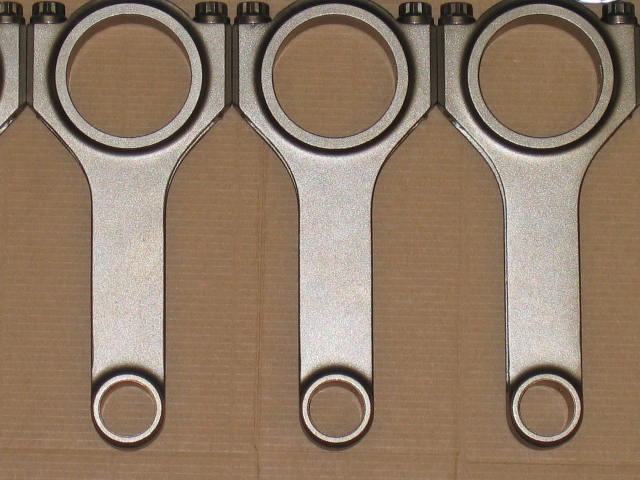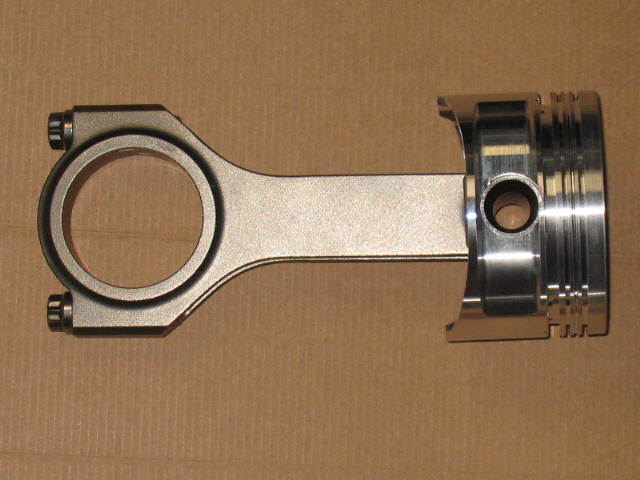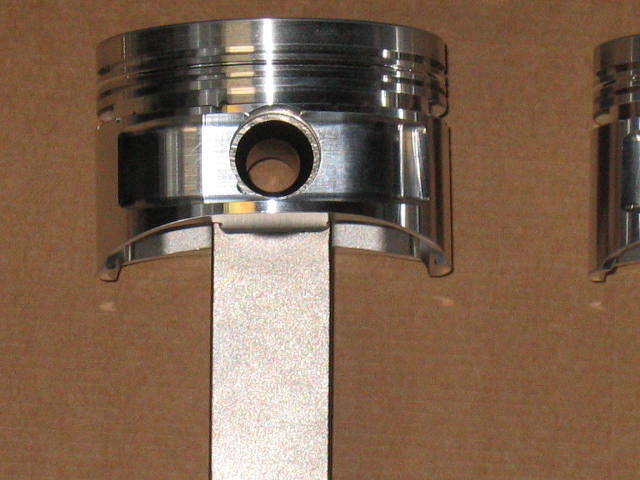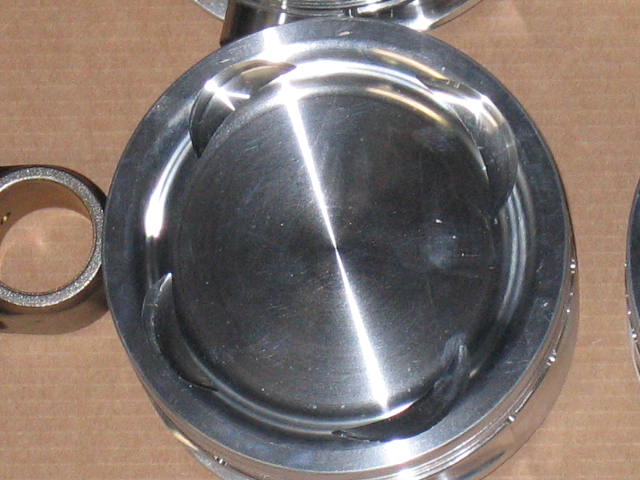 Please let us know your compression ratio and over bore desire.  This combo is balanced before shipping.  This package is an unbelievable and insane price is only for $1,995.  This is a small price to pay if you compare other I Beam rods are about $1,500 a set.  You are getting high performance quality custom forged pistons to your specs plus steel forged H Beam Rods with the strongest ARP bolts available.  With my package and your stock steel forged crank and the legendary Lexus 6 Bolt Main or the Toyota 2 Bolt Main and all you need is Fuel, Ignition, Air and a lot of Tuning.  Here is what you get for your purchase.
8 Custom Forged pistons with any compression ratio and bore size
8 Sets of performance piston rings
8 Performance piston pins
8 Lextreme Lightning Forged H Beam rods
16 

ARP 

 L-19 rod bolts
Due to complexity of Toyota bearings.  We highly recommend you call your local Lexus dealer and give them your crank number and rod number to get the proper size bearings.  The rods are capable of 1,000 hp with ARP L-19 bolts.  However, we recommend you coat your rod bearings for high performance hp goal.  Please allow 8-10 weeks for delivery.  Slightly extra for outside of United States shipping. $1,900 USD
2UZFE motor such as Tundra, Sequoia, 4Runner and LX470 will be an additional $150 because of the rarity of rings size.
Lextreme Lightning Carrillo Rods/Pistons Combo:
Yes, its real Carrillo forged H Beam Rods with SPS Carr bolts.  They normally run for about $2,200 a set just for the rods.  We have modified these rods to work with any Lexus-Toyota V8 engines.  With these NHRA rated rods along with Ross custom Forged Pistons with upgraded pins and rings.  This combo is the toughest money can buy for the our V8 engines.  With rods running for about $2,200 and upgraded forged pistons is about $1,250.  We are selling this combo for $2,699 plus $50 shipping with in United States or $120 shipping to out of the country.  Special on the rods are hard to come by so please email me so we can put you on the waiting list.  Different combination of block-heads also available.  Any Lexus-Toyota V8 engine for $2,699 plus shipping.
Do you have any questions? If so, please head over to
the forums
to get a quick answer or share your experience!
Cash App (user: $lextremeparts).
This is a freelance site with no support by huge companies.  I have been doing most of the R&D and technical write-ups by myself with my personal money and literally thousands of hours of my time.  I have taken extra steps to demonstrate in details how things are done.  Currently I am one of the few people doing Lexus V8 research and performance enhancement.  This effort comes from my personal love for this wonderful engine.  Most of the modifications are from trial and error. There's no cookbook for 1UZFE mods and its unknown territory for much of supercharger performance.  The parts, labor, web development and site hosting are 100% paid from my personal hobby money.  If you feel my efforts help you in any form, please do not hesitate to donate any amount of money to support this site. You have no idea how much I and the entire Lexus and Toyota community appreciate it!