Methanol/Water Injection is available NOW for just $499.00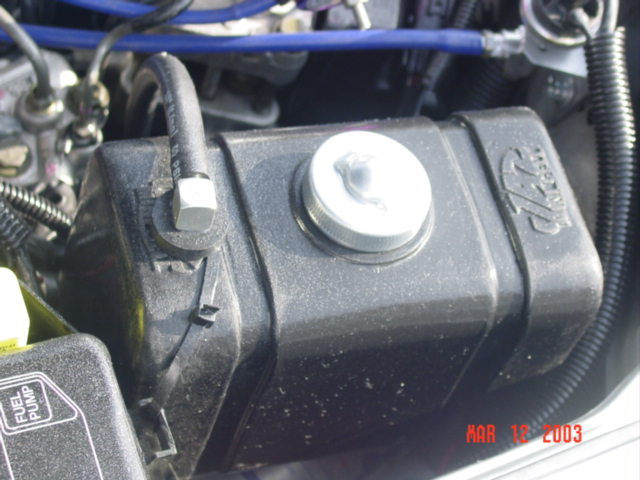 This system will work on all first generation Lexus SC400 or LS400 with Supercharger, Turbo, Natural Aspirated or any turbo cars.  Slight modifications will be needed if you are running N/A SC400 or LS400 because of the location of the methanol injection container.
Otherwise, it will be bolt-on for the super-turbocharged SC400 or LS400.  One of the major differences between this kit vs. other kit is that I only use quality parts and material.  I use Stainless Steel Braided Line and along proper AN (Army Navy) fittings.  Quality parts are expensive.  Playing with methanol is like playing with fire.
All pre-caution steps must be taken seriously.  Those cheap Home Depot fittings and plastic hoses would be very dangerous if any methanol leak.  I have seen some kit only use silicone as a seal.  This type of seal will melt with heat or certain type of chemicals.  I am not willing to take that chance.  Are you?  I am the type of person enjoy quality and I am willing to pay for quality.  If you are looking to DIY, please follow links below.
When you are ready to order, please let me know how long the braided line you need and what type of fitting.  This is almost a custom made for very customer.  If you need more photos, please email me.  I am "lextremely" satisfied with this setup and it cooled forced induction and gives plenty of power.
| | |
| --- | --- |
| 1 | Shurflo Pump:  The pump is high pressure water pump that is safe on methanol and alcohol.. The pump is rate at 60 psi with 5.3 gallon per minute.  The pressure is great enough to atomized any fluid. |
| 1 | Check Valve: This is a plastic one way check valve.  Methanol only allow to flow one direction.  This is perfect if it is being use with forced induction |
| 1 | Jaz Fuel cell: This is a quality methanol safe fuel cell.  It has a 2 quarts capability which is perfect fit under the hood. |
| 2 | SS Braided Line:  These lines are custom made to fit into the V8 Lexus and its methanol safe and heat resistance.  These lines will be custom made according to your specifications. |
| 1 | Fittings: All fittings are 4 and 6-AN.  6-AN coming of the Fuel Cell and 4 -AN going to the intake. |
| 1 | Injector:  This high pressure injector is set for 300-400 rwhp. |
| 1 | Relay:  This relay will help control voltage surge. |
| 2 | LED Lights:  LED lights are being to indicate when the inject take place |
| | |
| --- | --- |
| 1 | Pressure Switch: This switch is activated with boost or pressure.  This switch is adjustable and its water proof.  I had those cheap pressure switch, every time I wash my engine, my switch would go bad.  I learned from my mistakes and you are getting the perfect version.  Hey that is not fair!  If you are running N/A motor, a manual switch will be provided. |