UPDATE:
June 4, 2022 - A limited supply of the original best-selling Lextreme
1UZFE EGR Delete Kit
is available for sale. If you own a 1UZ from 1990-1997, you
really
need to get this kit! Email me at
[email protected]
for help with ordering or questions.
We're not an auto parts supplier and I can't respond to inquries for random Lexus and Toyota auto parts. All parts not listed above, including the LS400 and SC400 turbo kit, rebuild kits and supercharger are sold out and won't return.
LEXTREME LEXUS FORUMS HERE!
- Post Questions For Quick Answers!
Compression: 10.4:1
Crank Pulley: 5.5″
Supercharger Pulley: 3.125″
Boost: 7 psi
Supercharger Efficiency: 74%
Intercooler Efficiency: 40%
Redline: 6200 rpm
Displacement: 4.0 liter
Result: With the above variables, the 7 psi intercooler Vortech V2 SQ S-Trim will generate about 380 bhp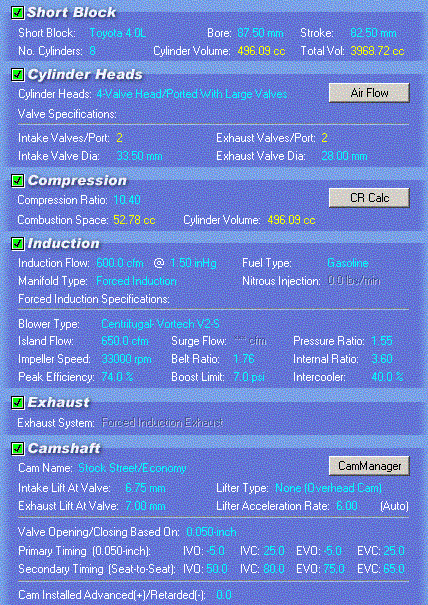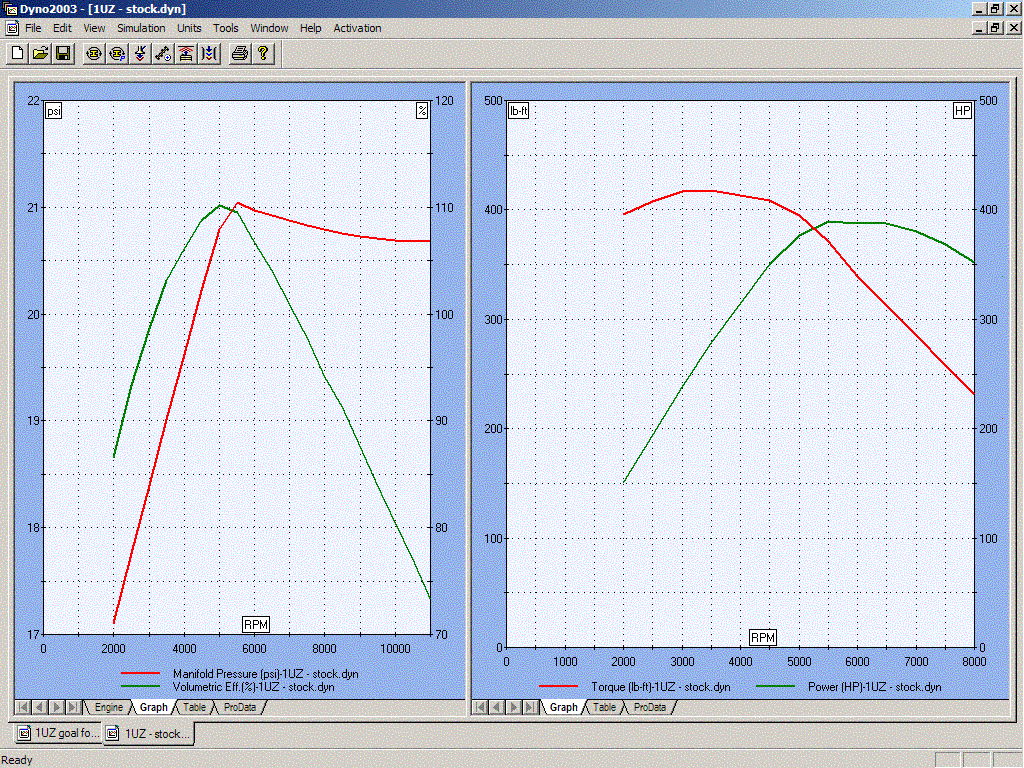 This graph is also prepared by Stefan.  Here we can do a comparison of horse power and torque gain with the following mods:
1. The first line is just stock dyno for the 1UZFE and the results are pretty predictable.
Horse Power: 260 bhp @6000 rpm
Torque: 275 TQ @4000 rpm
2. The second line is stock motor with well designed tube headers.
Horse Power: 300 bhp @6500 rpm
Torque: 300 TQ @4000 rpm
3. The three line is stock motor with well designed tube headers with ported heads (stock cams)
Horse Power: 350 bhp @6500 rpm
Torque: 325 TQ @4000 rpm
4. The last line (most power generated) is with 2UZFE (4.7 Tundra Motor) bottom with ported 1UZFE heads and well designed headers.  Just like the above setup with more cubic.
Horse Power: 375 bhp @6000 rpm
Torque: 375 TQ @2500 rpm
Again, these numbers are based on Desktop Dyno 2003 program.  Actual numbers may vary, but it should be pretty close to the data given.  With 2UZFE bottom and 1UZFE heads can generate monstrous natural aspirated power.  Can you image the fourth combo with 8 psi forced induction?  I can not image.  It would be too crazy.  Or can you image the new Lexus-Toyota 5.4 liter with well ported heads with 8 psi?  Big block power at idle.
Do you have any questions? If so, please head over to
the forums
to get a quick answer or share your experience!
Cash App (user: $lextremeparts).
This is a freelance site with no support by huge companies.  I have been doing most of the R&D and technical write-ups by myself with my personal money and literally thousands of hours of my time.  I have taken extra steps to demonstrate in details how things are done.  Currently I am one of the few people doing Lexus V8 research and performance enhancement.  This effort comes from my personal love for this wonderful engine.  Most of the modifications are from trial and error. There's no cookbook for 1UZFE mods and its unknown territory for much of supercharger performance.  The parts, labor, web development and site hosting are 100% paid from my personal hobby money.  If you feel my efforts help you in any form, please do not hesitate to donate any amount of money to support this site. You have no idea how much I and the entire Lexus and Toyota community appreciate it!