UPDATE:
April 4, 2022 - A limited supply of the original best-selling Lextreme
1UZFE EGR Delete Kit
is available for sale. If you own a 1UZ from 1990-1997, you
really
need to get this kit! Email me at
[email protected]
for help with ordering or questions.
We're not an auto parts supplier and I can't respond to inquries for random Lexus and Toyota auto parts. All parts not listed above, including the LS400 and SC400 turbo kit, rebuild kits and supercharger are sold out and won't return.
LEXTREME LEXUS FORUMS HERE!
- Post Questions For Quick Answers!
Wanted: First Gen SC400 for Prototype – Free labor
Please contact me ASAP
We are currently working on the first generation SC400.  This setup will be slightly more aggressive than the LS400.  Most likely we will be using Vortech V1 T-Trim rated at 825 bhp.  The T-Trim has a more aggressive impeller design to increase air flow.  The T-Trim has a step up 3.45:1 internal gear ratio vs. S-Trim has 3.60:1 supercharger internal gear ratio.
VORTECH V-2 SQ (Super Quiet) SUPERCHARGER – This will be use in our kits.  Upgrade to T-Trim available, but its greater noise level and high drive power.
The new generation supercharger included in most Vortech street supercharging systems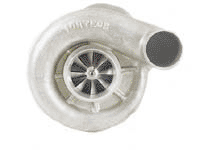 Helical cut gear profile with SQ technology

Near silent operation

Fits engines up to 680 horsepower

Maximum airflow: 1,000 CFM *
Maximum boost pressure: 20 PSI *

Maximum impeller speed: 50,000 RPM

Adiabatic efficiency: 72% **

Setup Ratio 3.60:1

Part numbers below do not include drive pulley
"Super Quiet" design
8.75″ Wide, 9.44″ Tall, 5.52″ Deep (not including input shaft)

Available with straight or curved discharge and clockwise or counterclockwise rotation

Click here for SQ S-Trim models

 Retailed at $1,945.95
---
VORTECH V-1 T-TRIM SUPERCHARGER
The supercharger of choice for street/strip vehicles with modified engines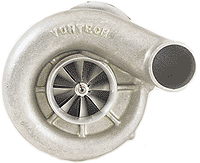 Straight cut spur gear

Fits engines up to 825 horsepower

Maximum airflow: 1,200 CFM *
Maximum boost pressure: 26 PSI *

Maximum impeller speed: 55,000 RPM

Adiabatic efficiency: 73% **

Setup Ratio 3.45:1

Available with straight or curved discharge and clockwise or counterclockwise rotation

Click here for T-Trim models

 Retailed at $2,501.95
Here are some supercharger maps: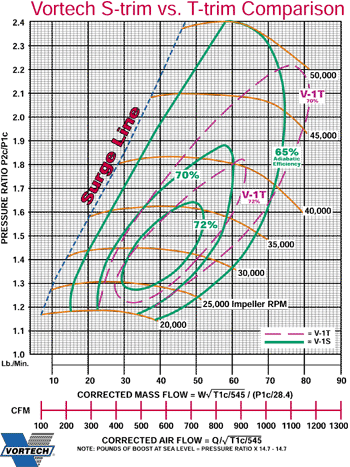 Since the T-Trim has higher cost, therefore, the expense will be pass on to the customers.  More info will be available soon, please stay tune and come back for updates.  However, here are modifications require for this supercharger kit.  This kit is NOT for everyone.  However, if you are interested, here are some required modifications.

1. Relocation Battery to the trunk (2 hours of labor)
2. Relocation of Fuse Box (3 hours)
3. Electric Fan conversion (2 hours)
4. Removal of the Fan Clutch Bracket to install longer studs (1 hour)
5. Removal of the Front Bumper Cover (30 minutes)
6. Cutting of the Firewall Passenger side (10 minutes)
7. Removing the windshield washer (10 minutes)
8. Tapping a 3/8″ NPT into the oil pickup (30 minutes) with proper tools
Once again, this kit is not as easy as others, but this kit will be well worth it.
Please submit your interest in our supercharger kit.
If anyone interested in free installation of this kit, I will need your car for about 6-8 weeks.  The LS400 kit is about 90% similar to the SC400 kit.  However, I don't have a SC400 and therefore the production will be delay.  If you want to have free labor, please email me.  The sooner the better.  I am in Los Angeles California.
Do you have any questions? If so, please head over to
the forums
to get a quick answer or share your experience!
Cash App (user: $lextremeparts).
This is a freelance site with no support by huge companies.  I have been doing most of the R&D and technical write-ups by myself with my personal money and literally thousands of hours of my time.  I have taken extra steps to demonstrate in details how things are done.  Currently I am one of the few people doing Lexus V8 research and performance enhancement.  This effort comes from my personal love for this wonderful engine.  Most of the modifications are from trial and error. There's no cookbook for 1UZFE mods and its unknown territory for much of supercharger performance.  The parts, labor, web development and site hosting are 100% paid from my personal hobby money.  If you feel my efforts help you in any form, please do not hesitate to donate any amount of money to support this site. You have no idea how much I and the entire Lexus and Toyota community appreciate it!