UPDATE: May 4, 2020
Many original Lextreme parts back in stock including
EGR Delete Kits
! Email me at
[email protected]
what you need and I'll check.
LEXUS 1UZFE MODS FORUMS
- Post Questions Here For Quick Answers!
Garrett claims the GT series turbos are much better then the old school T series.  They claim the GT turbos will spool about 1,000 rpm lower then the previous generation.  Here are the Specs of each turbo and compressor map.  I also included the 1UZFE to 3UZFE Airflow.
Here are the Air Flow Chart for the UZFE:
Here is the spread sheet of 1UZ to 3UZ Air Flow Chart
Here is the Specs of GT Turbos:

Garrett GT Turbos
Compressor Specs
CHRA
Turbine Specs
Max. Rated HP
Part No.
Wheel Dia.
Wheel Trim
A/R Ratio
Bearing System
Wheel Dia.
Wheel Trim
A/R Ratio
130
GT-12
41mm
50
.38
Standard
35.5mm
72
.43
220
GT-15
45mm
60
.48
Standard
41.2mm
72
.35
260
GT-20
56mm
55
.53
Standard
47mm
72
.46
280
GT-22
52mm
60
.51
Standard
50.3mm
72
0.56, 0.67
280
GT-22
59.41mm
52
.42
Standard
50.3mm
72
0.56, 0.67
320
GT-28R
Call
CALL
.6
Ball Bearing
50.3mm
62
.64
500
GT-30R
76.2 mm
56
.6
Ball Bearing
60mm
84
CALL
520
GT-32
71, 76mm
52
.5
Standard
64 mm
73
.78
660
GT-35
71, 76mm
52
.50, .60
Standard
68mm
84
1.18
680
GT-35R
82mm
56
.7
Ball Bearing
68mm
84
0.82, 1.06
700
GT-37
76mm, 82mm
52
.54, .70
Standard
72.5mm
84
1.12
750
GT-40
82mm, 88mm
50, 54
.58, .72
Standard
77mm
73, 84
0.94, 1.34
1100
GT-42
94mm, 102mm
53, 56
.6
Standard
82mm
84
1.15
1100
GT42R
94mm, 102mm
53, 56
.6
Ball Bearing
82mm
84
1.15
2200
GT-60
141mm
56
1.05
Standard
130mm
84
1.47
To match the perfect setup for your horse power
needs.  Just match the above air flow chart with the
approperaite engines and the boost u want to run.  The
airflow (Text in Red) and pressure ratio (Text in Blue).
The Pressure Ratio is on the right side of the chart and the
flow rate at the bottom of the map.  For example 8 psi is
your goal for the 1UZFE (SC400, LS400 or Crown). Here is your
air flow and pressure ratio:
Pressure Ratio:39.08
Air Flow for 1UZ @ 8 psi:1.54 
To learn more about "how
to read compressor maps"
Here are the compressor maps: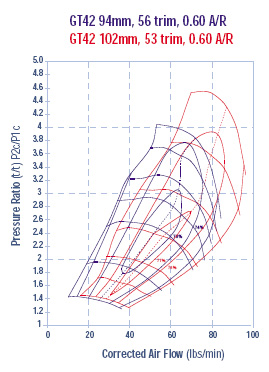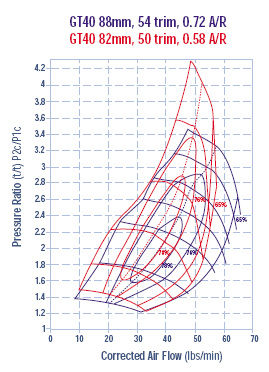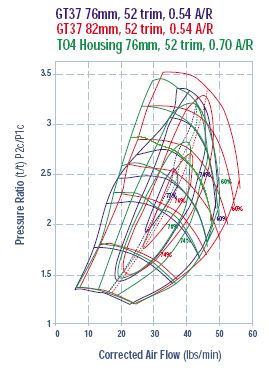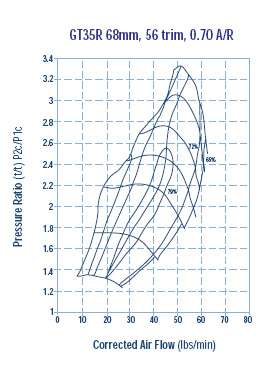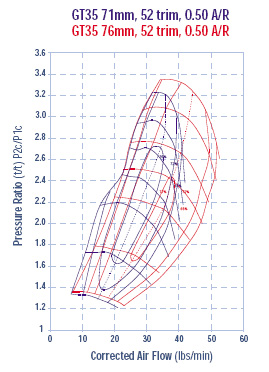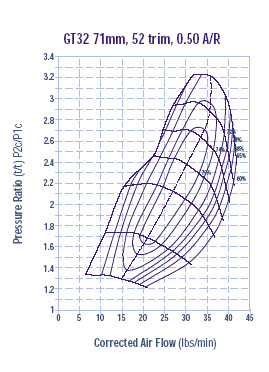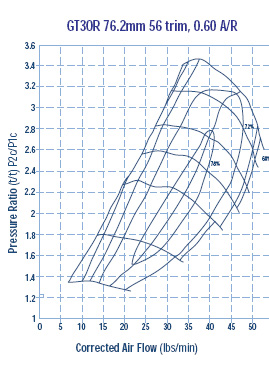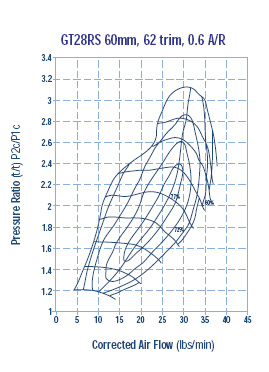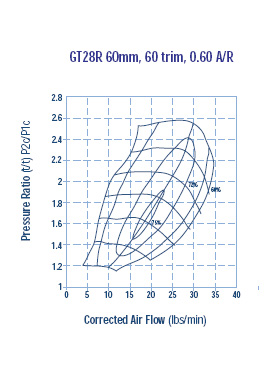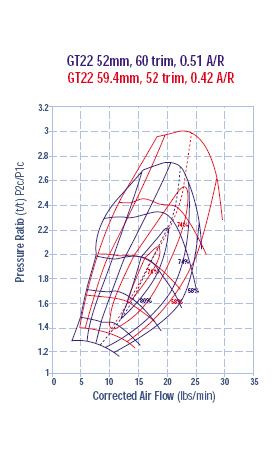 Do you have any questions? If so, please head over to
the forums
to get a quick answer or share your experience!
This is a freelance site with no support by huge companies.  I have been doing most of the R&D and technical write-ups by myself with my personal money and literally thousands of hours of my time.  I have taken extra steps to demonstrate in details how things are done.  Currently I am one of the few people doing Lexus V8 research and performance enhancement.  This effort comes from my personal love for this wonderful engine.  Most of the modifications are from trial and error. There's no cookbook for 1UZFE mods and its unknown territory for much of supercharger performance.  The parts, labor, web development and site hosting are 100% paid from my personal hobby money.  If you feel my efforts help you in any form, please do not hesitate to donate any amount of money to support this site. You have no idea how much I and the entire Lexus and Toyota community appreciate it!