UPDATE:
June 4, 2022 - A limited supply of the original best-selling Lextreme
1UZFE EGR Delete Kit
is available for sale. If you own a 1UZ from 1990-1997, you
really
need to get this kit! Email me at
[email protected]
for help with ordering or questions.
We're not an auto parts supplier and I can't respond to inquries for random Lexus and Toyota auto parts. All parts not listed above, including the LS400 and SC400 turbo kit, rebuild kits and supercharger are sold out and won't return.
LEXTREME LEXUS FORUMS HERE!
- Post Questions For Quick Answers!
There is big talk about turbo and supercharging Lexus V8 engines.  Specifically the first generation LS400 and SC400 from 1990 to 1997.  Richwood made a wonderful supercharger adaptor manifold and it can pretty much take anything you throw on top of it.  M90 supercharger is very common installed in the early 1UZFE.
However, most would start to find out it would run out of air after 9-10 psi.  Therefore, the next step on supercharger upgrade without breaking your bank account would be the Ford 2003 to 2005 Cobra.  Its also called M112.  This is a huge charger and its perfect for 4.0 to 4.7 liters.  I have been with the Ford Cobra scene for the past 8 years and know a lot of owners with this M112.
My friend literally gave me this charger for almost nothing. However, if you have any connection, you can always try Ebay.  Lots Cobra owners are upgrading the M112 with a Whipple Supercharger and they are selling them cheap.  Average price sold on good used shape M112 is about $500 usd.
Anyway, in this article I will demonstrate and show you step by step on how to install a M112 into your LS400 or SC400.
Before we go any further, we need to understand some engine dimensions.  The most concern measurement we concern the most would be the height of the intake and supercharger because that is where it allow the hood to be closed.  So here we go!
Upper Intake Height from the top of the front water bridge is 5.0″
Richmond Manifold along with Cobra M112 supercharger is 6.5″
Supercharger lower lip is .75″
Richmond Manifold plate is .375″
Before you go any further budgeting for this project is very important.  There are lots of people want to make their car go fast but very few people want to spend the money.  One of my famous advice to newbie is "If you want to play, you gotta pay".
Knowing how much your horse power desire going to cost will give you a guideline on your budget.  This link here give you a rough ball park on budget and horse power.  I also would like you to note that the lists are the minimum requirement and will cost more with bling-blings.  Secondly, labor and tuning is not part of the budgeting since most Lextremers are weekend wrench warriors.  M112 Supercharger Budget.
If we just stack the supercharger on top of the plate without modification then we are 1.5″ too long.  With 1.5″ extra I do not think the hood would closed properly.  Modifying SC400 or LS400 hood would like pretty ugly in my personal humble opinion.  So the goal is to fit the supercharger under the OEM hood if possible.
Since we are 1.5′ over, we can make few modifications to lower the supercharger and hopefully under under the hood or bonnet the Aussies would call it.  There are few areas I was thinking of to eliminate.  First, I would like to shave or machine the supercharger lower lip off.  This lip or guide to the water to air intercooler is about 3/4″.  With that mod, were are only 3/4″ above the stock intake height.  Very good news I would say.
The second area where I can eliminate would be the Richwood manifold plate.  This aluminum plate is about 3/8″ thick.  By deleting it, we are saving another 3/8″.  Now mathematically were still 3/8″ taller then stock.  However, I don't think this would interfere anything at all and especially the hood or bonnet.
So now we are only 3/8″ away from a perfect fit.  However, its not as simple as it looks.  The two other areas of concern that I am not sure if it is possible or not would be the supercharger pulley.  Since it right above the serpentine belt and the hood is somewhat curve or sloop downward and I am afraid it might not clear the hood.
Lets cross our fingers.  Second area of concern would be the throttle body attachment area.  Is about 1.5″ taller the the rest of the charger.  However, there is an area where we can machine off and save us about 3/4″.
At the end of the day with all these modifications, I think we are still 1.25″ taller then stock.  Hopefully everything would be ok.  However, we have to wait and find out.  Meanwhile here some pictures of the system.
Here are some measurements of the M112 Supercharger placed onto Richwood Manifold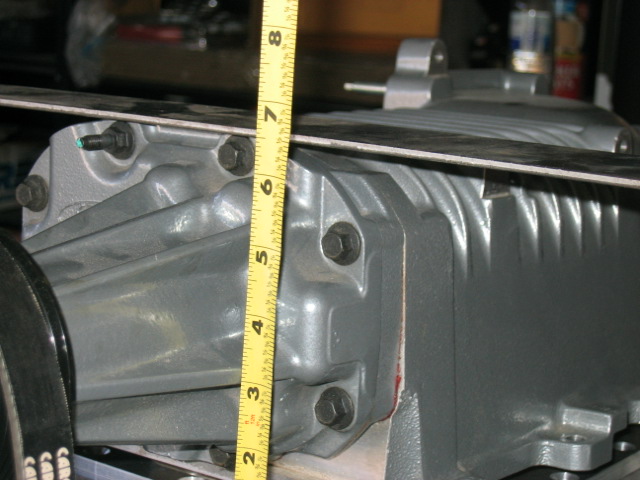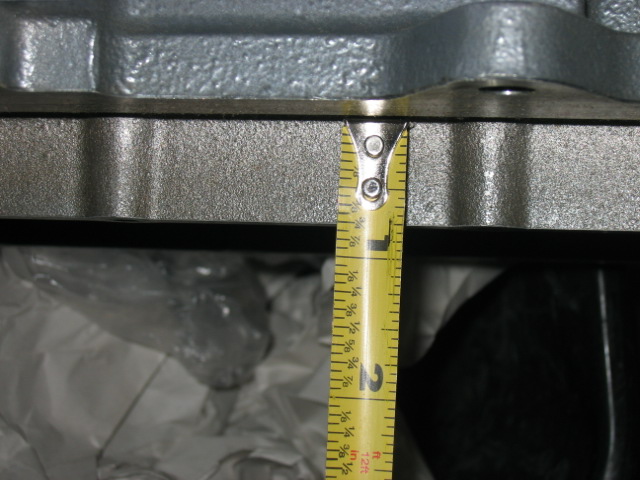 Here are two pictures of the M112 sitting on top of the
manifold with plate and eye-ball alignment with the serpentine belt.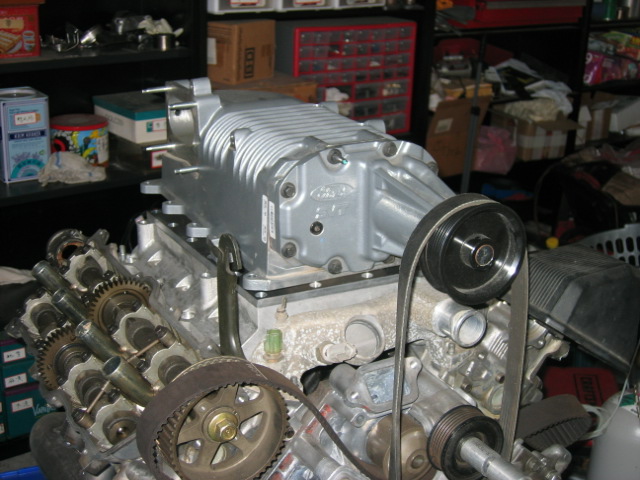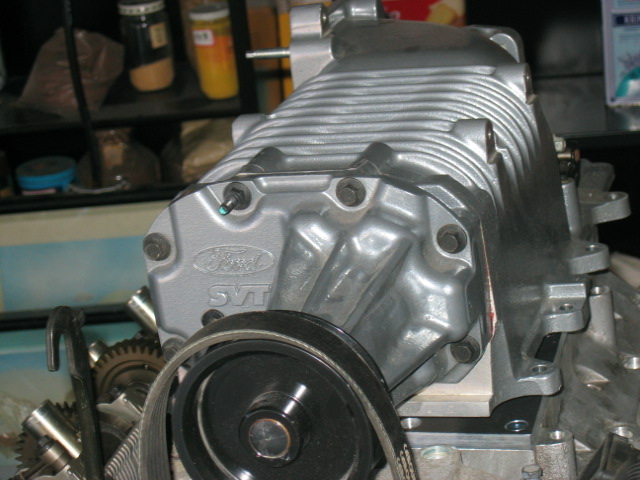 Here are few more pictures of the M112 Supercharger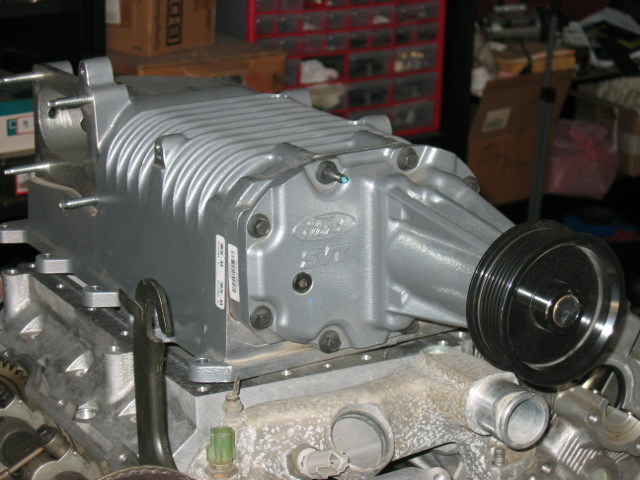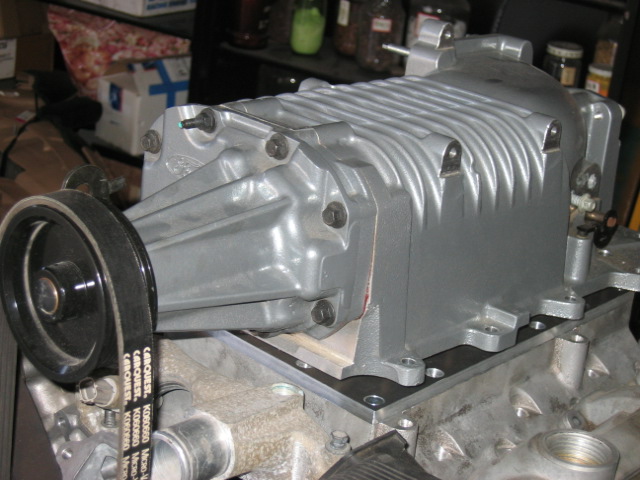 Here are two rear view pictures of the charger with and
without the plate.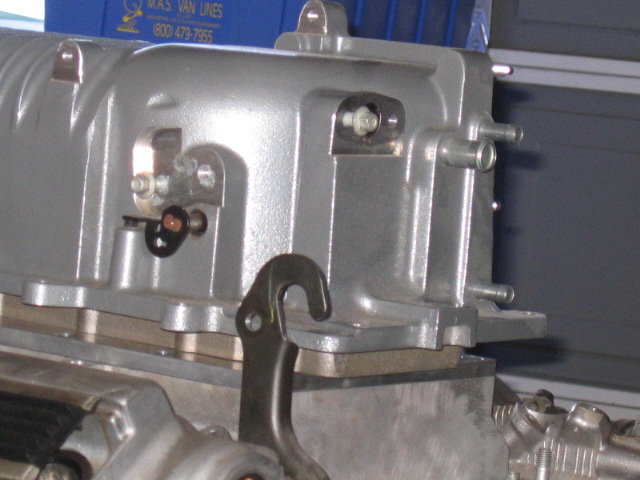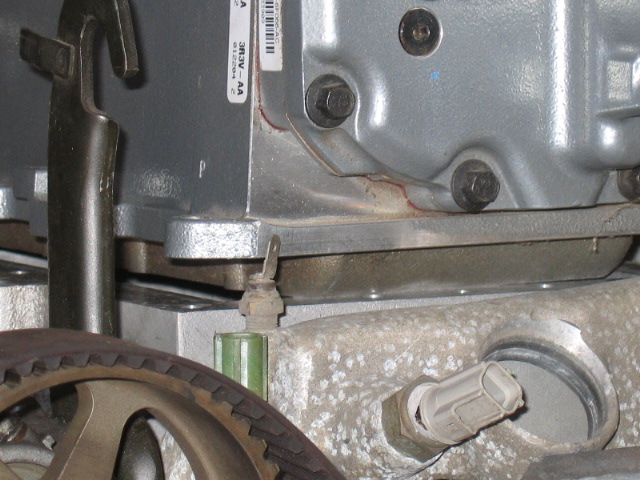 Here is the other area of concern regarding hood
clearance.  The apex of this TB attachment should be deleted.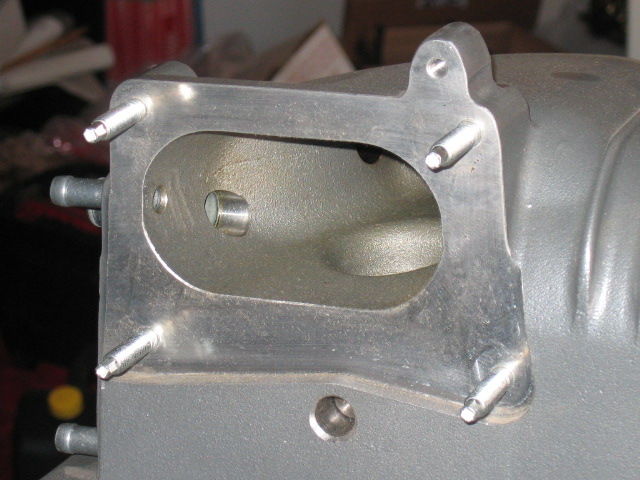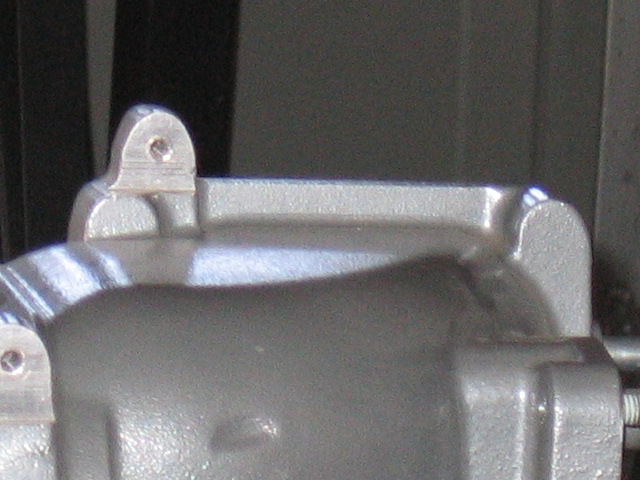 As for machining, there are few areas we need to shave some aluminum off.  First would be the supercharged base.  That will yield about 3/4″.  Second we need to eliminate the little notch on top of the TB attachment.  The other area I would have my machine shop to do would be the side and the rear of the blower.  Shaving the side would allow smooth welding of the charger with the manifold.  Yes, you have to weld the two together as one piece.  The manifold is about 8.5″ wide and the charger is about 8″ wide.  So it really just sit right on top of the manifold.
I was going to mount the 1UZFE throttle body right into the side inlet of the M112.  However, the position of the TB is too far back and would not fit into the car.  So I just use the Cobra OEM supercharger elbow.  Its a 45 degree bend and its just perfect.  I made some drawing via Autocad to mate the 1UZFE throttle body with Cobra Elbow.  I was thinking of using the Cobra throttle body, but the electrical and ecu will be a big mess.  Changing electronics and ecu would be too much work for an average Lextremer.  So using oem 1uzfe throttle body would be the easiest.  These plates make M112 to 1UZFE throttle body possible.   These plates are smashed together for both adaptation of the two parts along with clearance of 1uzfe TB traction control parts.  These plates will be  available if you are interested.  However, this application might not work well for the stock LS400 or SC400 but swap might work.  Please see below for LS and SC application.
Here are some pictures of the throttle body with M112 elbow.  Looks like they will work just fine.  With 1.20″ shaving off the M112, there still room for valve cover clearance.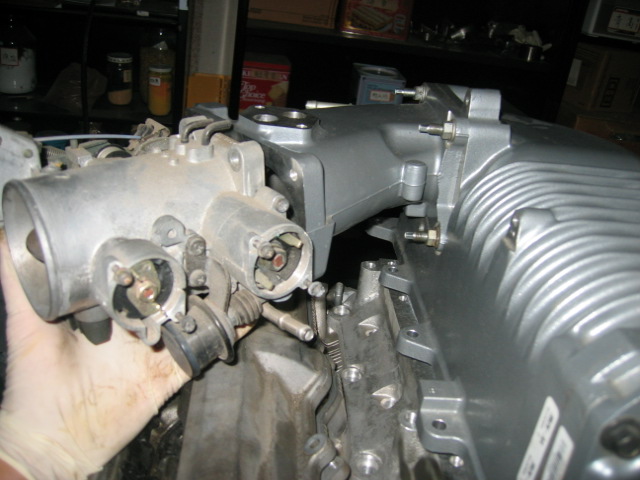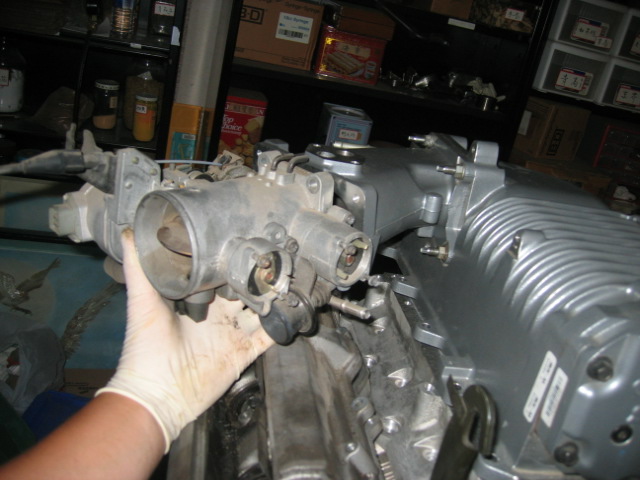 Here are few more pictures of this setup.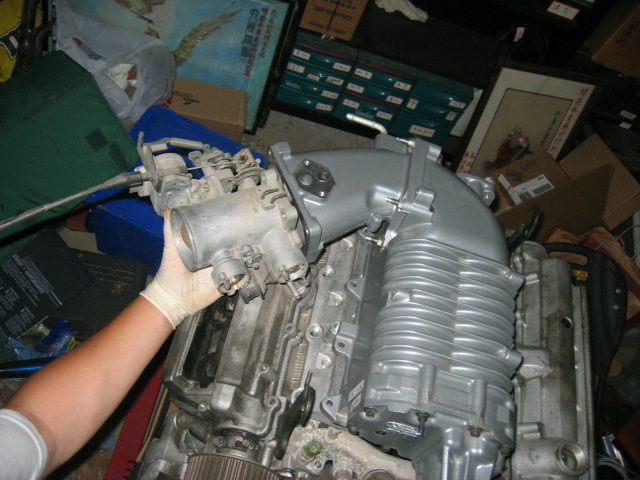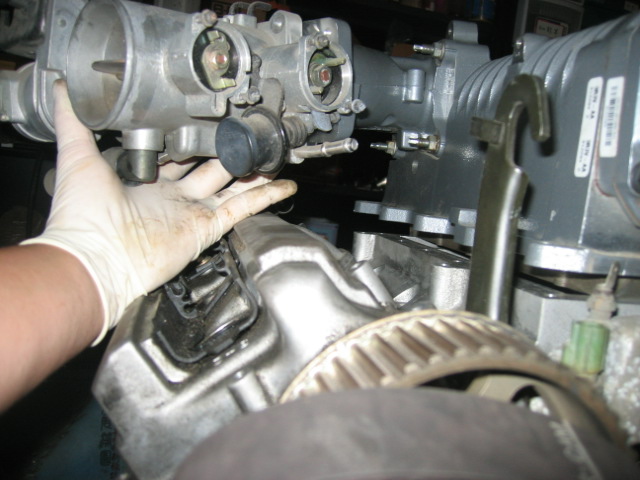 Extra Injectors:
After close examination of the fuel issue.  I did some measurements and finding something very interesting.  The apex of the manifold is about 6 inches from the valley of the block.  That is good news because it means I have some room for the cold injector along with one extra injector.  I would like to maintain oem idle along with luxurious engine behavior.  Therefore, using extra injector/s would be very nice.  If you never open up a 1uzfe or other uzfe engines.  The starter takes about almost half of the area below the intake.  Therefore, any additional injector would have to be from the mid point (between 2nd & 3rd piston).  I would like to run 2 1000 cc.  The stock LS400 is 221 cc and SC400 is 251cc.  With 2 1000 cc that will bring my fuel supply to 471 cc per injector (3,768 cc divided by 8).  471 cc would be good enough for 500 rwhp.  There are two strategic locations where extra injectors (EJ) should be install.  The first would be the Cobra oem elbow.  This is a perfect location to supply most of fuel for the first 4 cylinders (Front) and the bottom of the manifold will be angulated at 45 degrees to supply fuel for the last 4 cylinders (rear).
Here are two similar pictures of the first EJ.  Its angulated at around 45 degrees for clearance.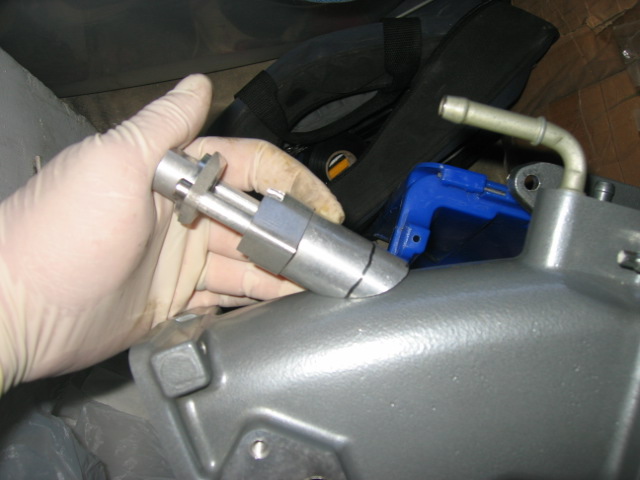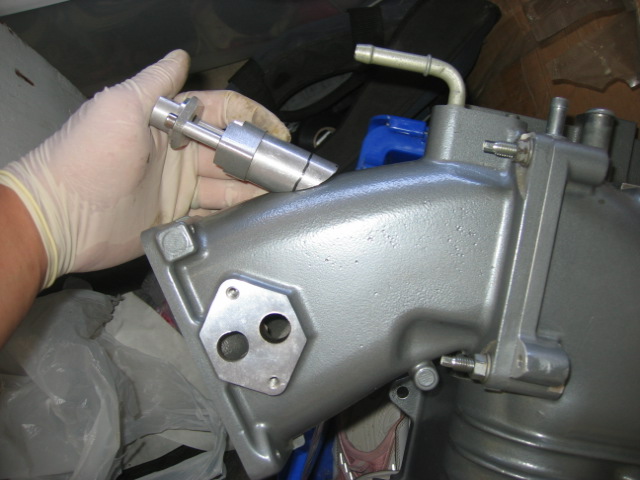 The above application will work with swap 1UZFE.  However, it might be to wide for a standard SC400 or LS400.  There a custom intake is required.  The second consideration would be placing the throttle body to the oem location so that throttle cables would work.  If the throttle body (TB) is placed too far away or at different angle, you might have to extend the cables in order to connect to the TB.  Here is a sample of the Cobra M112 adaptor plate with 1uzfe TB.  This is a two plates kit and they are connected via a 3″ aluminum elbow.
The first picture is the adaptor plate from M112 to the 3″ aluminum elbow and the picture on the right is the plate adapt from the 3″ elbow to the 1UZFE throttle body.  These two plates are cut with high pressure water jet.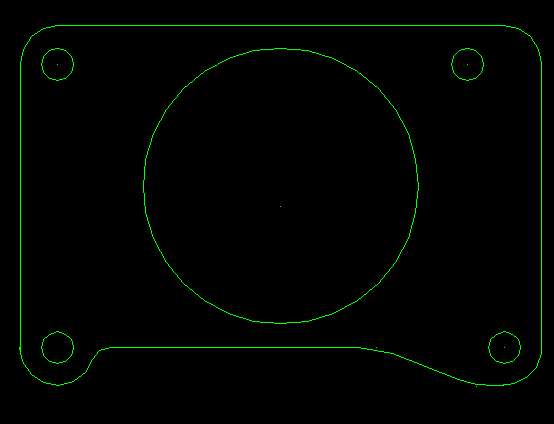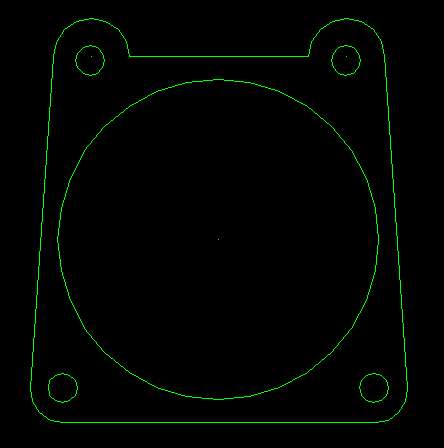 The first picture would be the internal EJ.  Its right under the manifold and its angulated at 45 degrees for the starter clearance and supply fuel for the 4 rear cylinders.
The second picture is the OEM cold start injector.  It will be placed about 1/3 of the way from the front.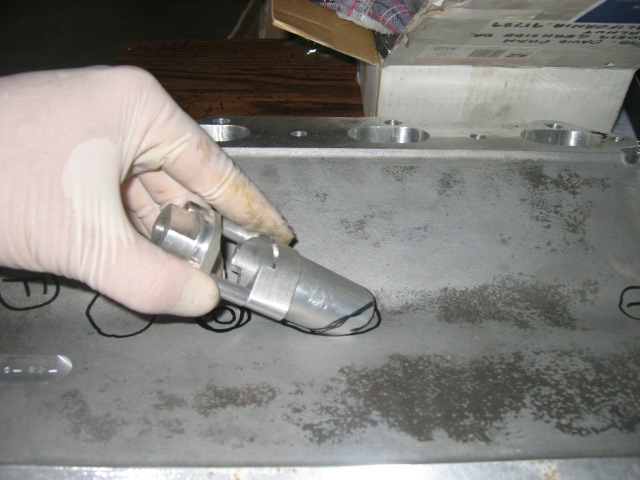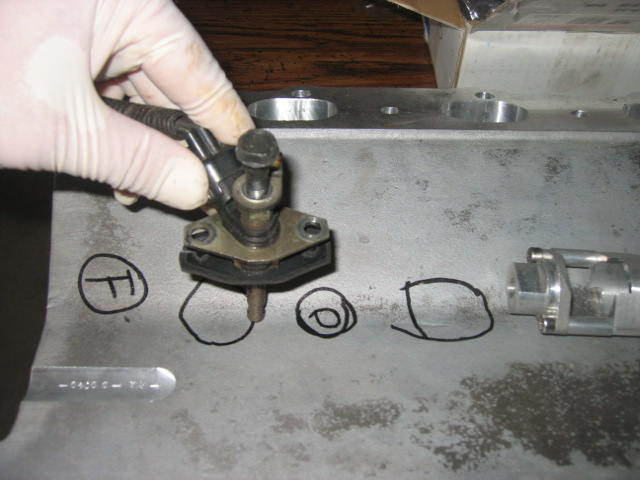 There are few concerns about the M112 supercharger being too large for the Richwood supercharger manifold.  The answer is yes.  Its is definitely longer then the manifold supplied.  However its not the end of the world.  Its about 1/2″ longer in the rear.  To solve this problem would be adding a 1/2″ plate to the supercharger and cover it up.
With shaving and welding, it not a big deal.  I took some pictures for you guys to see.  The first picture is the front of the supercharger.  If we shave the inner lips out, then it should fit flush to the manifold.  The second picture show the rear is about 1/4″ to 1/2″ longer.  This problem can be solve with a small add on plate just for the gap.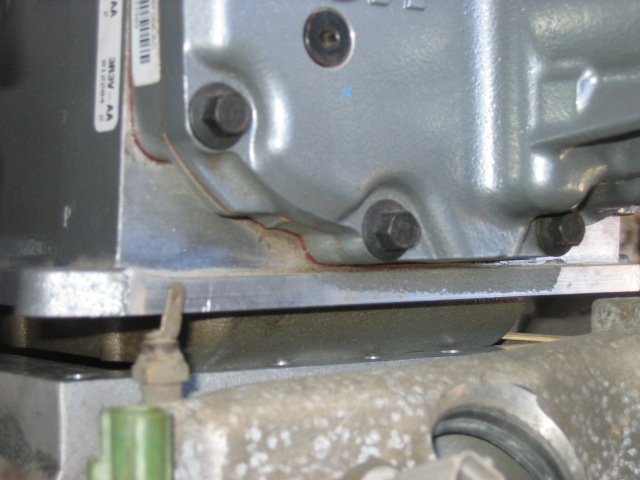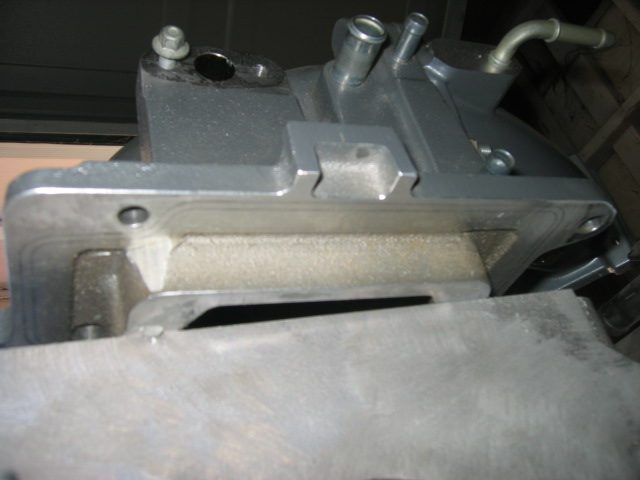 Pulley:
The 2003 Ford Mustang Cobra originally equipped with 3.65″ pulley size with 8
ribs.  However, the Lexus V8 motor utilized 6 ribs and therefore the
original 8 ribs pulley would not work.  There are pretty much very few
company would have these available except one.
www.billetflow.com specialized in Cobra
and Lightning superchargers and other parts have them available.  They
carry many different sizes and its a modular system so I can change the pulley
without changing the ring. The M112 pulley is a press fit so I would need a
specialized pulley puller.
According the Billet Flow stated that with 2.90″, it would increase
about 5-6 psi on a stock Cobra.  The stock Cobra operates at 13 psi stock
and with 2.90″ pulley that will bring it up to 18 psi or so.  Here is a
what Billet provided:

Here is what Whipple provided on information about crank pulley size and boost
in a Cobra: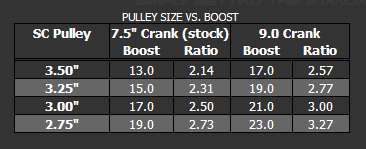 M112 DIMENSIONS FOR CUSTOM
APPLICATIONS:
23-3/4î overall length from back
of mounting slab to tip of pulley
15-1/8 front mounting point center
to rear mounting point center (bolt holes)
7-3/8î front of mounting slab to
tip of pulley
9-1/2î overall width
8-3/4î left mounting point center
to right mounting point center (bolt holes)
8î overall height
1-3/8î snout shaft (pulley) is
offset to the driver's side from center of case
As you can see you can alter boost (psi) either increase crank pulley size or
decrease supercharger pulley size.  However, in our application we are
pretty much stuck with just decrease supercharger size.  As this is a new
territory so I really don't know my final boost with the 2.90″ pulley.
Another factor would be also the increase in cubic inch.  From 4.0L liter
to 5.1L is a big jump and that will after boost pressure too.  I paid $120
for this 2.90″ silver pulley.  Here are two pictures.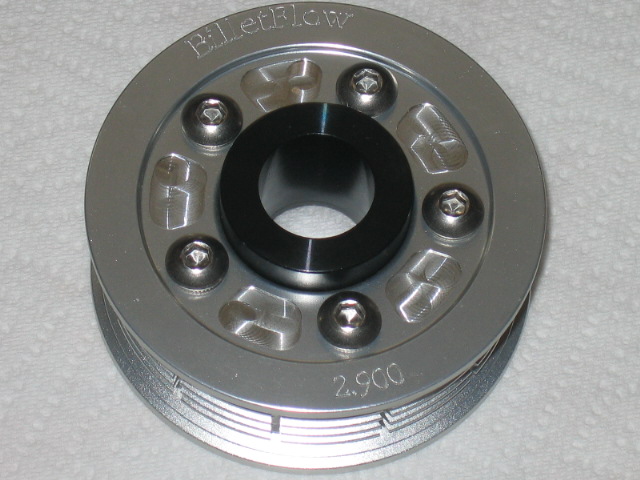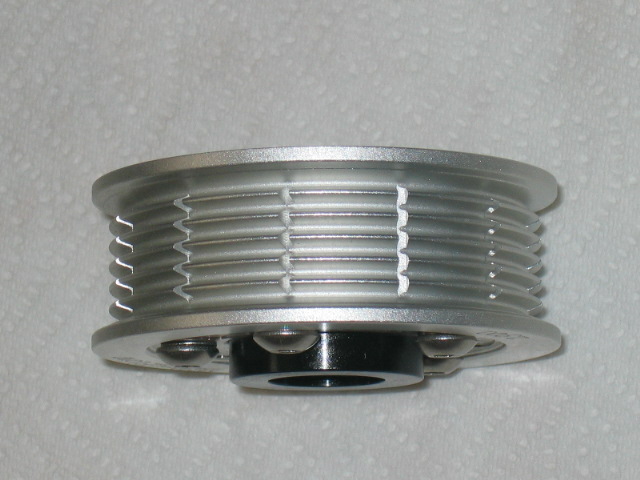 With 5.1L (stroking the 4.7 Tundra block with 1uzfe heads) on its way along
with stock 1995 LS400 compression of 10.4:1 and stock headers I really don't
know much boost it will make.  My goal is to run about 6-8 psi without
intercooler.  This is my street/daily ride so I don't need to go crazy on
it.  Like 99.9% of Lexus owners, I would like to retain the smoothness and
quietness of my daily driver.  So comfort and drivability is very important
to me.
Here are some updated pictures of the M112 being mill: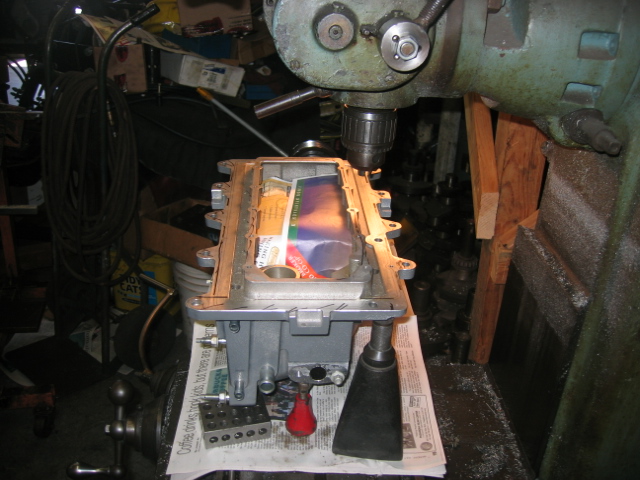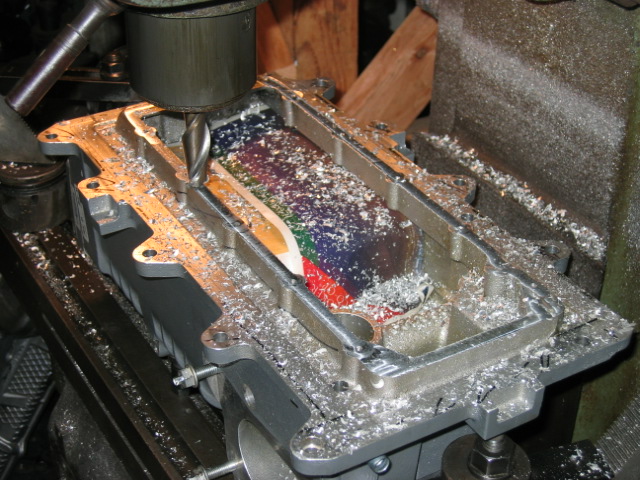 Here is a video of the
milling in progress.
Finally after many weeks we got this machining done.  We took about 1
inch off from the bottom.  We also deleted the plate so we can save an
additional 3/8″.  The M112 is still wider then the Richwood manifold.
The plate would not work on the Cobra M112.  We will need to weld 8 bungs
on the manifold and the charger to stabilize and seal the charger/manifold.
Here are some pictures and you can see before and after pictures: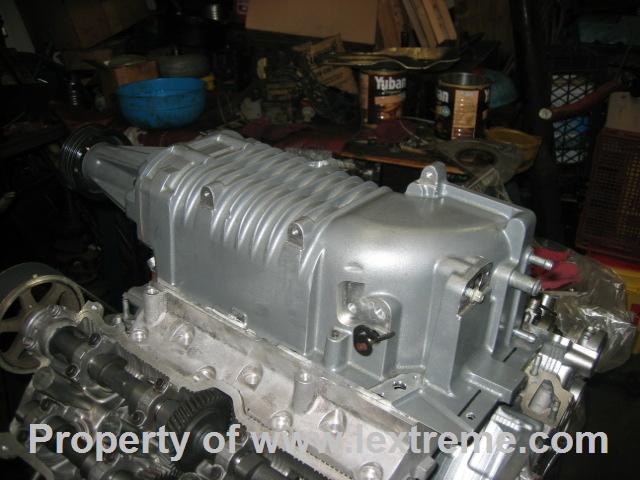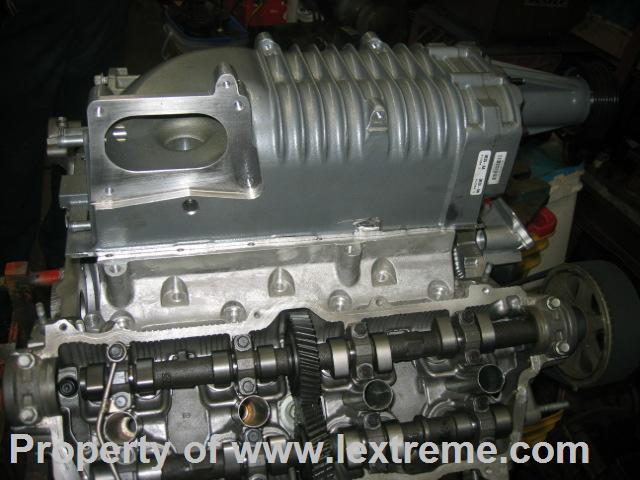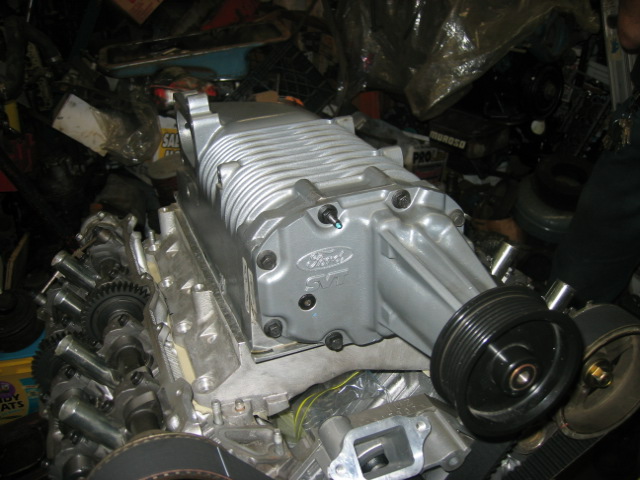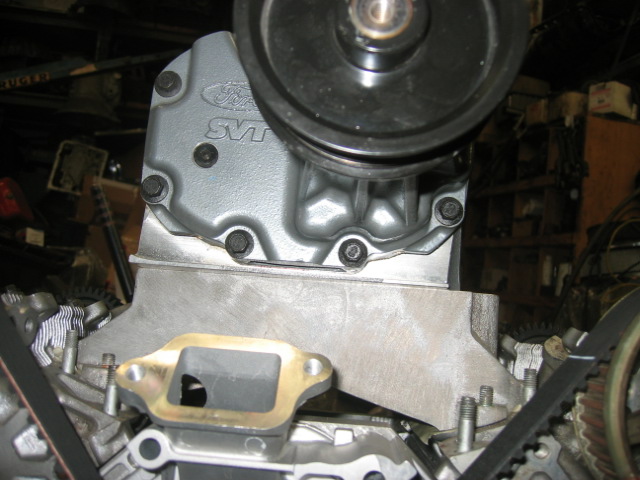 More details coming soon…..
Do you have any questions? If so, please head over to
the forums
to get a quick answer or share your experience!
Cash App (user: $lextremeparts).
This is a freelance site with no support by huge companies.  I have been doing most of the R&D and technical write-ups by myself with my personal money and literally thousands of hours of my time.  I have taken extra steps to demonstrate in details how things are done.  Currently I am one of the few people doing Lexus V8 research and performance enhancement.  This effort comes from my personal love for this wonderful engine.  Most of the modifications are from trial and error. There's no cookbook for 1UZFE mods and its unknown territory for much of supercharger performance.  The parts, labor, web development and site hosting are 100% paid from my personal hobby money.  If you feel my efforts help you in any form, please do not hesitate to donate any amount of money to support this site. You have no idea how much I and the entire Lexus and Toyota community appreciate it!