UPDATE:
April 4, 2022 - A limited supply of the original best-selling Lextreme
1UZFE EGR Delete Kit
is available for sale. If you own a 1UZ from 1990-1997, you
really
need to get this kit! Email me at
[email protected]
for help with ordering or questions.
We're not an auto parts supplier and I can't respond to inquries for random Lexus and Toyota auto parts. All parts not listed above, including the LS400 and SC400 turbo kit, rebuild kits and supercharger are sold out and won't return.
LEXTREME LEXUS FORUMS HERE!
- Post Questions For Quick Answers!
Recently I was called by Tony (ACleanSC and his cousin Dr. Mike) to help him measure the SC300 for a nice huge intercooler.  I was honored and we did some measurements.  The SC is so nice and allow such a huge space for intercooling.
Tony's SC300 is powered by the MKIV Supra 2JZGTE with 5 speed.  He is about to swap a 6 speed sitting in his garage collecting dust.  After 3 weeks, the huge intercooler arrived.  Initially I told myself, damn its too big and we made a mistake.  Its too long and too tall and lots of cutting will be involved.  This morning we made an appointment to a local muffler which I know them pretty well.
With the front bumper removed and all those misc. wires move to aside temporary, we managed to uninstall the front bumper in less than 30 minutes.  We made few mock installation and the intercooler fit perfectly.  If an additional 1/2″ in any direction would be too big and lots of cutting would be involved.
The intercooler is 12″ x 32″ x 3″ with 3″ in and outlet.   This is a custom made intercooler specifically for the SC300/400.  Beside the huge front mount intercooler (FMIC), we also redo all the pipings.  Take a pictorial journey with us and enjoy: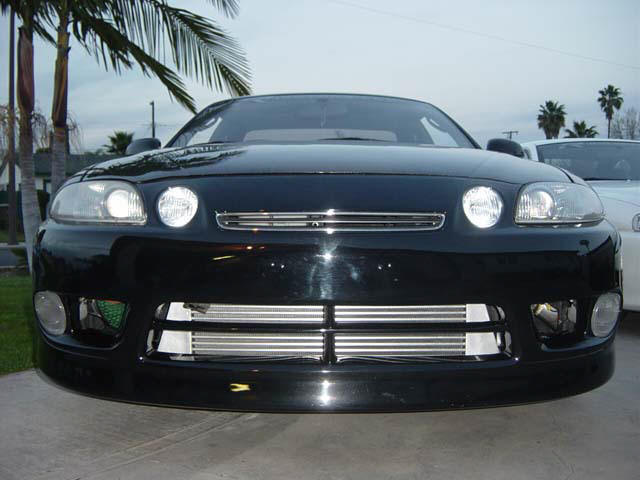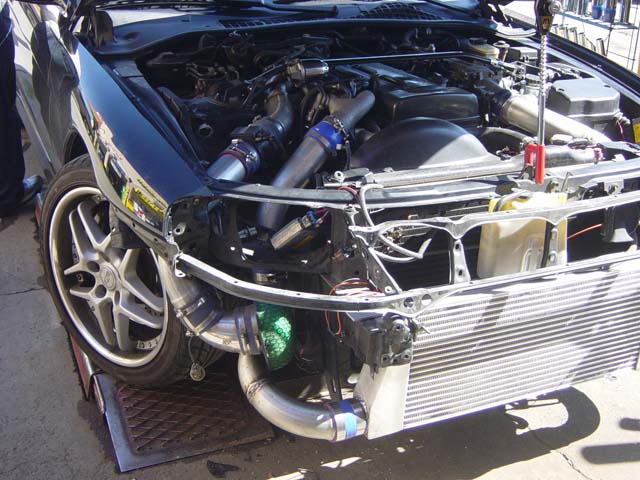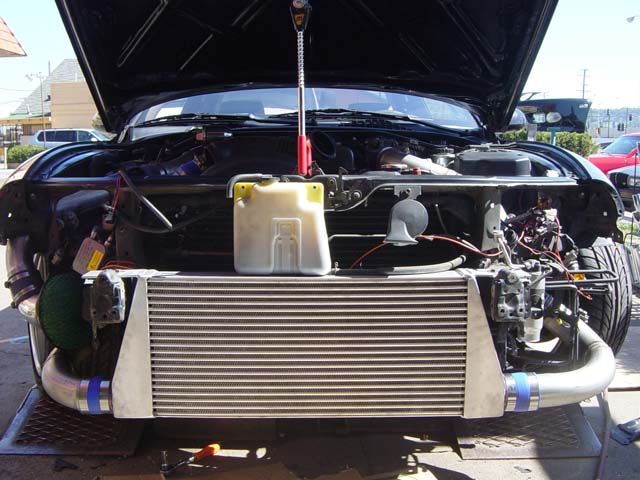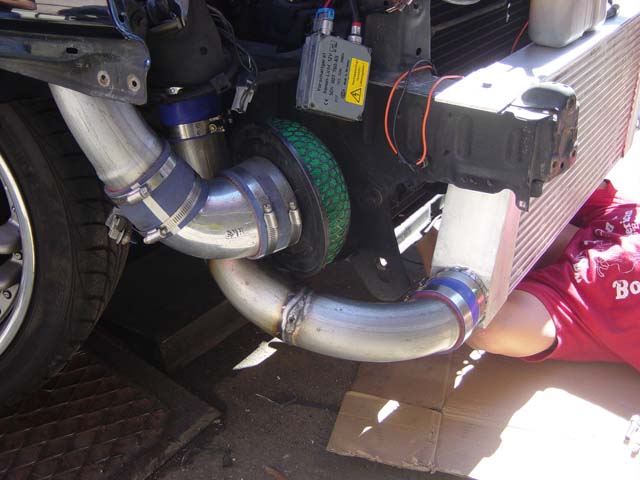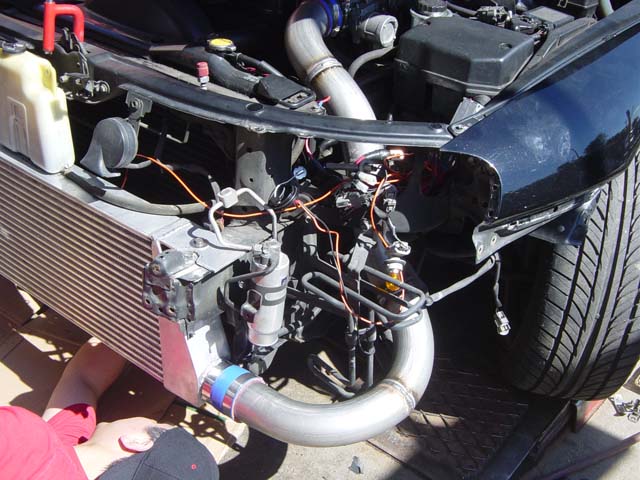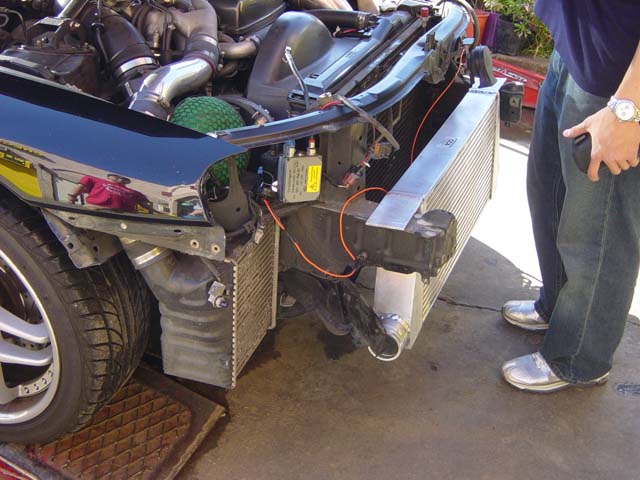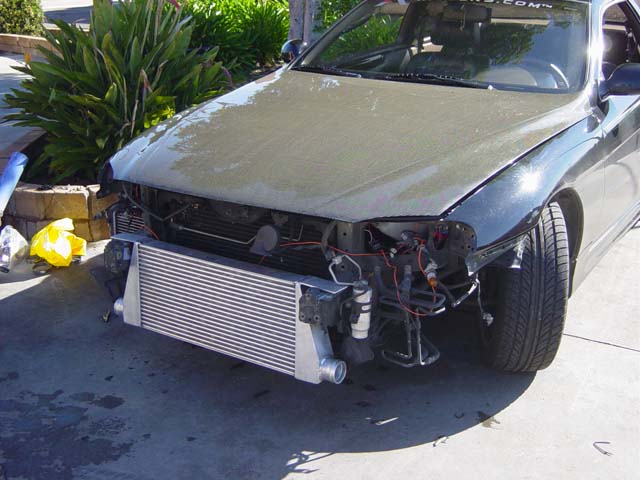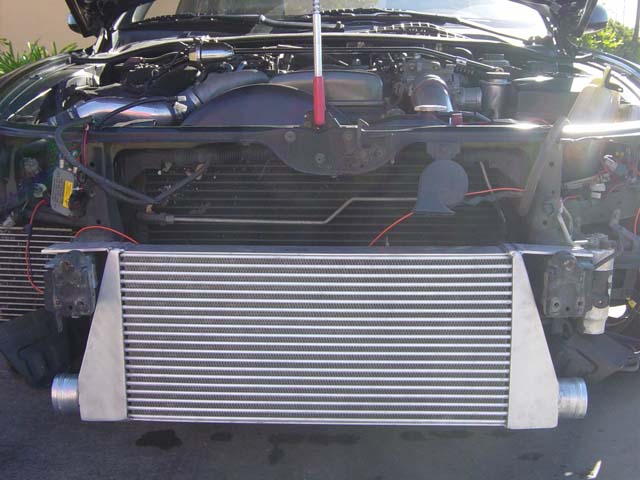 I would give this project a two thumbs up.  I did not do much, but  Tony and his cousin Dr. Mike have a done a great job.  If you are interested in this front mount intercooler for your Lexus SC300 or SC400.
Do you have any questions? If so, please head over to
the forums
to get a quick answer or share your experience!
Cash App (user: $lextremeparts).
This is a freelance site with no support by huge companies.  I have been doing most of the R&D and technical write-ups by myself with my personal money and literally thousands of hours of my time.  I have taken extra steps to demonstrate in details how things are done.  Currently I am one of the few people doing Lexus V8 research and performance enhancement.  This effort comes from my personal love for this wonderful engine.  Most of the modifications are from trial and error. There's no cookbook for 1UZFE mods and its unknown territory for much of supercharger performance.  The parts, labor, web development and site hosting are 100% paid from my personal hobby money.  If you feel my efforts help you in any form, please do not hesitate to donate any amount of money to support this site. You have no idea how much I and the entire Lexus and Toyota community appreciate it!