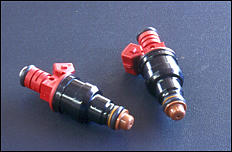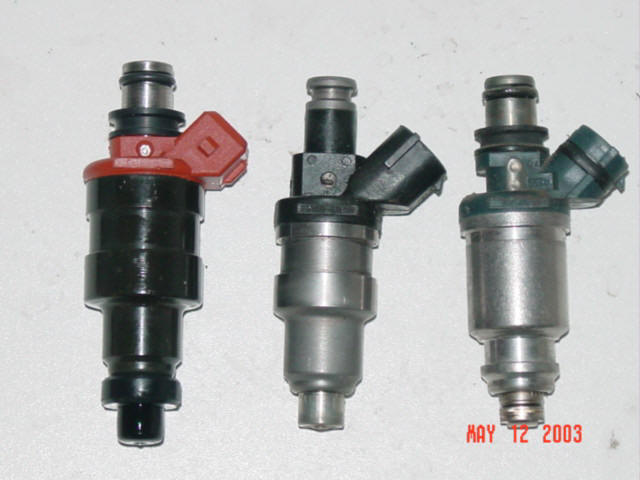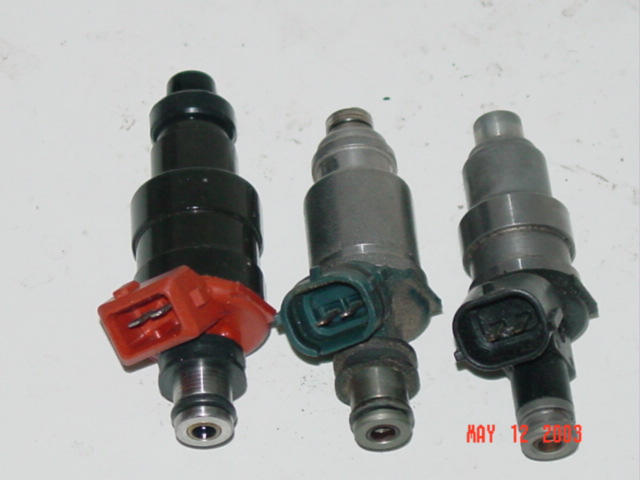 The stock Lexus SC400 and LS400 1UZFE injectors are top feed high impedance 13.8 ohm with 251 cc/min and estimated around 50.2 bhp each injector or 401.6 bhp total.
If you plan to have any type of forced induction like turbo, supercharged or NOS, larger injector will be needed. Stock injector is max out around 6-7 psi.  Anything higher than that will require larger injectors.  Upgrade to 440 cc/min will yield around 86.0 bhp each that is around 688 bhp total.
If you are thinking about getting the Supra MKIII Turbo injectors.  They are 440cc top feed, however, they are low impedance.  They would not work on our cars unless you do some modifications on the ignition system to change it to low impedance.
Therefore, you have two choices for upgrading fuel injectors in the 1UZFE engine.
1. The easiest way is to get the proper size injector for your setup in top feed and high impedance.
2. The cheapest way is to get the Supra 7MGTE injectors and modify your ignition driver.
If you want to know how many horse power is your injector good for.  Just use the injector size, usually its in cc/min. time 5.  That will give you bhp.  More Injector information
For Example:  Stock 1UZFE is 251 cc/min time 5 is about 50.2 bhp.  The injectors below are used, but clean, balanced with new O-Rings by injector professional.  They are guarantee to work.
OEM Injector
Flow Rate
Ohm
Max bhp
Boost
Connector
1UZFE (dark green)
251 cc/min
High
400
<7 psi
Plug & Play
7MGE (yellow)
295 cc/min
Low
472
8-10 psi
Slight Modification
7MGE (lime green)
315 cc/min
High
504
10-12 psi
Plug & Play
7MGTE (black)
440 cc/min
Low
704
15-18 psi
Slight Modification
Mazda Rx 7 (More
Details)
460 & 550 cc/min
High
700 – 880
15-22 psi
Plug and Play
Conversions
500cc per minute is approximately equal to 49lbs per hour which is equal to approximately 100hp.
lbs/hour = cc per minute / 10.2
cc per minute = lbs per hour x 10.2
If you need further calculation on injector please visit RC Engineering