UPDATE:
April 4, 2022 - A limited supply of the original best-selling Lextreme
1UZFE EGR Delete Kit
is available for sale. If you own a 1UZ from 1990-1997, you
really
need to get this kit! Email me at
[email protected]
for help with ordering or questions.
We're not an auto parts supplier and I can't respond to inquries for random Lexus and Toyota auto parts. All parts not listed above, including the LS400 and SC400 turbo kit, rebuild kits and supercharger are sold out and won't return.
LEXTREME LEXUS FORUMS HERE!
- Post Questions For Quick Answers!
The BFI (Big Friggin Intake) is simply a DIY Cold Air Intake System.  As far as I know, it was conceived and developed by Peter Scott, who resides in Aussie Land.  I studied his notes carefully to develop my own version of it.
My hat is off to Peter for his dedication to the betterment of the Lexus SC.  I will mix some of Peter Scott's words and pics among my own, as well as some others pics that I have found on the web, so I did not have to re-invent those pics.  No sense in re-inventing the whole wheel.
Purpose:  
The BFI is to accomplish exactly what it's name suggests- a modification that allows massive amounts of cold air to enter into the intake of the 1UZ-FE.
In fact, it will wash the filter with as much cold air as the engine wants at any given point and time (see P.S. BFI measurements at https://www.planetsoarer.com).  This Cold Air Intake will work better than any manufactured, bolt-on Cold Air Intake out there, and at a lot less money!
Stock Air Intake:   
The stock air intake is extremely restrictive.  Toyota made a huge airbox with a very small and restrictive air inlet snorkel.  This snorkel cannot possibly let in enough air.  Here is a pic of the intake snorkel.  The air hole is only 6.5 inches long x 1.5 inches high.
It is housed under the passenger sided headlight, and sucks air in from the massive fender well chamber between the front of the bumper and the right front wheel.  It is held in place by two 10 mm bolts.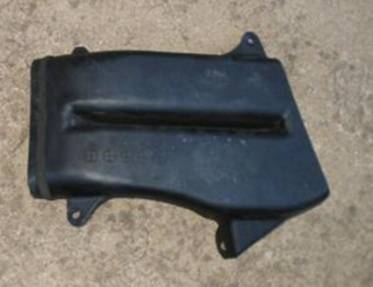 To remove the snorkel, you will need to remove the passenger side headlight.  To do this, turn the wheels to the far right and then remove a couple of bolts mid way up the front fender well.
Pull back the Plastic Fender well, and remove the nuts holding the headlight in place.  You will need a long socket to reach the nuts.  You will also need to remove the top bolt (right under the hood) that holds the headlamp in place.  See pics below: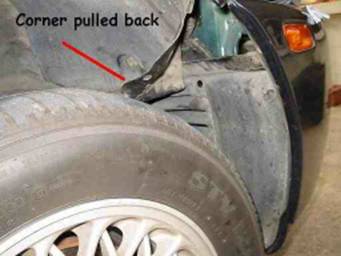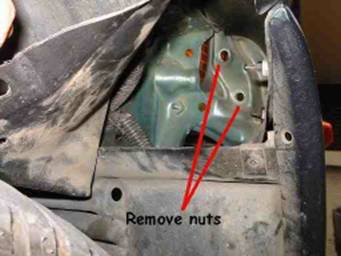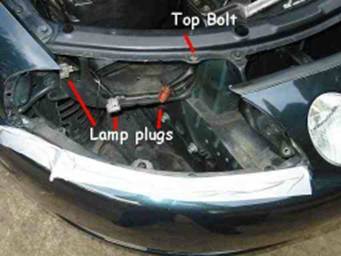 Stock Airbox     
The stock airbox is housed in the engine bay to the right side of the radiator and coolant reservoir.  It is held in place by three 10 mm bolts- two on the right bottom, and one bolt on the upper top left of the box.  To remove the airbox, remove all three bolts, and disconnect from the MAF connected to the back of the airbox.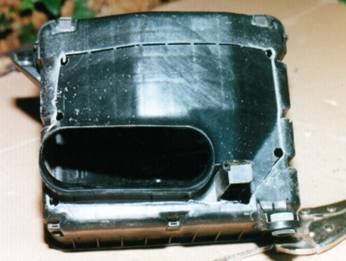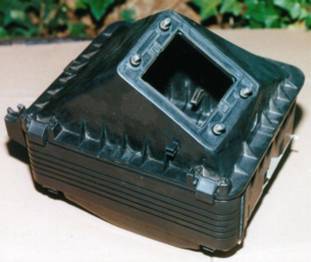 Modifying the Airbox   
To modify the Airbox, you will need a Dremel.  If you don't own one, either buy one, or borrow one.  It is an indispensable tool for this mod.  Before cutting the holes in the airbox, decide upon which bellmouths you want to make.  I went to Wal-Mart, and bought Three 5.5 inch, round, Stainless Steel Ice Cream Bowls (1 extra incase I ruined one during the process) for $3.67 each.
These bowls are very strong- I chose to cut them with a Chop Saw.  I reckon you can cut them with a hack saw or your Dremel (get the right cutting wheels).  When you cut them, cut about ½ inch below the lip of the bowl.  Use one of the bowls as a template to mark the holes to cut out on the front of the airbox.
Use a white art marking pen, and trace a line along the outside of the bowl.  It is best to place both bowls on the front of the box, tape them in place, and then mark them.  Once marked, use your Dremel to cut out the holes.  Note: WEAR SAFETY GLASSES to protect your eyes, as little plastic bits fly everywhere!!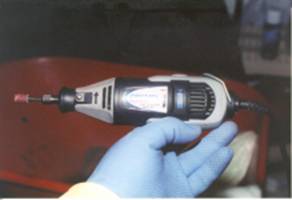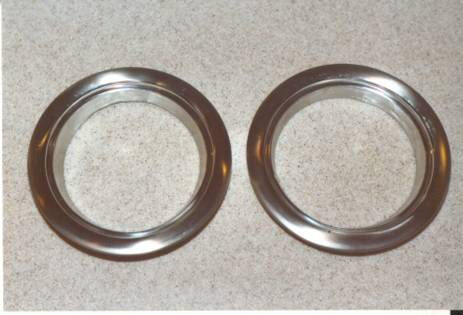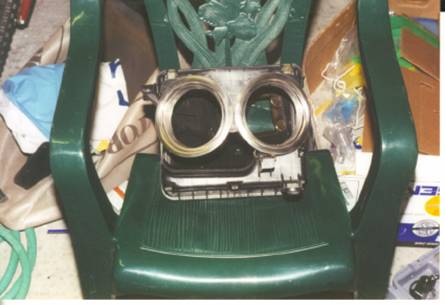 Use High Heat resistant glue to permanently attach the Bellmouths in place.
More pics and text coming very soon.
Courtesy of Ryan Allen of RYA Performance  
Do you have any questions? If so, please head over to
the forums
to get a quick answer or share your experience!
Cash App (user: $lextremeparts).
This is a freelance site with no support by huge companies.  I have been doing most of the R&D and technical write-ups by myself with my personal money and literally thousands of hours of my time.  I have taken extra steps to demonstrate in details how things are done.  Currently I am one of the few people doing Lexus V8 research and performance enhancement.  This effort comes from my personal love for this wonderful engine.  Most of the modifications are from trial and error. There's no cookbook for 1UZFE mods and its unknown territory for much of supercharger performance.  The parts, labor, web development and site hosting are 100% paid from my personal hobby money.  If you feel my efforts help you in any form, please do not hesitate to donate any amount of money to support this site. You have no idea how much I and the entire Lexus and Toyota community appreciate it!