The first generation of 1UZFE engine has a static compression ratio of 10.4:1.  This compression ratio is perfectly fine for the natural aspirated function.
However, for some horse power junkies, that is not a good compression for power adders.  Lower compression is a boost friendly setup, because lowering engine compression we can increase more boost.  For example, the stock 10:1 compression is good for about 8-9 psi with well tuned engine.  However, with lower compression like 8.5:1, we can run up to 15-18 psi with proper tuning.
There few ways to lower compression.  The best way of course is to get some dish pistons.  The dish pistons have concave surfer that allow great volume in the combustion chamber therefore lowering the static compression ratio.
To do this, it will take about $800 for the pistons and around $1000-1500 for the labor.  This would be the optimal choice.  However, not everyone are willing to spend that amount of money.  Here are some other revenues we can take to lower the static compression.
1. THICKER GASKETS:  Thick gaskets will increase the combustion chamber therefore decreasing the compression ratio.  From my personal research, the oem 1UZFE gaskets are.051″.  There are many ways to lower compression, one of the easiest & cheapest way is to change to thicker head gaskets.  I have talked to many gasket makers and one thing they can concluded is that about 1 static compression lower with every .025″ thicker.
With .093″ of head gasket, we are looking at around 8.72:1.  Lower compression or decompression is highly desire in forced induction applications.  This is a special order gasket from SCE Gaskets.  This gasket is specifically make for the 1UZFE engine.  Currently, copper is the only head gasket available that is thicker than OEM head gasket.  The best way to lower static compression ratio for high boost is obviously to get some JE Pistons.   Here is a picture of the SCE Copper .093″ gasket.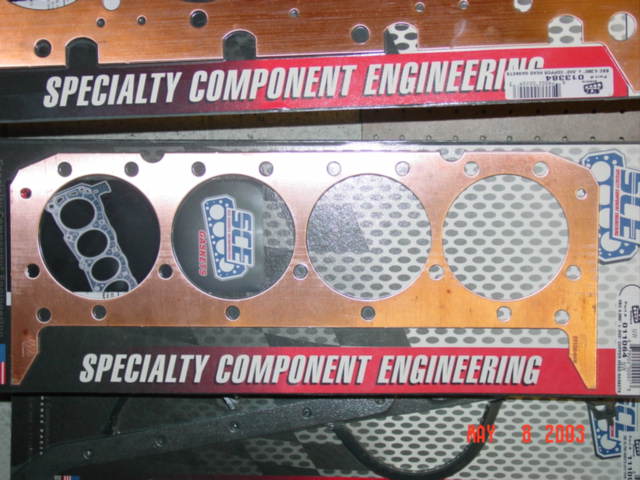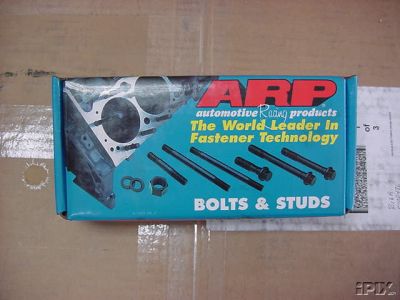 With thicker copper gaskets, stronger head studs would required.  I highly recommend ARP head studs.  They are the best and they tested in the real world.  Most professional race cars use ARP Studs.  This method of decompression is the cheapest and easiest.
However, for copper gaskets, the head studs need to be re-torque after the engine run and warn up for a while.  Do we have to copper gaskets can we use something else?  The answer is yes, but no other company currently make thicker head gaskets for the 1UZFE engine.  You are out of luck for now.  The estimated price for this project is around $300 plus about $500 labor.
If you plan to add thicker gaskets into your Lexus 1UZFE, you will also need to add an additional lower intake gaskets.  Since the heads are moving apart further do to thicker gaskets, the lower intake manifold would required an additional gaskets to seal the gap.  Secondly, the timing belt will be slightly tight, but no problem at all.
2. Machine The Heads:  Machining the heads are pretty common.  I have two extra motors at home and one is fully disassembled.  I took of the head and start to analysis what I can do to decrease the structural around the chamber.  Here is a picture of standard unmodified 1UZFE head chamber.  The valves are taken off at this picture: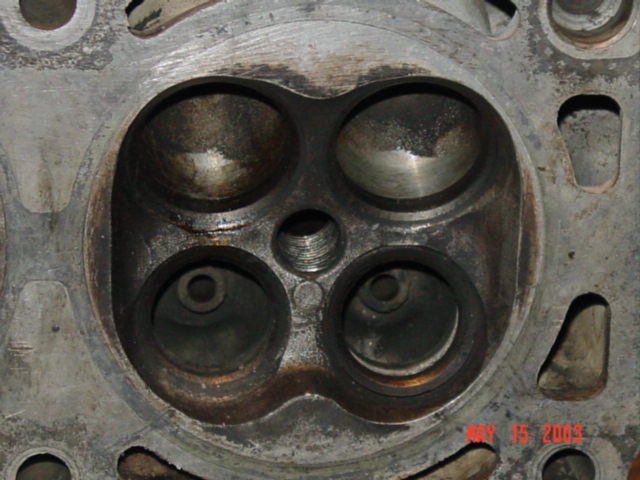 To look at this picture carefully, you will noticed the intake valves are at the top and exhaust valves are at the bottom. The angulation of valve seats are different.  The intake valves are lower (higher from opposite view) and less material we can machine out.
Therefore, I don't recommend machining the intake or the top side from this picture.  The most available area to be machine would be the bottom area.  I also carefully exam the posterior area (water passage) of the chamber making sure there are enough material to keep the integrity of the head after its machined.  All the grinding is from my 4″ Craftsman Grinder.
Here is a picture after it was machined. The top area is the intake valves and bottom is the exhaust valve chambers.

Its a same picture with different contrast so you can see it better.

This is a picture of sthe exhaust area being machined.

This is taken from a slight different angle. The left valve chambers are exhaust and other side is intake.

This is a close up of the exhaust side being machined

This is a un-machined chamber.
Of course this is just an experiment.  A professional engine builder will be able to do all the machining to a precise measurement between all chambers.  How much would this lower the compression?  I do not know, but my guess would be around 9.5:1.
3. Piston: The third method is to shave some material off the pistons.  However, its not a good method.  You will make the pistons very weak and lead to failure.
However, you might noticed that stock piston does have two indentations of the intake vales.  Perhaps, some machining on the exhaust portion of the piston will work.  Here are some pictures of 1UZFE pistons and rod.
This is a close view of the stock 1UZFE piston.

Side view. Possible some work on the piston to lower compression.

Piston with rod
As for now, I only have 4 methods, if you feel there are more, please feel free to add by emailing me.  If a combination of head and piston machining will help lower the compression.  Not sure how much, but I would guess around high to low 9:1.  Not bad, but don't have the price for this procedure.  The best method, once again still getting dish pistons.
Thanks
David