UPDATE:
A limited supply of the original best-selling Lextreme
1UZFE EGR Delete Kit
is available for sale. If you own a 1UZ from 1990-1997, you
really
need to get this kit! Email me at
[email protected]
for help with ordering or questions.
Please note:
we're not an auto parts supplier and I can't respond to inquries for random Lexus and Toyota auto parts. All parts not listed above, including the LS400 and SC400 turbo kit, rebuild kits and supercharger are sold out and won't return. The
Lextreme performance torque converter
has a very long waiting list. Email me if interested.
LEXTREME LEXUS FORUMS HERE!
- Post Questions Here For Quick Answers!
After 14 years since the initial introduction of Lexus LS400 and ES250, most of the suspension bushings are about to wear out.
There are two opinions on replacing the bushings.  The first obvious choice would be OEM replacement.  However, some OEM parts does not come with just the bushings, you would have to buy the complete part.
Unless your car was in a severe auto accident, most of the time you do not need a completely new suspension parts.  Bushings are what wear out through out the years of driving.  I have done my own research on the net about Lexus LS400 Bushing replacement and no luck.  The only company that currently make bushings for the Lexus is Daizen Sport Tuning (DST).
DST bushings were created with performance in mind.  Their bushings increased road feel and handling characteristics.  Replaces worn OEM rubber bushings, which are highly susceptible to cracking and deterioration.  A sensible (and permanent!) alternative to purchasing $500+ stock replacement control arms!
Daizen Sport Tuning high performance polyurethane control arm bushings eliminate unsafe driving conditions and poor handling by allowing minimal deflection of the control arms during dynamic vehicle operation.  Unwanted camber, caster and toe change become a thing of the past, with control arms operating only in their designated arc and suspension travel parameters.  The potential for irregular tire wear is greatly reduced, which is usually a result of the inability to properly align the suspension to required alignment specifications.
The rubber composition of the OE bushings is highly susceptible to wear and deterioration over time – hot/cold cycling, road salt and other extreme road conditions will accelerate this condition.  This bushing failure problem can occur in as little as 30,000 miles and almost always by 70-80,000 miles.  Some symptoms of this deteriorated bushing problem are: Excessive tire wear; the inability to properly align the vehicle; audible "clunk" noises from floorboard area, especially when turning or backing up; wandering and/or unstable steering especially at higher speeds; unstable braking; vibration at higher speeds.
An increase in braking stability is also achieved, due to the fact that the control arms will not shift or oscillate forward and backward under the extreme lateral loads experienced during heavy braking.  If other suspension upgrades such as springs, struts or sway bars are installed, the benefits of each will be maximized when used in conjunction with our high performance control arm bushings.  Just as with our other polyurethane suspension components, there is no worry of deterioration of the bushings over time with extreme use or with harsh road conditions.
The lower durometer hardness of these bushing sets provide a very acceptable ride, as they were specifically designed with Lexus owners in mind.  A significant upgrade in handling is provided, with a minimal effect on overall ride quality.  These kits are not like typical aftermarket hard durometer bushing kits, which while improving handling, also noticeably degrade a vehicle's ride quality and comfort level.
Tools Require:
1. Torch: Your best friend and can be purchase at Home Depot for $5-$7
2. Steel Brush: 1.5 and 2.25″ fit into drill bit
3. WD-40
4. Hammer and Chisel
5. Basic 17-28 Metric tools
I got a set of front Daizen Lexus 1990-1994 LS400 from TM Engineering and finally installed the bushings today.  After taking the upper control arm (UCA) and lower control arm (LCA) out.  I don't remember Daizen's instruction stated flame torch to take out the old bushings.  The propane torch is your best friend.
One can is more than enough.  We tried to use hydraulic press to take out the old bushings but no luck.  Those 10-14 years old bushings were build to stay on.  Finally I remembered someone told me about using a propane torch.
Lower Control Arms:
I burn the LCA for about 7-10 minutes and the whole thing comes right.  The key is to burn out all the old bushings.  Save the center aluminum piece and outer right.  Discard the middle piece.  Once the old bushings are burnt out, use a steel bush with a drill and brush all the residuals out until the LCA is fully cleaned.
The next step is very important.  Run some water over the LCA to cool it down from the torch.  Secondly, clean out the oem aluminum center piece to be re-use again.  Use the grease comes with the kit and grease the LCA, bushings and the aluminum piece.  Install the bushings into the LCA first and follow by the aluminum piece.  They all should slip right in with little muscle or hydraulic press.
Note: Burn until all the bushings are destroy and don't damage any part of the control arm.
Upper Control Arm:
I think this is the hardest one of all.  Since the UCA is a C-shape and its very difficult to use a hydraulic press.  The old school technique using propane torch is the key.  Burn it until all the bushings are gone.  Once its all burn out the internals will come right out.  The hard is yet to come.  In the UCA you have to take out the piece.
The outer piece looks like it part of the UCA, but its not.  Due to the design of the outer piece, its hard to use hydraulic press to force it out.  I tried using air hammer and it did not make a scratch.  What I did was to use an old school chisel and hammer.  Before that, soak it with lots of WD-40 and carefully hammer it out without damaging the UCA.  This is the hardest part.  Seems like the outer piece would never comes out, but after a long battle, the winner would be your relentless effort.  Once the outer piece is out, you are home free.
Note: Taking the outer piece is very hard and will takes along time.  Secondly, do not damage the UCA.
Difficulty:
I would rate difficulty is 8/10 and 10 is very difficult.  At least 5 hours of work with proper tools
Impression:
Day and Night is all I can say.  My old bushings were making noise whenever I go over a small bumps and the suspension was very loose during high speed driving.  Worst was when cornering.  With the new and improved Daizen Bushings, all the above symptoms were gone.  The car handle nicely over corners and bumps.
No more noise and the suspension feels very firm during high speed.  With high OEM cost of complete controls, Daizen offer the best bang for the buck alternative.  Beside its the best price it all improve handling, cornering and overall control of the car.  I highly recommend this product to anyone with aged bushings and for those looking for better suspension improvement.  Two thumbs up baby!
Product Source:
If you are interested in this product, please contact TM Engineering
Here is what one of my member say about Daizen Bushings:
Since I have a lot more time than money, I took on the task to install the new bushings and lower ball joints on my 1990 LS400. My car has 165K miles. The old lower ball joints had about an 1/8th inch play in while the upper ball joint had no play. The upper control arm bushings were very warn and loose but I noticed very little play in the lower control arm bushing.
I replaced the lower control arm bushing anyway since I am sure the Daizen bushings will last a lifetime as well as offer an improvement over the OEM. The improvement in ride and steering is very noticeable. Clunks are gone. Ride is very smooth.
A few things I learned in doing the job myself. Don't try it without a Lexus repair manual. The repair manual is very straight forward and easy to follow.  Most of the bolts and nuts haven't been touched since the car was first assembled. I found an 18 inch cheater bar made breaking the bolts loose simple and saved a lot of skinned knuckles. The upper control arm bushings are the easiest to replace as you just need to press the entire bushing out.
The lower control arm bushing is more time consuming. As the Daizen instructions state, you need to heat up the inner aluminum core of the original bushing until the rubber around it melts enough to press it out. I only had a propane torch so this took about 15-20 minutes of heating for it to start melting the rubber. As the Daizen instructions state, you will reuse this aluminum core.
Once I got the aluminum core out, I just let the rubber in the bushing continue to burn and scraped as much of the rubber residue off as I could. The outer steel sleeve of the original bushing must stay in place on the lower control arm. I then cleaned all the left over rubber off by using my Dremel tool with a sanding wheel attachment.
It took a while but I eventually had a very clean inside to the original bushing to then install the Daizen bushings on. This took me about an hour per lower bushing. I am sure others can improve on this by using a hotter torch. I liberally greased the bushings with the included waterproof grease which has to be the stickiest grease invented to date. (Don't want these new bushings to squeak.)
While I had the lower control arm off, I replaced the lower ball joints which takes next to no extra time. I got them on-line at Olympus / for $45 each.  Total time for me to do the first side was about 8 hours. Total time to do the other side (after learning from doing the procedure once) was 5 hours. IMO it was well worth the effort.
Currently only the front control arms bushings are available.  However, the rear control arms bushings will be available soon.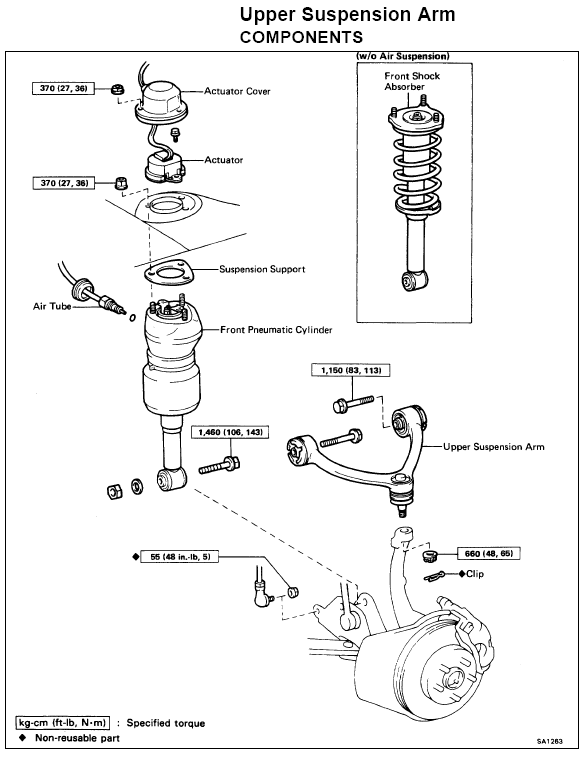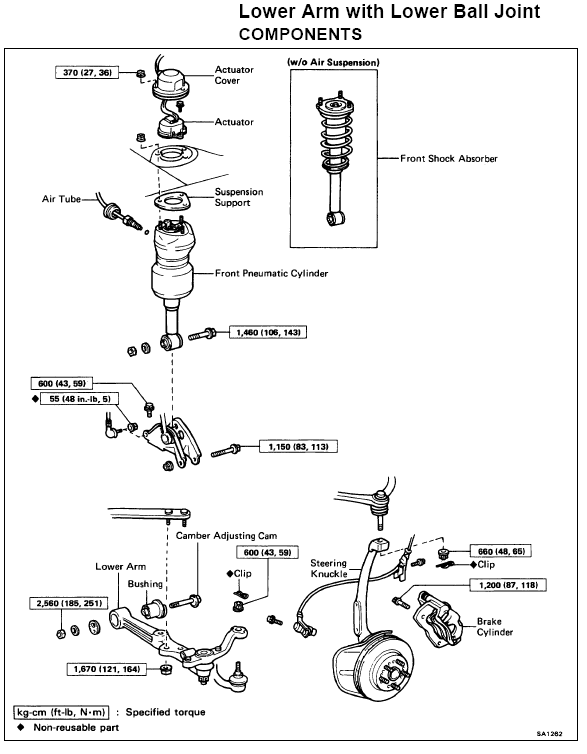 Do you have any questions? If so, please head over to
the forums
to get a quick answer or share your experience!
This is a freelance site with no support by huge companies.  I have been doing most of the R&D and technical write-ups by myself with my personal money and literally thousands of hours of my time.  I have taken extra steps to demonstrate in details how things are done.  Currently I am one of the few people doing Lexus V8 research and performance enhancement.  This effort comes from my personal love for this wonderful engine.  Most of the modifications are from trial and error. There's no cookbook for 1UZFE mods and its unknown territory for much of supercharger performance.  The parts, labor, web development and site hosting are 100% paid from my personal hobby money.  If you feel my efforts help you in any form, please do not hesitate to donate any amount of money to support this site. You have no idea how much I and the entire Lexus and Toyota community appreciate it!