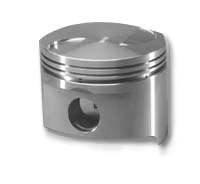 As the 1UZFE engine aged, most piston rings start to loose its compression. I would recommend any SC400 or LS400 have more than 150,000 miles and plan to have some type of forced induction greater than 7-9 psi. After market forged pistons are highly desirable. Since I am getting Custom Ross forged pistons, I can order extra set for your fresh build. Ross piston has been widely respected in the racing arena.
As your rings aged, your cylinder walls also being affected. Therefore, boring .020" is require for the new forged Ross pistons. The price has not been determine, but yet it should be affordable for the level of power out put. A full specification sheet will be provided along with the pistons.
Please click here to purchase.