LEXUS 1UZFE MODS FORUMS
- Post Questions Here For Quick Answers!
Like everyone else on the web I was in the market for two turbos.  I was interested in a Garrett GT35/40R so I visited Ebay and saw something very interesting.
Here is the exact Ebay advertisement from SSAutochrome  I was very interested in the spec listed below:
SUPER TURBO
BRAND NEW
GT35/40R BALL BEARING TURBOCHARGER
.82 A/R EXHAUST
.70 COMPRESSOR
DUAL BALL BEARING –
.82MM COMPRESSOR WHEEL CAPABLE OF .64 Lb/MIN AIRFLOW
BOOST AT 2700 – 3500
OIL AND WATER COOLED
INTERNAL WASTEGATE @ 12 – 16 Psi
The truth is that this turbo is NOT brand new.  Matter its a recondition used.  I also did some further investigating and noticed the specs were way off.  As stated above the compressor is 82mm compressor wheel but in fact its only 76mm.  This turbo got used parts that were cleaned and reconditioned.  Below is a picture took on the turbine wheel: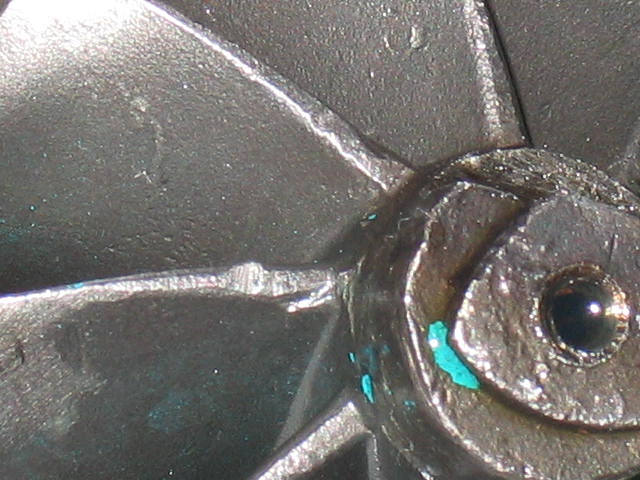 You can see multiple scratches and deformities.  You can also notice blue paint residues.  It doesn't take an engineer to determine this turbine wheel is used and damaged.
Below is a picture of the GT35/40R from SSAutochrome turbo.  The compressor is new however, its not align when its spin.  The compressor wheel is misalign and also have some grinding sound when the turbo is turn.  This is extremely dangerous especially when installed in a high power car.  If this compressor wheel break, you can kiss your build engine good bye.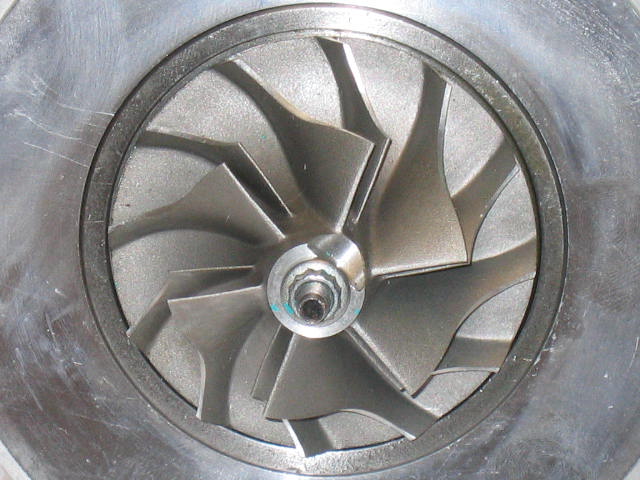 From this disappointeing product and deceptive advertising.  I have been contacting SSAutochrome for few times now but still no respond.  Here are my emails:
December 9, 2005
Ok,
Finally got my package.  I noticed its a used/reconditioned turbo….  There
are many scratches on the turbine blades.  I am not too happy
about this product.  However, I was wondering if you have any turbine and
discharger flanges for this turbo?  I need two sets in mild steel if
possible.
David
December 9, 2005
I got this turbo from SSAutochrome and I am somewhat disappointed with this
product. It stated as follow:
BRAND NEW
GT35/40R BALL BEARING TURBOCHARGER
.82 A/R EXHAUST
.70 COMPRESSOR
DUAL BALL BEARING –
.82MM COMPRESSOR WHEEL CAPABLE OF .64 Lb/MIN AIRFLOW
BOOST AT 2700 – 3500
OIL AND WATER COOLED
INTERNAL WASTEGATE @ 12 – 16 Psi
I got the following measurements:
Compressor:
Large impeller: 3″ (76mm)
Small impeller: 2.070″ (52.5 mm0
Turbine:
Large impeller: 2.780″ (70mm)
Small impeller: 1.834″ (46mm)
Compressor Inlet: 4″
Compressor Outlet: 2.5″
When i got this turbo, its NOT BRAND NEW. Its recondition turbo. There are
many scratches on the turbine impeller and discolored. Secondly the actuator
bracket and actuator doesnt mate with the internal wastegate. Basically its
useless.
When i free spin the turbo, there is a grinding sound. To verify the
impeller size, i also noticed the compressor impeller doesnt spin properly.
The alignment is off and it doesnt spin straight.
I guess i get for what i pay for. I will ask for refund due to deceptive
advertising.
David
December 11, 2005
Hello Deedee,
It has been more than 48 hours since i first emailed regarding false
advertisement on your GT35/40R turbo.  The turbo compressor size is NOT what
it was advertised to be.  It advertised 82mm but i measure only 76mm.  It
stated brand new, but with careful inspection, its reconditioned.  I would
like to have a full refund plus shipping fee due to deceptive advertisement
on your part.
I will report this incident to ebay if this issue is not solve.  I hope we
can solve this issue offline.  Thanks
David
December 12, 2005 From SSautochrome

We do take weekends off!!! I am doing a call tag, please email me back
with the address, phone and name to put on the call tag as well as a
good day to have fedex come.
Thank you!
ssautochrome
Finally they responded.  Here are couple of things I think you should think twice before bidding on their turbos:
Brand New is NOT brand new.  Its used and recondition parts.  False advertisement
Listed as 82mm but its actually 76mm.  Verified with a caliper:  False advertisement
Brand New: but yet the compressor wheel grinds
Brand New: compressor wheel misalign when spin
Wastegate included: Yes its included but doesn't work with the current turbo.  Doesn't matter how you rotate it, it doesn't fit.  The picture on this page shown it attached to the waste gate but it didn't bolt onto the turbo.  Its basically is useless.  You will need a complete actuator and a bracket in order to make it work.
From my personal experience, all I can say is buyers beware.  False advertising and deceptive punch lines.  I would stay far away from them as much as possible.  This company desire negative comments.  If you have any negative experience with this company, please email them to me so I can help you vent out some of your frustration and experience.
Here are some articles I found about them from homemadeturbo.com:
homemadeturbo.com
Here are some testimonies:
Leroy L.
yes rudebwoy here homemadeturbo, member: my bad experience with ssautocrap, I ordered a manifold, a wastegate,and a downpipe. the manifold came cracked on the inside where its welded to the head flange, the wastegate was advertized as a 8 psi spring and it turned out to be a 12 psi spring, the downpipe was advertized as a 3 inch downpipe with a 3 inch flex for honda civic. the downpipe turned out to be a 2.25 inches, merged into a 3 inch flex thats about 12 inches long, then a has a 2.75 inch 2.75 3 bolt flange, that did not even reach the cat. and all honda owners know that hondas has 2 bolt flanges on the cat inlet…. so I played it cool, and email them with the issues and never got a reply. so I left a negative feedback, by then it was too late to file a claim… so I kept emailing him. no reply. then he turned around and gave me positive feedbacks and continue ignoring my emails. I had to sell the parts for basically nothing, because they where useless. I will never buy from them again.
Your negative experience will be HERE…….
Do you have any questions? If so, please head over to
the forums
to get a quick answer or share your experience!
This is a freelance site with no support by huge companies.  I have been doing most of the R&D and technical write-ups by myself with my personal money and literally thousands of hours of my time.  I have taken extra steps to demonstrate in details how things are done.  Currently I am one of the few people doing Lexus V8 research and performance enhancement.  This effort comes from my personal love for this wonderful engine.  Most of the modifications are from trial and error. There's no cookbook for 1UZFE mods and its unknown territory for much of supercharger performance.  The parts, labor, web development and site hosting are 100% paid from my personal hobby money.  If you feel my efforts help you in any form, please do not hesitate to donate any amount of money to support this site. You have no idea how much I and the entire Lexus and Toyota community appreciate it!