UPDATE:
A limited supply of the original best-selling Lextreme
1UZFE EGR Delete Kit
is available for sale. If you own a 1UZ from 1990-1997, you
really
need to get this kit! Email me at
[email protected]
for help with ordering or questions.
Please note:
we're not an auto parts supplier and I can't respond to inquries for random Lexus and Toyota auto parts. All parts not listed above, including the LS400 and SC400 turbo kit, rebuild kits and supercharger are sold out and won't return. The
Lextreme performance torque converter
is available but there is a waiting list. Email me if interested.
LEXTREME LEXUS FORUMS HERE!
- Post Questions Here For Quick Answers!
SEMA is considered the largest after market automotive trade show in the United States.  Companies from all over the world come to display their latest and best product.  The show is 4 days and I only have enough energy to walk one day.
The show is HUGE!  Like every year, the show is hosted in Las Vegas, Nevada.  I heard there were at least 10,000 spectators or attendees.  Talked to lots of companies and sale reps.
Not too surprisingly, lots of Australians were in the show.  Autronics and Haltec just to name a few.  Below is a picture of carbon dioxide cooling system.  Its an inline cooling for turbo and supercharger.  The cool chemical passes through the 3″ and cool air as it passes through.  Very interesting piece of gadget.
Here is something you don't see everyday.
This is called Cryo Charger.  I was talking to the inventor about this interesting item.  This is a modified T3 compressor.  Two braided lines are connected to the blades.  As the driver  pressure a button and active the solenoid, the high pressure gas will turn the compressor and create boost.  The creator of this product stated this will provide 5-6 psi for a small 2.0 Honda motor.
Interesting nevertheless.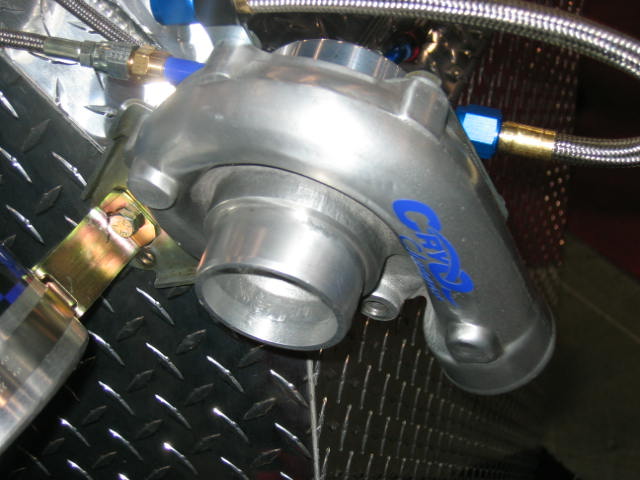 Here is just a picture of a Turbo Honda Motor.  Very clean!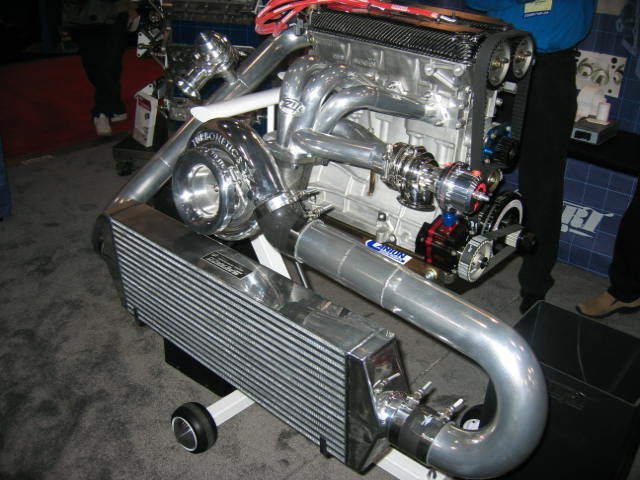 Here is a picture of John Force.  There were lots of celebrities attended.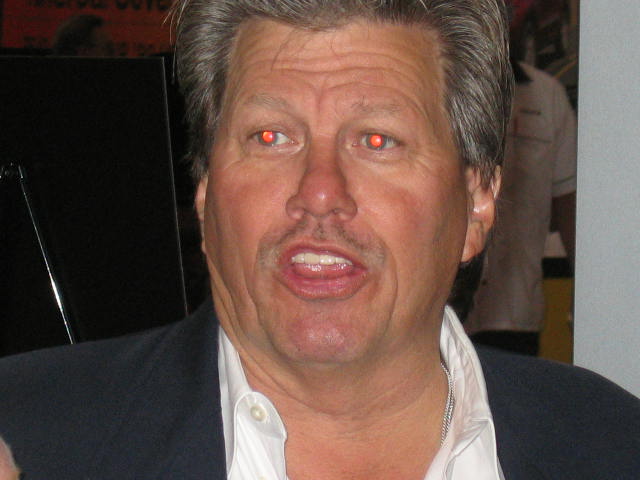 Here is one of John Force's racing motor.  How would like to put one this in your ride?  The exhaust pipe is 2.5″ each.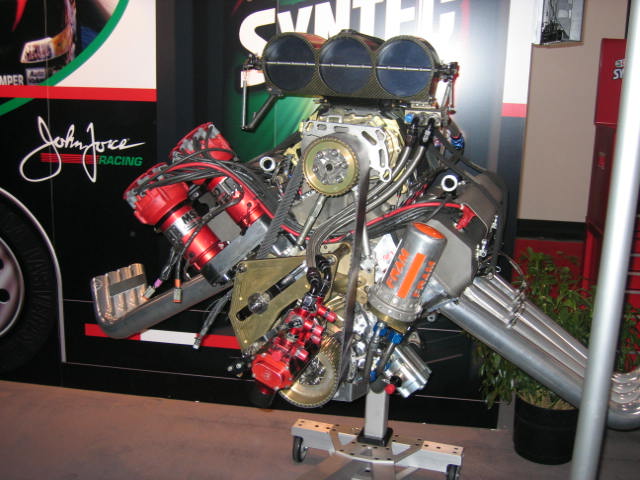 Yes!  Good old Brembo.  Those rotors are HUGE!  The diameter of those rotors is double my hand.  They are drilled and zinc washed.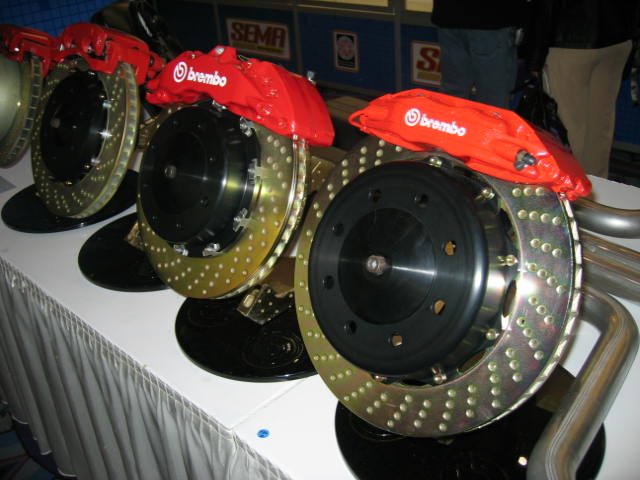 Here is a top view a Cosworth F1 motor.  Its a V10 with only 3.999 some liter and rev up to 18,000 rpm.  Are you drooling now?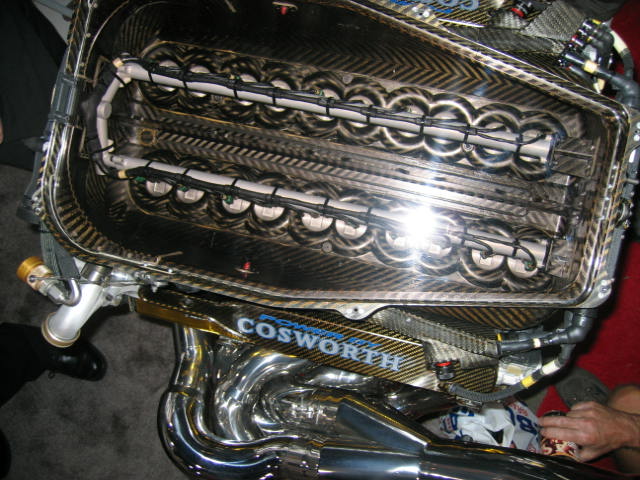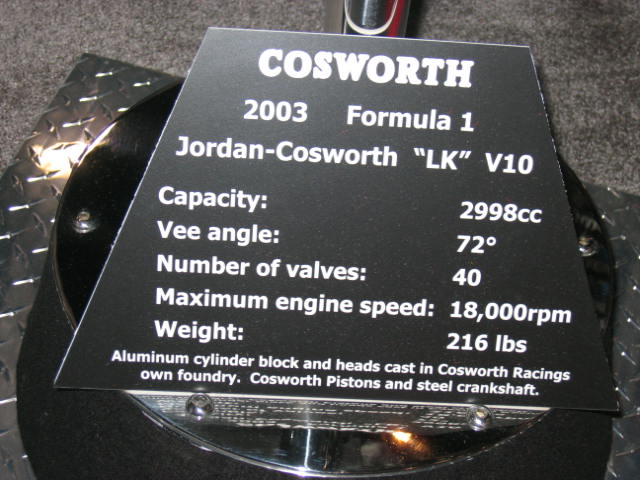 The picture below is the latest model of the Nissan 350Z.  AKA "Fair Lady"  Turbonectics made a single turbo kit for that model.  I have a close up opportunity to exam the details of this kit.  All I can say is that I am not impress with their design.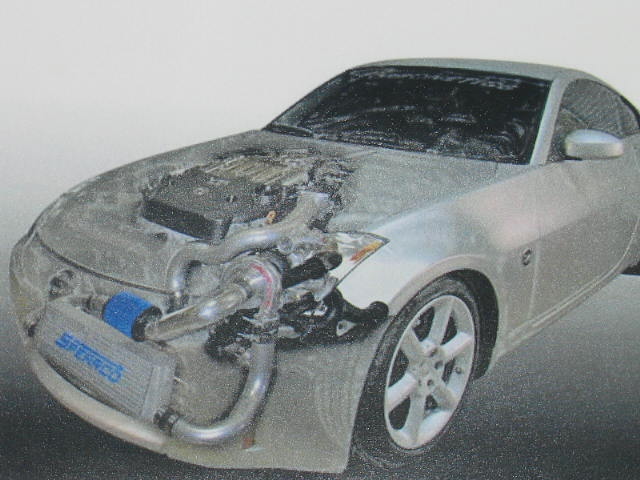 The picture below is the right side or passenger side.  They use the stock passenger side header.  Polished for the show.  A cross pipe is used to connect the passenger side to the driver side.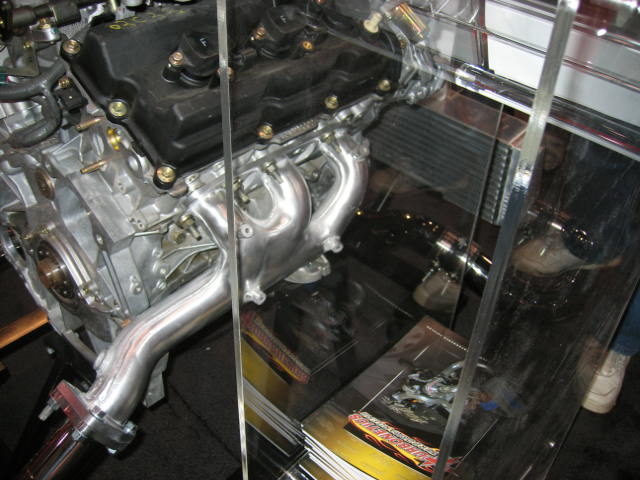 Here is a close up picture of the cross pipe.  The polished pipes made those kids drool, but I was not impress.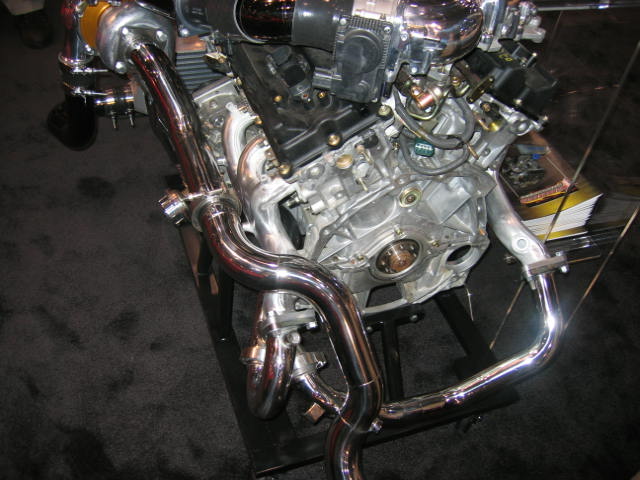 The question you might ask is why I am not impress with their design?  Well, this kit is for the lazy man turbo kit.  The below picture is the driver side header.
They used stock headers from the car and made 180 degrees pipes along with the Y pipe joining from the other side.  The pipes are very long and create lots of LAG.  This type of design can be accomplished by a local muffler show in about 3-4 hours.
Again, here is a picture of their wastegate location.  Its 90 degrees off the main exhaust pipe.  Again, its a design flaw.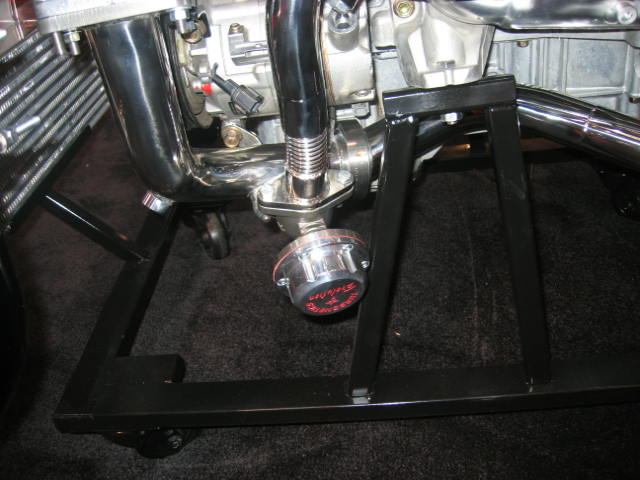 Here is another picture of the driver side header along with the complex pipings.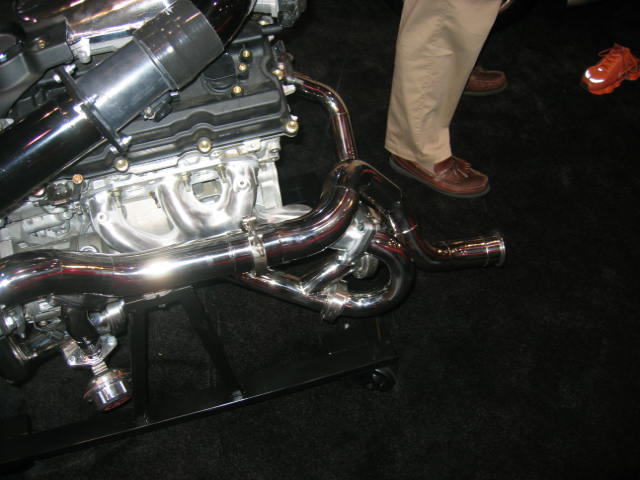 I forgot to take one of their flyer, but the turbo looks like a T3/4.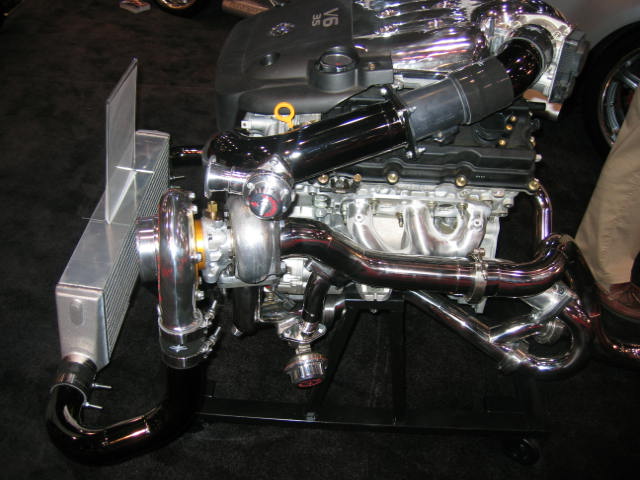 Here is something that will make u drool.  4th Generation Magnusson Superchargers.  M90 to M112 with different configurations.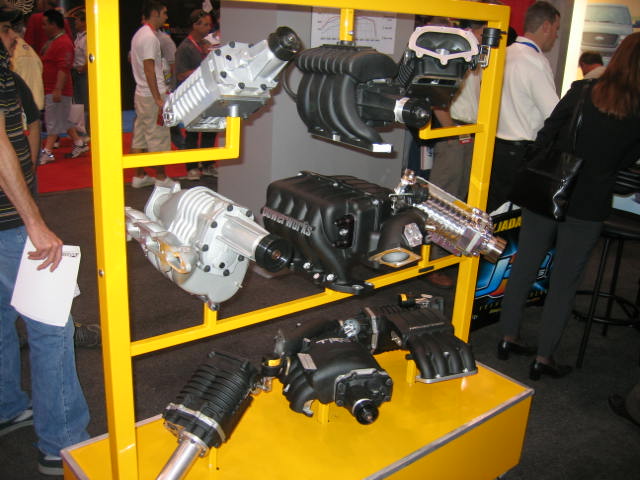 If you don't like the Turbonectics Single turbo kit, here is something u might considered.  HKS supercharger.  New design but little power potential.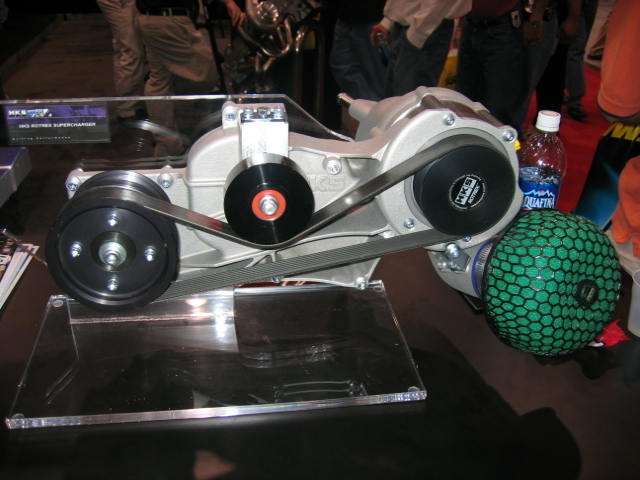 Here is the back side of the charger.  Its a complex design with oem look.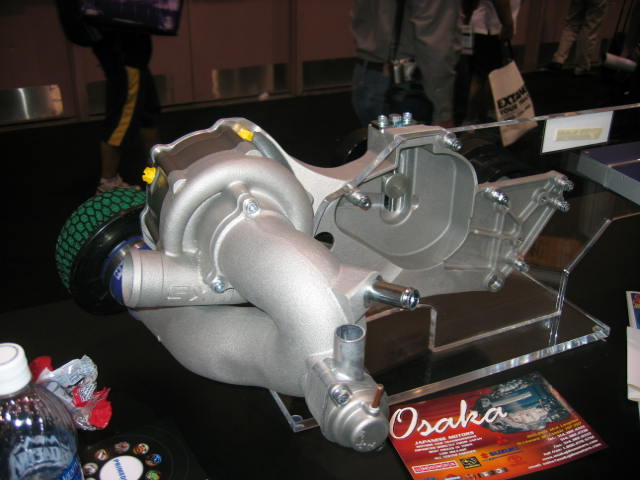 Does this engine look familiar?  Yes, its a GS400 4.0 1UZFE motor.  This motor was transplanted into a IS300.  This V8 also powered by a T66 single turbo located at the passenger side.  The turbo is considered a low mount.  The owner also have NOS.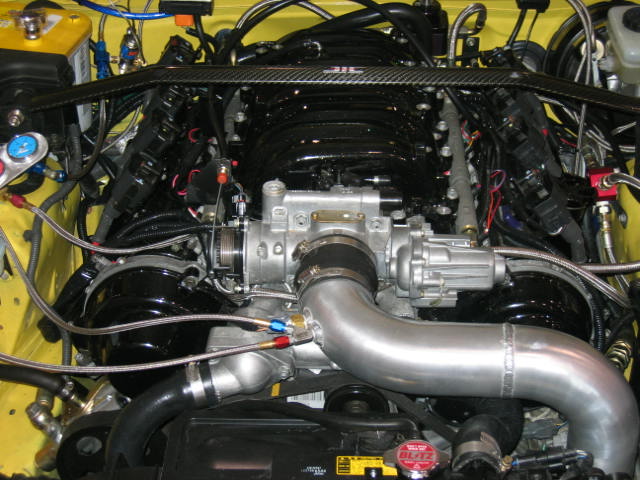 This IS400 is using stand alone computer with after market ignition system.  I asked the owner details about the ignition system, but he wont tell me.  Do think its a secret?  lol.  Looking at those individual igniter we know what it is already.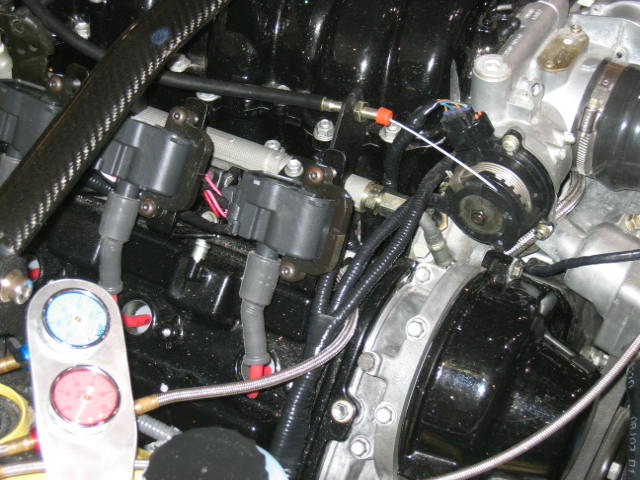 Here is another familiar picture.  However, I would re-route the inlet pipe.  Its getting all the heat from the radiator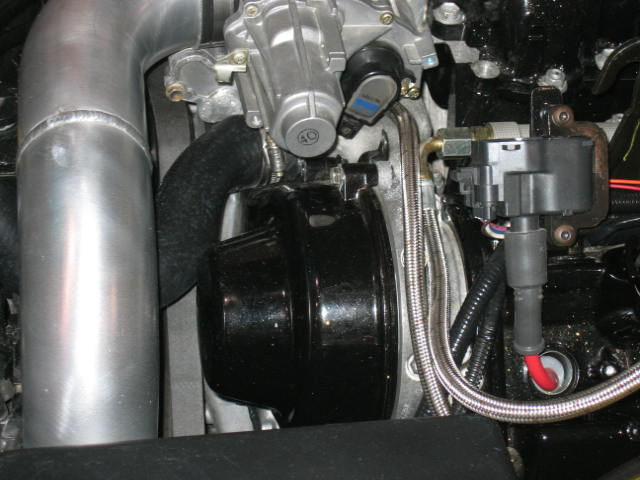 I asked the owner how much power he is getting.  He stated that he only running 6 psi and getting mid 700 hp.  I wonder is that with NOS or without NOS and the other question is rwhp or bhp?  Lets assume its bhp.  From our experience 6 psi can produce about 350-400 rwhp.  Even with NOS, I doubt he got mid 700 hp.  That mean he must squeeze at least 200-250.  Oh well, what can I say?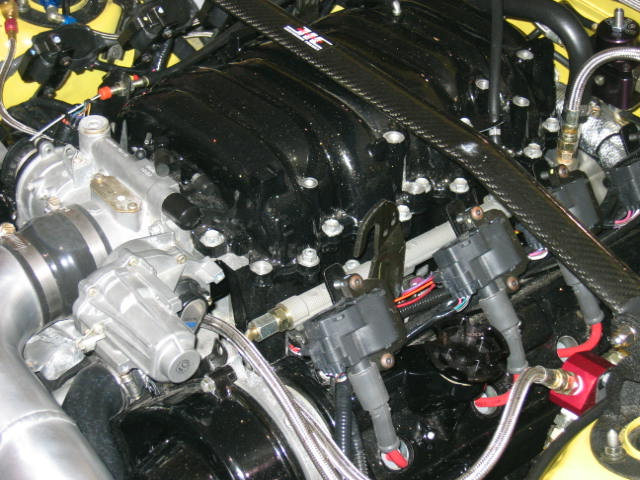 Here is a nice little car for your daily driver.  Its a new 2005 Mustang.  This is called Mustang GT-R.  Its a 5.0 DOHC rated 440 bhp.  Not a bad car to have.

I was trying to get this model out of the picture.  I was interested in this Shelby concept car, but unfortunately we have to take a picture with her.  Nevertheless, she blend right into the picture.  This is an updated concept car for the Shelby Daytona in the 60s.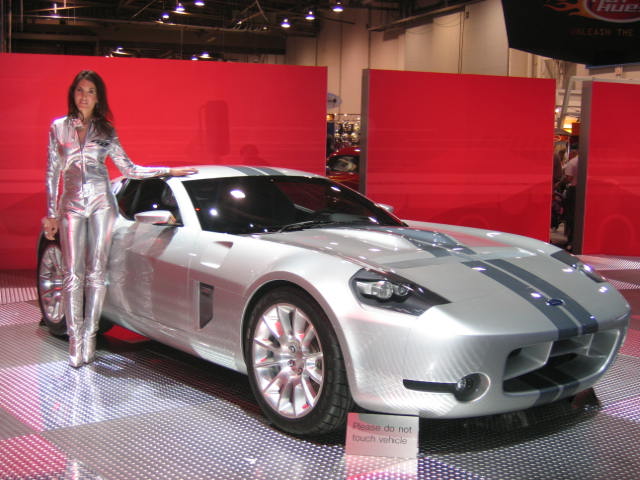 Here is another view of her.  No! not the model.  The car! lol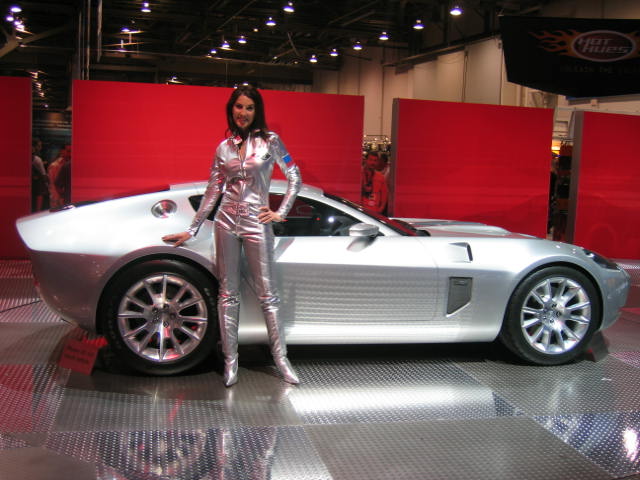 What would be a car show without hot chicks?  Here is one for your enjoyment.  Stop drooling!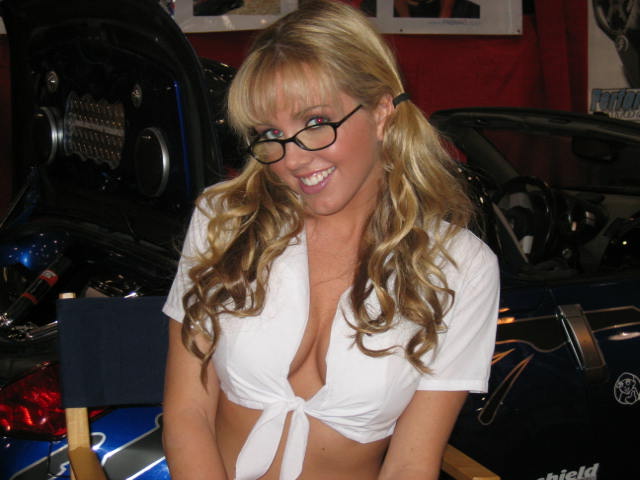 Do you have any questions? If so, please head over to
the forums
to get a quick answer or share your experience!
This is a freelance site with no support by huge companies.  I have been doing most of the R&D and technical write-ups by myself with my personal money and literally thousands of hours of my time.  I have taken extra steps to demonstrate in details how things are done.  Currently I am one of the few people doing Lexus V8 research and performance enhancement.  This effort comes from my personal love for this wonderful engine.  Most of the modifications are from trial and error. There's no cookbook for 1UZFE mods and its unknown territory for much of supercharger performance.  The parts, labor, web development and site hosting are 100% paid from my personal hobby money.  If you feel my efforts help you in any form, please do not hesitate to donate any amount of money to support this site. You have no idea how much I and the entire Lexus and Toyota community appreciate it!