UPDATE:
April 4, 2022 - A limited supply of the original best-selling Lextreme
1UZFE EGR Delete Kit
is available for sale. If you own a 1UZ from 1990-1997, you
really
need to get this kit! Email me at
[email protected]
for help with ordering or questions.
We're not an auto parts supplier and I can't respond to inquries for random Lexus and Toyota auto parts. All parts not listed above, including the LS400 and SC400 turbo kit, rebuild kits and supercharger are sold out and won't return.
LEXTREME LEXUS FORUMS HERE!
- Post Questions For Quick Answers!
93 SC400 225 rwhp with Intake Modification & 225 RWHP 93 SC400 Video
93 SC400 180.2 rwhp Stock
LS400 Air Fuel Calibrator
Single Turbo Lexus LS400 Dyno Results
Update Single Turbo LS400 Dyno
Date:            01-31-2003
Location:      SP Engineering,
Condition:     Denature Alcohol Injection @ 7 psi, Non Intercooled
Boost:          8 psi,
Result:          324.5 rwhp
324.7 rwtq
Net Gain:    152 rwhp
HP per PSI: 19 rwhp
Stock:          172 rwhp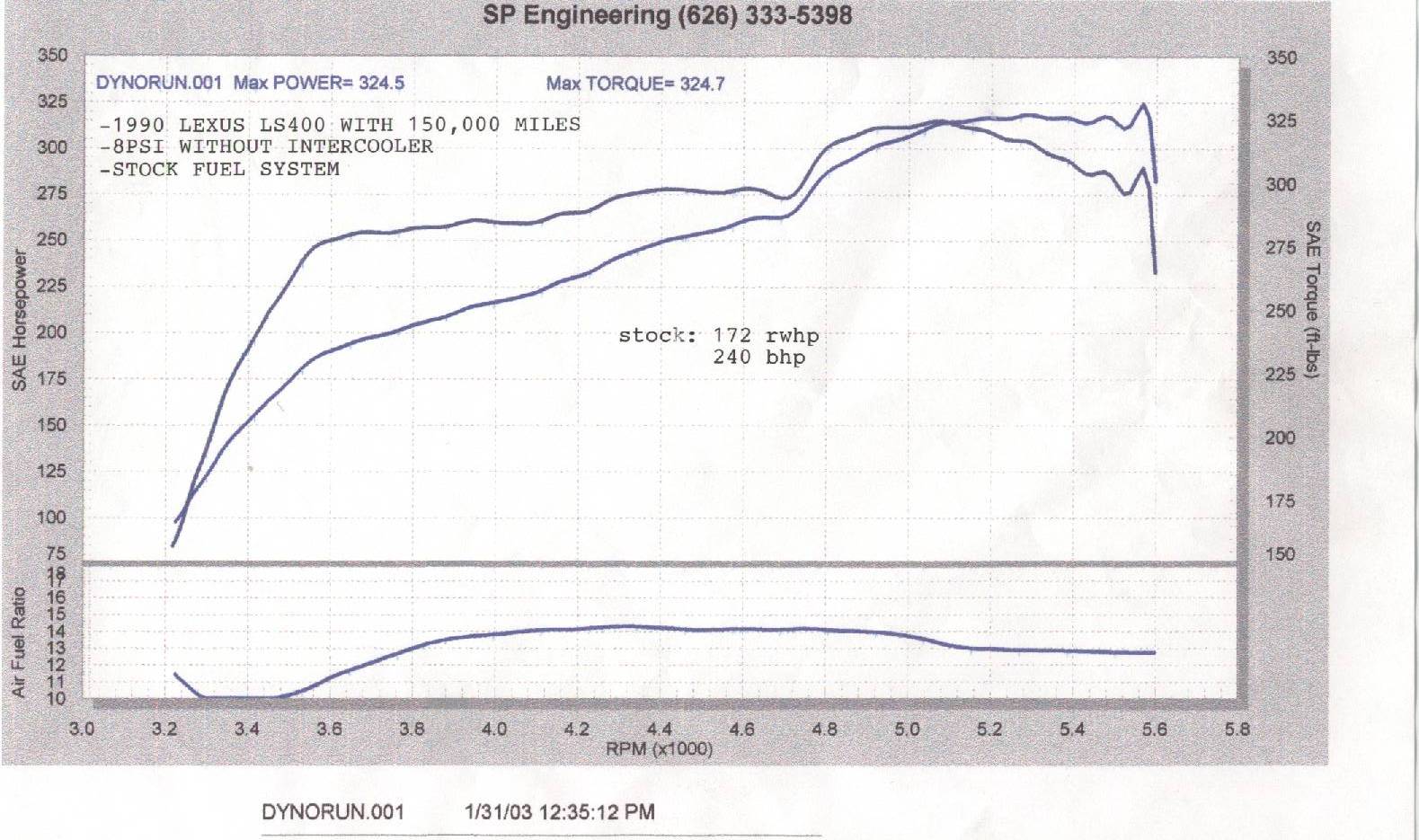 1/8 Mile Performance:
First Run:                                               Second Run:                                      Third Run:
R/T: .747 sec.                                        R/T: .754 sec.                                    R/T: .630 sec.
60′: 2.438 sec.                                       60′: 2.384 sec.                                   60′: 2.366 sec.
330: 6.393 sec                                       330: 6.338 sec                                  330: 6.218 sec
1/8: 9.517                                              1/8: 9.450                                         1/8: 9.267
MPH: 79.14                                          MPH: 77.4                                        MPH: 81.38
Comments on Run #:
1. Little rusty since last time I went to the drag strip. Did a long burn out and crossed the staged line. Smoke were everywhere. My stock tires were nicely clean and warmed. Spectators were like "what the H*ll a lexus doing on the strip" After the burn out, they know what is coming next. The Reaction Time (R/T) is pretty. .500 sec would be optimum.
Over all the RT is not bad. 60 foot time is terrible. 2.438 seconds. That signified that traction is a problem or the launching rpm is too low. If I can get my 60′ time to 2.0 sec, that will reduce half second off my ET. The terminal speed is very good. Remember, this is 1/8 mile very short.
2. Tunning my methanol injection to come earlier. The first run, I did not see the activation of the methanol system until the end of the race. It was set at 8 to 8.5 psi. lowered to 7.5 to 8.0 psi.
ET was better, but my terminal speed was lower than the first run. This is due to that I start to brake before i cross the finished line. The spectators is getting the messege that this lexus is fast and its a sleeper.
3. I continue to lower my methanol activation to 6.5 psi. My RT got better along with my 60′ time, however, its still unacceptable for 2.366 sec. The final ET for run #3 is 9.267 with 81.38 mph.
Run #3 i power brake and idle at 2500 rpm. If I launch at 3100 rpm with slick, this will be a jaw dropping result.
The car felt very strong from launch to finished. 1/8 mile track is just too short for mid to high rpm car. Over all, I think people give a new level of respect with modified Lexus LS400. I hope you guys should take your car out to the track and have fun.
Next time on the track, I would like to mount on some slicks in a quarter mile track.
New Stage II dyno sheet and 1/4 mile run will be available soon.  Stay tuned for eyes popping-jaw draw dropping results!
Finally, I thought you might like this video!
Do you have any questions? If so, please head over to
the forums
to get a quick answer or share your experience!
Cash App (user: $lextremeparts).
This is a freelance site with no support by huge companies.  I have been doing most of the R&D and technical write-ups by myself with my personal money and literally thousands of hours of my time.  I have taken extra steps to demonstrate in details how things are done.  Currently I am one of the few people doing Lexus V8 research and performance enhancement.  This effort comes from my personal love for this wonderful engine.  Most of the modifications are from trial and error. There's no cookbook for 1UZFE mods and its unknown territory for much of supercharger performance.  The parts, labor, web development and site hosting are 100% paid from my personal hobby money.  If you feel my efforts help you in any form, please do not hesitate to donate any amount of money to support this site. You have no idea how much I and the entire Lexus and Toyota community appreciate it!