UPDATE:
January 4, 2022 - A limited supply of the original best-selling Lextreme
1UZFE EGR Delete Kit
is available for sale. If you own a 1UZ from 1990-1997, you
really
need to get this kit! Email me at
[email protected]
for help with ordering or questions.
We're not an auto parts supplier and I can't respond to inquries for random Lexus and Toyota auto parts. All parts not listed above, including the LS400 and SC400 turbo kit, rebuild kits and supercharger are sold out and won't return.
LEXTREME LEXUS FORUMS HERE!
- Post Questions For Quick Answers!
Since the beginning of Japanese sport cars battles started a few decades ago, there had been a constant battle between Nissan, Mazda and Toyota.  The famous Mazda Rx7, the Nissan 350Z and the Toyota Supra.  Currently the Mazda produced a fine rotary motor on the Rx8 and last year, the Nissan started to sell the Fairlady and now Toyota is currently working on the fifth generation Toyota Supra.
The history of the battles of the imports always have been that Toyota is always last of the three major automobile companies in Japan.  Why last?  Toyota is saving the best for last.  Toyota have some ready already and waiting for the competitors to release their cars and Toyota will make the MKV have more horsepower and handle better than the competitors.
There had been few rumors how the new generation Supra looks like, but no concrete news release by the Toyota headquarter.
However, in this page we are not too interested in the cosmetic of the fifth generation Supra, but rather the heart of the car.  Which engine will Toyota use to power the new beast.  Here are some of the requirements I think should be a consideration when making this beast.
1. It must handle better than the Rx8 and the Nissan 350Z
2. It must have more horse power than Mazda Rx8 and Nissan 350Z
3. It must have more horse power than MKIV Supra (320 bhp)
4. The price must stay within the early $30K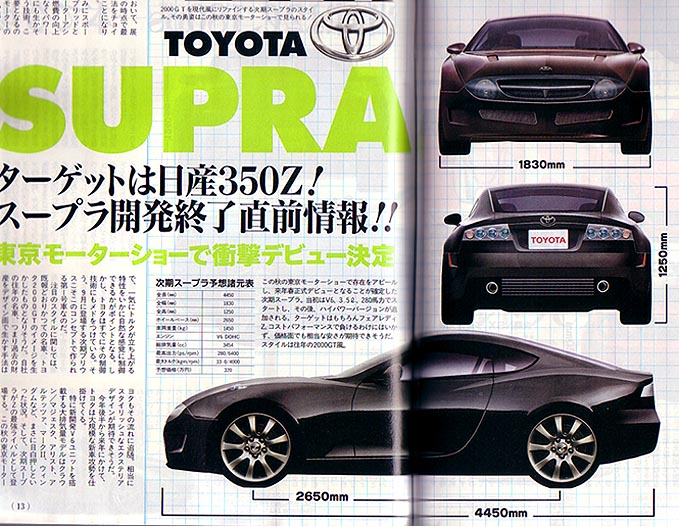 Now, which engine will power the fifth generation Supra?  The 2JZGTE is ancient technology for the 2006 model.  Not to disrespect the legendry strip/street terror, but time have changed.  Its was great for the early 90 to the early 2000.  One of the most common problems I got MKIV Supra owners was the T word.  Yes, TORQUE.
The car made great power at 8,000 rpm and minimum torque at lower end.  Torque is what make driving fun.  With larger displacement like the 4.3 liter V8, creating torque would not be a problem at all.  The goal is to produce lowend torque and high end power.  Now, we are in the new century and Toyota would like to moved up in the technology scale.
Secondly the aftermarket for the MKIV is a dying industry.  Slowly but surely, those Supras are parting out for parts from severe automobile accidents.  Well, there were few rumors about which engine to be used.  If Toyota want to stay with natural aspirated engine, then the natural choice of engine would be the Lexus 4.3 liter DOHC V8.
This engine is currently powering the Lexus LS430, GS430 and SC430.  This motor is the 3rd generation of the UZFE family (Actually 2nd Generation, the 2UZFE is not as strong as the 1UZFE or the 3UZFE due to the bottom end)  The 3UZFE is a awesome engine with strong bottom end supported by forged steel crank and 6 bolt main.  There are also rumors that the 4.3 liter might be bore and stroke to 5.4 liter.
Currently the 4.3 liter (3UZFF) is rated at 300 bhp.  However, the 4.3 liter can be tune and massage to increase the bhp to 350-375 bhp.  With 5.4 liter, this can go up to 400-425 bhp.  With Toyota being conservative historically, I would suspect the 4.3 liter.
One the other hand, forced induction might be an opinion in future production.  Since the 3UZFE is in a V configuration, twin turbo would be out of the picture.  The complexity of plumbing, reliability and maintenance would be too much for the conservative automobile manufacture.  However, a TRD supercharger might not be a bad idea also, but I highly doubt this would happen.
With the Supra aftermarket manufactures like HKS, Greddy and just to name a few, I would not be surprise forced induction kit would be available few months after the car is released.  One thing for sure, forced induction on the V8 Supra will not be cheap, but whoever can afford it would have a blast.
I just can not imagine the New Supra powered by a V8.  The 2JZGTE made automotive history with its monstrous power by a 3.0 liter with snail/s.  Can you imagine what type of horsepower it would be if its in a 4.3 liter with few snail/s?
Its would be a huge threat to all sport cars like the Corvette Z06, Porsche 911 TT, Viper, Ford's New GT40 and many other expensive high performance sport cars.  This will be a BEAST on and off the track.  So, start saving your money or start selling your MKIV Supra.
Here are my predictions on the MKV Supra:
1. Handles better then its rivals
2. Have more horsepower than its rivals & previous Supras
3. Price stay in low $30k
4. Powered by the massaged Lexus 4.3 liter DOHC (3UZFE) with 330-350 bhp with auto or 6 speeds.
5. MKV Supra only available in N/A trim
6. MKIV Supra price will drop like hot cakes, so sell your aged Supra now before the next generation Supra arrives.
Do you have any questions? If so, please head over to
the forums
to get a quick answer or share your experience!
Cash App (user: $lextremeparts).
This is a freelance site with no support by huge companies.  I have been doing most of the R&D and technical write-ups by myself with my personal money and literally thousands of hours of my time.  I have taken extra steps to demonstrate in details how things are done.  Currently I am one of the few people doing Lexus V8 research and performance enhancement.  This effort comes from my personal love for this wonderful engine.  Most of the modifications are from trial and error. There's no cookbook for 1UZFE mods and its unknown territory for much of supercharger performance.  The parts, labor, web development and site hosting are 100% paid from my personal hobby money.  If you feel my efforts help you in any form, please do not hesitate to donate any amount of money to support this site. You have no idea how much I and the entire Lexus and Toyota community appreciate it!