UPDATE:
April 4, 2022 - A limited supply of the original best-selling Lextreme
1UZFE EGR Delete Kit
is available for sale. If you own a 1UZ from 1990-1997, you
really
need to get this kit! Email me at
[email protected]
for help with ordering or questions.
We're not an auto parts supplier and I can't respond to inquries for random Lexus and Toyota auto parts. All parts not listed above, including the LS400 and SC400 turbo kit, rebuild kits and supercharger are sold out and won't return.
LEXTREME LEXUS FORUMS HERE!
- Post Questions For Quick Answers!
Lextreme is proud to present this awesome rotating assembly.  It futures the followings:
· 8 forged Pistons
· 8 Pins with locks
· 8 Sets of piston rings
· 8 Lextreme Lightning Forged H Beam rods with Teflon Coating
· 16 ARP bolts Optional L19 rods bolts
· 8 Set Performance Rod Bearings
· 5 Set Performance Main Bearings
· Complete thrust bearings
· Balanced Crank
Custom forged pistons with rings and pins with any overbore size and compression ratio
· 8 Lextreme Lightning Forged H Beam rods
· Balanced stock crankshaft
· Performance Rod, Main and Thrust bearings
· Rotating assemblies are inspected, installed and tested before shipping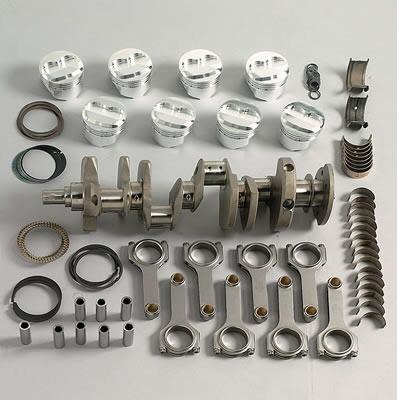 Please allow 10-12 weeks for delivery.  The whole rotating assembly is only $3,500.00.  The core charge for Stage II is $250 and the amount will be refunded when we receive your crankshaft.  $300 extra for 2UZFE engine.
Do you have any questions? If so, please head over to
the forums
to get a quick answer or share your experience!
Cash App (user: $lextremeparts).
This is a freelance site with no support by huge companies.  I have been doing most of the R&D and technical write-ups by myself with my personal money and literally thousands of hours of my time.  I have taken extra steps to demonstrate in details how things are done.  Currently I am one of the few people doing Lexus V8 research and performance enhancement.  This effort comes from my personal love for this wonderful engine.  Most of the modifications are from trial and error. There's no cookbook for 1UZFE mods and its unknown territory for much of supercharger performance.  The parts, labor, web development and site hosting are 100% paid from my personal hobby money.  If you feel my efforts help you in any form, please do not hesitate to donate any amount of money to support this site. You have no idea how much I and the entire Lexus and Toyota community appreciate it!