UPDATE:
June 4, 2022 - A limited supply of the original best-selling Lextreme
1UZFE EGR Delete Kit
is available for sale. If you own a 1UZ from 1990-1997, you
really
need to get this kit! Email me at
[email protected]
for help with ordering or questions.
We're not an auto parts supplier and I can't respond to inquries for random Lexus and Toyota auto parts. All parts not listed above, including the LS400 and SC400 turbo kit, rebuild kits and supercharger are sold out and won't return.
LEXTREME LEXUS FORUMS HERE!
- Post Questions For Quick Answers!
UPDATE June 7, 2022. Today we received the following email. Please consider it before purchasing part 15100-0F010.
Justin,

We saw your oil pump post. We purchased the part number provided (15100-0F010) and found it was not as described in the post. For one, the pump did not have the bolt as described but the plug that was held in place by the snap ring. Additionally the pump has the timing belt idler pulley offset from the 92-97 oil pump.

When I look up the oil pump for a 98+ Sc400, Lexus calls out 15100-50040. This PN is over $300 pretty much everywhere it's available. I'm not sure if this 98+ pump would fit but we are confident that the part we ordered (15100-0F010) will cause timing issues.

I thought it prudent to reach out since I believe the post is erroneous.

Thanks,

[name withheld]
By reading this article, you will literally save $250.
I have two customers ordering 1UZ oil pumps.  The one is for an older Lexus SC400 and other is for a new Lexus or Toyota truck and SUV.  The price was huge between the two oil pumps. 
The older Lexus oil pump is about $380 retail and the newer Lexus-Toyota version is only around $85.  From my understanding between 1990 to 1997 oil pump is $380 (part number: 15100-50050) The cheaper version part number is 15100-0F010 and its only $85.  
Initially I couldn't believe it.  So I called my supplier and want to find out more details between the two. 
The pumps are the exactly the same. 
They are interchangeable. 
However, due a difference in the oil pickup pan, a slight mod is needed.
Below is a typical 1UZ oil pump for 1990-1997 Lexus LS400 and SC400.  You will notice the recess pin lock in the white circle?  (Part #: 15100-50050)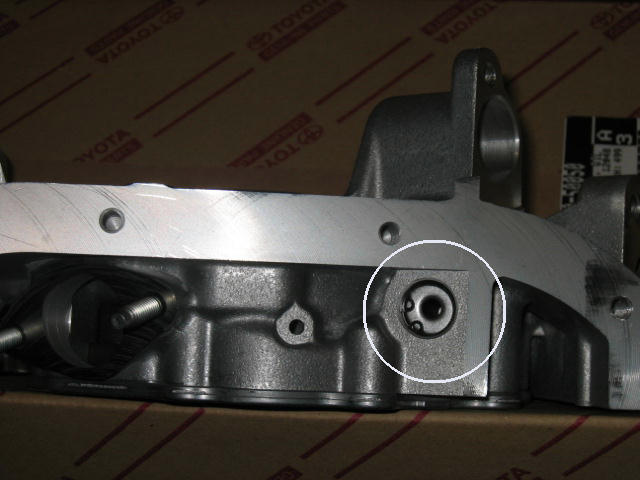 Here is a picture of the Lexus and Toyota post 1998-2006.  The recess lock was replaced with a large screw.  (Part #: 15100-0F010)
Due to larger screw, the oil pick up pan will not able to mate with the oil pump. 
There are two ways to do this:
1.  You need to grind about 1/4″ off the oil pick up pan.  Its a pretty simple process and the two little bumps are pretty small.  It shouldn't take more than 10 seconds with a handheld grinder.
2. The second way is to replace the huge ugly bolt with an allen bolt.  An allen bolt has a smaller overall diameter and this will do the trick.
So by following instruction in the page can literally save you about $250.  I have few members using this money-saving mods already.
Do you have any questions? If so, please head over to
the forums
to get a quick answer or share your experience!
Cash App (user: $lextremeparts).
This is a freelance site with no support by huge companies.  I have been doing most of the R&D and technical write-ups by myself with my personal money and literally thousands of hours of my time.  I have taken extra steps to demonstrate in details how things are done.  Currently I am one of the few people doing Lexus V8 research and performance enhancement.  This effort comes from my personal love for this wonderful engine.  Most of the modifications are from trial and error. There's no cookbook for 1UZFE mods and its unknown territory for much of supercharger performance.  The parts, labor, web development and site hosting are 100% paid from my personal hobby money.  If you feel my efforts help you in any form, please do not hesitate to donate any amount of money to support this site. You have no idea how much I and the entire Lexus and Toyota community appreciate it!