Lexus LS400/Celsior and SC400/Soarer Performance Bushings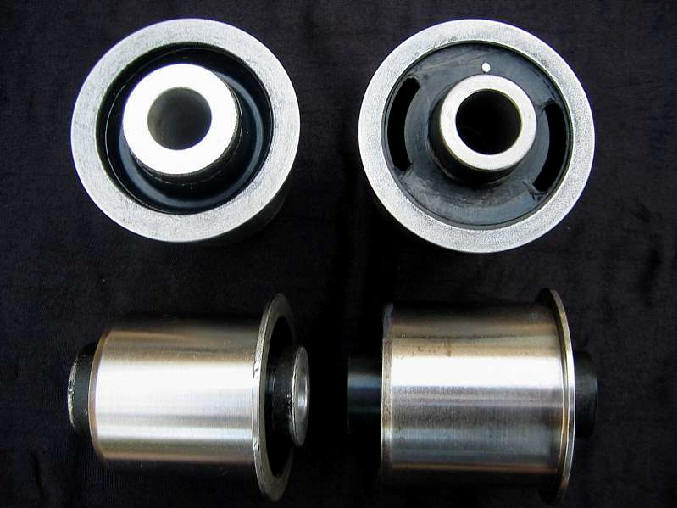 Available VFT Bushings:
1992-1996 SC400/Soarer

1990-1994 LS400/Celsior

WHY VFT (Vlamos) RUBBER SUSPENSION BUSHES?
Suspension bushes are some of the most highly stressed components fitted to a motor car. They undergo enormous strains and are subjected to the most arduous of conditions, generally with little or no maintenance or lubrication.
VFT bushes are specifically engineered precision components, which have been designed to replace the worn or aged OEM factory original bushes without compromising or altering the original suspension setup.
At VFT we utilize only the highest quality materials and components, resulting in products that meet or exceed OEM specifications.
Because of their superior design VFT bushes offer greater effective control of the suspension components, particularly when compared with the plastic or urethane type products.
With the technological advances in modern rubber materials, it is possible to reinstate the factory ride and NVH levels whilst maintaining the factory hardness, tension and torque characteristics, and even include factory design concepts such as the shock absorbing slots. The end result is a perfect ride the way the manufacturer intended the car to ride. Firm, supple, predictable suspension without the harshness, squeaking and increased noise which is often a common problem associated with the harder urethane and plastic type products.
By correctly engineering the rubber materials and the vulcanising process, VFT bushes can be custom made 10-30% stiffer than standard bushes, whilst maintaining the exact same noise absorbing properties of the standard OEM rubber items. This assures a continuation of the optimum performance and reliability associated with your Lexus automobile.
What are bushes for anyway?
Suspension bushes are fitted to cars at all points where the vehicle chassis is joined to a moving suspension component. They are fitted to provide a noise and vibration absorbing barrier between the road and you.
Why are they made of rubber?
Rubber acts as that sound barrier, damping out noise and vibration. Without them cars would feel much harsher and noisier.
Do racing cars have rubber bushes?
A lot of racing cars, especially single seater, track based cars use metal fittings called 'Rose' or 'Heim' joints which do not provide any noise absorption. The life of these joints is measured in hours. They are not suitable for road use. However a huge number of racing cars still use rubber bushes. These are either production based cars adapted for race use or rally cars where the forces on the suspension can be so high that metal joints would break.
Why do I need them then?
VFT rubber bushes improve your cars road holding and chassis performance by controlling the amount of unwanted flex in the suspension. This means your suspension is doing what it is supposed to. It means your tires have greater contact with the road at all times, therefore improving safety and performance. Rubber bushes are far superior at suppressing noise, vibration and harshness when compared to formulated polyurethanes and plastics.
Do I need to buy the whole car set?
No, but it depends on the car. Some cars benefit more than others. But there is a fair amount of effort involved in changing bushes so consider changing, for example a front set at one time. Best to change the whole set if you can afford it though, followed by the rear ones if applicable.
Why do I have to replace my bushes?
The OE rubber composition of the factory bushings in our Toyota/Lexus SC300/400 has deteriorated over time - hot/cold cycling road salt and other extreme road conditions will accelerate this condition. This bushing failure problem can occur in as little as 50,000 kilometers and almost always by 100-130,000 kilometers. Some symptoms of this deteriorated bushing problem are:
Excessive tire wear
The inability to properly align the vehicle
Audible "clunk" noises from floorboard area especially when turning or backing up
Wandering and/or unstable steering especially at higher speeds
Unstable braking
Vibration at higher speeds.
Replacing Your Bushes
Replacing the worn OE rubber bushings with VFT Bushes is a sensible and much cheaper alternative to the stock replacement control arms available from Toyota/Lexus!

The VFT Bushes eliminate unsafe driving conditions and poor handling by allowing minimal deflection of the control arms during dynamic vehicle operation.

Unwanted camber caster and toe change become a thing of the past with control arms operating only in their designated arc and suspension travel parameters. The potential for irregular tyre wear is greatly reduced which is usually a result of the inability to properly align the suspension to required alignment specifications.
VFT bushes are an economical upgrade that retain the stock control arm/sway bar assemblies and hardware, providing increased road feel and handling characteristics that only the Toyota/Lexus can provide.

The durometer hardness of the VFT bushing sets have been thoroughly tested to produce ride and handling attributes as they were specifically designed by Toyota with Lexus/Soarer owners in mind.

The VFT bushes are not like typical aftermarket Nylothane/Polyurathane hard durometer bushing kits, which, whilst being a cheaper option, will also 'noticeably' degrade a vehicle's ride quality and comfort level.
An increase in braking stability is also achieved with VFT control arm bushings as the control arms will not shift or oscillate forward and backward under the extreme lateral loads experienced during heavy braking. If other suspension upgrades such as springs struts or sway bars are installed the benefits of each will be maximized when used in conjunction with the VFT bushes.
Bush Survival
Ever spent the weekend replacing those old flogged out suspension bushes ?
Like the factory originals, the centre sleeve in most replacement suspension bushes is not designed to rotate within the bush. Rather the outer casting and centre sleeve are bonded together via a rubber membrane. It is the flexibility of this membrane that allows the suspension to move up and down. So if you jack up the car and tighten up the bolts with the suspension sagging at full droop, the bushes will twist to nearly the full limit of the flexibility when you drop the car off the jack and the suspension moves back up to static ride height.
A few miles down the road, when the suspension tries to move up over a bump, there's no give left in the bushes and they start tearing themselves in half.
The moral of the story : If you are fitting new bushes or if you are simply lowering your car, it is extremely important that you first loosen the cam bolts / sleeve bolts when altering the height of your car. This is particularly important for SC400's and V8 Soarer's as their bushes have shock absorbing slots and to a lesser degree in the SC300's and 6 cylinder Soarer's as their bushes are solid. It is paramount to wait until the car is sitting back on the ground before finally tightening the suspension mounting bolts.
This way the bushes are not pre-stressed or deformed at the static ride height and have plenty of give in them to allow the suspension to move through its full range of travel without tearing those new VFT bushes to pieces.
Celsior and LS400 VFT Bushings will be available in June or July of 2004..
Andrew Vlamos-VFT CEO Please Email VTF