Lexus-Toyota V8 Oil Pump
By reading this article, you will literally save $250. This saving didn't come over night. I have two customers ordering oil pump. The one for older Lexus SC400 and other for the new Lexus or Toyota truck and SUV. The price was huge between the two oil pumps. The older Lexus oil pump is about $380 retail and the newer Lexus-Toyota version is only around $85. From my understanding between 1990 to 1997 oil pump is $380 (part number: 15100-50050) The cheaper version part number is 15100-0F010 and its only $85. Initially I couldn't believe it. So I called my supplier and want to find out more details between the two. The pumps are the exactly the same. They are interchangeable. However due to the oil pick up pan little modification to the oil pick up will solve this issue.
Below is a typical oil pump for 1990-1997 Lexus LS400 and SC400. You will notice the recess pin lock in the white circle? (Part #: 15100-50050)

Here is a picture of the Lexus and Toyota post 1998-2006. The recess lock was replaced with a large screw. (Part #: 15100-0F010)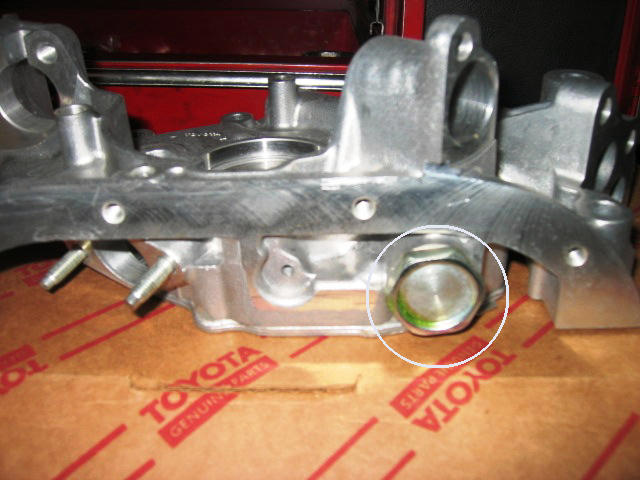 Due to larger crew, the oil pick up pan will not able to mate with the oil pump. There are two ways to do this:
1. You need to grind about 1/4" off the oil pick up pan. Its a pretty simple process and the two little bumps is pretty small. It shouldn't take more then 10 seconds with a hand held grinder.
2. The second way is to replace the huge ugly bolt with an allen bolt. Allen bolt has smaller over all diameter and this should do the trick. More details coming....
So by following instruction in the page can literally save you about $250. I have few members using this money saving mods already. If you like what you read and enjoy our articles. Please feel free to donate to our site.