Since we all run Toyota engines & *most* people are running Denso ignition systems... That pretty well limits us to two brands of plugs that will give consistently good performance over their life. NGK & Denso, so that's what we're concentrating on! (Besides. JDM owns anyways, we all know that!)
*note* All plugs listed will be currently available now. That means old plugs with new names, replaced plugs. Who cares. This is 2/2006.
Stock 1uz-fe plugs:
NGK Denso
Normal/OEM Iridium:
NA
IFR6T-11
Premium Iridium: BKR6EIX-11 IK20
Original OEM (Platinum): BKR6EP-11 PK20R11
Premium Platinum: BKR6EGP
NA
Standard: BKR6ES-11
NA
Standard, Grooved Strap: BKR6E-11 K20R-U11
Blah blah blah .
Iridiums last 60,000-80,000+ miles on "unmodified" engines.
Plats, Toyota specifies for 60,000 miles.
Copper, 30,000-60,000 miles. (A year under boost) Then again. Most standard plugs cost $1.50-$2usd per plug... You do the math.
Blah, blah blah .
Quick, random good stuff to know:
* You can not use platinum plugs with n2o. NGK.com (Not NGK affiliated) - "There have been instances where the platinum tip has lost its bond to either the center or ground electrode when they were used in a motor with nitrous."
* Do not use platinum plugs under boost - never, never, never!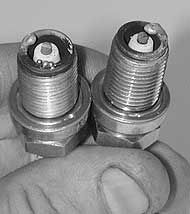 * Only use copper, or Iridium plugs under boost!
* Single electrodes guys. Single electrodes!
* It is advisable to run 2 heat ranges colder when going from NA to boost, plus 1 range colder per bar of boost. (Or one range per 70-100bhp)
* Advancing ignition timing by 10° causes tip temperature to increase by approximately. 70°-100° C.
la-la-la
Last edited by a moderator: