Hello everyone, I'm new to the forums, but a big fan of Toyota (despite only owning Nissan right now).
I have a 280z that has come a long way in the last 6 years and I'm hoping to use this post for the possibility of a UZ swap. I've never done a swap, but I'm running MS3X on my stock L28, and I'm assuming the difficulty of going full sequential fuel and spark with a standalone ecu on a 45 year old motor isn't too far off the difficulty of swapping in a different engine, except maybe the motor and transmission mounts.
I've seen a couple of these with early 1uz, but never with a 3UZ, and definitely not a 3UZ with a manual transmission. The car has slowly become slightly more of a GT style, and I'm currently installing vintage air for comfort. As I finish up the interior and creature comforts, I've been looking more at what my options are for more power. The stock L series transmissions aren't great for holding power, and upgrading to anything more modern seems to cost about the same as doing a manual swap on a UZ. Even a 3UZ is about the same price as a decent turbo and I'm still likely to break things on my engine.
The big hold up on committing to any sort of swap with the UZ is the ECU. Will a stock ecu work with a manual transmission? Has anyone used Megasquirt on a 3UZ and made the VVTi work? The threads on the msextra forums are mostly dead ends with a couple of sentences max.
Anyway, any help/tips/direction would be hugely appreciated
Some pictures of what I started with and where it is now for attention. If you're curious about specifics, you can read backwords through my Hybridz thread
HERE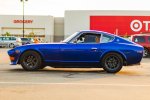 Last edited: