https://www.facebook.com/events/724743954319503/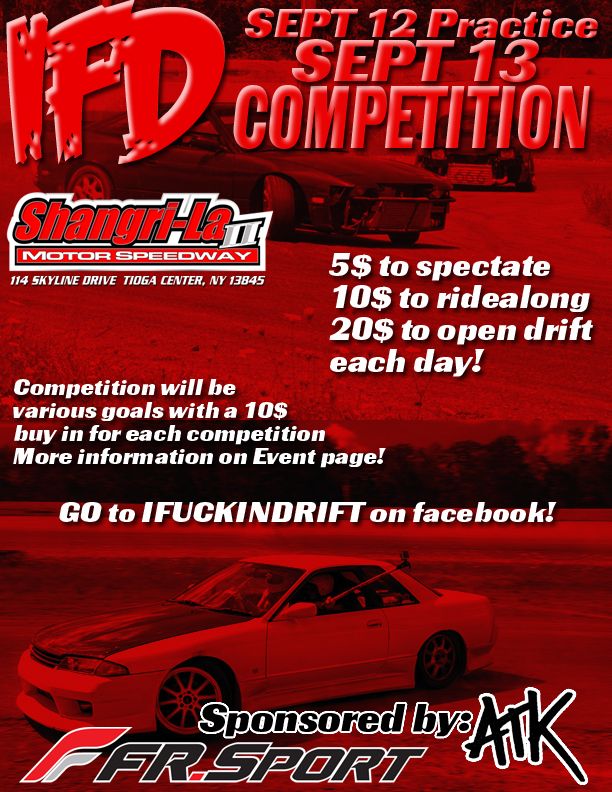 $20 per day for drifting.
$10 per day to ride/watch
$5 per day to watch/ Car Meet Saturday Night.
$10 buy ins for each contest and winner takes all!
SATURDAY SEP. 12TH
Drifting 12pm-8pm
Normal Sunday layout for this, pretty much free drift.
8pm: Car Meet on the outside track- $5(UPDATE: Lights on from 8pm-10pm).
Bon Fire begins around sundown and setting up of tents. That's right CAMPING on the track! No charge for camping.
I know you're wondering...Tire Machine? This is pending right now. We had a couple people say they could and we need to get a hold of them.
SUNDAY SEPTEMBER 13TH- COMPETITION DAY!
Pending on opinions: 8AM wake up call for breakfast! Head down to Owego and get some grub!
11am-ish Drifting Begins!
Free Drift and Practice runs Until 12:30pm.
12:30pm-1:00pm
Set up of Competitions, change tires, etc.
1:00pm Competitions Begin!
3+ Competitions TBA---Details up before this Weekend(8/22)
Each competition will have a $10 buy in and winner will take all. There will be 3 judges for the competitions.
When Compititions end, free drift resumes.
Out of tiresPM We say our goodbyes!
I'm sure I am missing things and other things will be added. Any questions please comment here on the Ifuckindrift Facebook page or message myself(Nikki Ann) or Matt Knapp
As Always invite as many people as possible!
Drift Happy!